The Libmanan Caves is located within a national park that is near the town of Libmanan, Camarines Sur about 20 kilometers northwest of the City of Naga in the Bicol Region of the Philippines. As for the park itself, it covers 19 hectares of protected land across the hilly farmlands and is known to host at least 18 limestone caves of varying shapes, lengths and wonders. The park was established by virtue of Proclamation No. 654 in 1934.
Tourists are drawn to this place because of the caves' countless stalagmites, stalactites and massive pillars that have extremely delicate formations and designs.
Interesting Features of the Libmanan Caves
As previously mentioned, the Libmanan Caves are well-known for their amazing formations. However, among all the caves here, there is one that is more frequented by visitors, which is the massive 2,856 meter-long Colapnitan Cave—the 10th longest cave in the country. For many years now, adventurers have flocked to this particular cave to explore and see for themselves the fascinating mineral and rock formations that adorn it. Making this cave more mystical are the thousands of bats that make it their home, presenting a very extraordinary spectacle. As you can see, its name was derived from these amazing animals—"colapnitan" means a place where many bats are found.
Aside from the bats, swiftlets and some great long-armed spiders of the venomous species, Phrynus are also found here.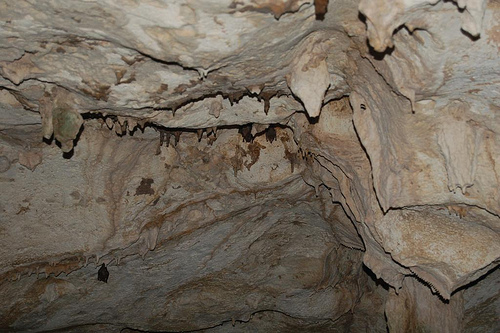 Ecosystem and Conditions of the Caves
According to study, the physical condition of the caves produces an average temperature that limits the species of fauna and flora, which means that there is an average relative humidity that only allows floral species to thrive without so much moisture. As for their structures, they are regarded as not conductive to faunal and floral growth, as well as control the mineral formations. It is also found that the species flora that are identified in all of the caves thrive mostly at their entrance zones with superficial roots, and that there is only one species found in the twilight zone. It is worth noting that floral species are essential to the caves' physical conditions, such as water drops, temperature and mineral formation, as they determine the cave environment.
Attractions Nearby
Just nearby the Libmanan Caves is the Engkanto Falls, which is known for its multi-tiered cascades and natural allure. Its named was derived from the creatures of local folklore that usually characterize elves or forest spirits and are believed to live in natural dwellings in the ecosystem. This waterfalls is also lesser-explored than any other attractions in Camarines Sur, which means it has a more pristine environment that is good for a relaxing getaway. Until now, it has remained relatively untouched and still has that mysterious ambiance.
How to Get There
You can reach the province of Camarines Sur, from Manila to Naga City, by plane in just about 45 minutes with several airlines, including Cebu Pacific, Zest Air and Air Philippines (Pal Express). If you want to travel by land, then you can hop on an air-con or non-aircon bus from Isarog Bus Co., PhilTranco or Peñafrancia Bus Lines, which ply routes through the Quirino Highway from Manila to Naga every day. From Naga, Libmanan is just about 20 kilometers away.
How to Go Around
If you want to travel around the City of Naga or go to the different towns of Camarines Sur, then you can take jeepneys, vans and buses. In small barangays, there are tricycles that can take you wherever you want.