Located in Agusan del Sur, Prosperidad is the capital of the province and is a first class municipality. It is comprised of 32 barangays and has a 150-bed capacity hospital. Having a type II climate, this quiet town does not have a dry season and rain occurs from December to January.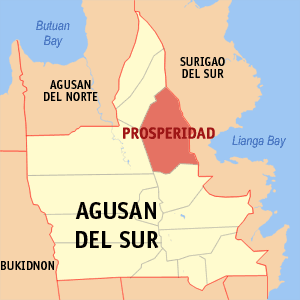 History
Before the Spaniards came, a Manobo settlement lived by the rivers, Sianib and Gibong and it was called "Culilay" by the natives. During the Spanish Period, the Manobos were christianized and Cullilay was altered to San Juan. When the Americans arrived, the name became Las Navas and then Prosperidad. This name came from the word "prospero" which means progressive. By virtue of Republic Act No. 2650, Prosperidad was created on June 18, 1960.
Attractions
Bega Falls
When tourists visit Prosperidad, one of the natural wonders in the municipality they look forward to seeing is this four-tier waterfalls. Located in Barangay Mabuhay, Bega Falls can be reached by taking a habal-habal, a motorcycle designed with planks to accommodate passengers. The trek to the falls can be a bit challenging but tourists can enjoy the hike because of the beautiful sceneries. The catch basins of the falls boast of clear, cool water which are perfect to soothe your tired legs. See to it that you register at the Barangay Hall and hire a local guide since it is a requirement.
Ognop Cave
This newly discovered cave aims to enliven eco-tourism in the province of Agusan del Sur. What makes this cave more beautiful and enticing is its being pristine and devoid of vandalism unlike some of the caves in the country which have been known for years. Located in Sitio Ognop, this cave has a seemingly golden staircase and different rock formations, with an opening of around 20 meters. Going there can also be challenging because of the trek but if you are looking for adventure, it is worth the effort.
Los Arcos Hot Spring
Located in Los Arcos, this is where visitors are invited to go if they want relax their tired muscles and enjoy the warm waters for some physical therapy.
Puting Buhangin Cave
What is unique about this other wonder of nature is that is goes to three directions or sections which make them distinct from one another. One of the sections lead to unending streams and natural pools.
Festivals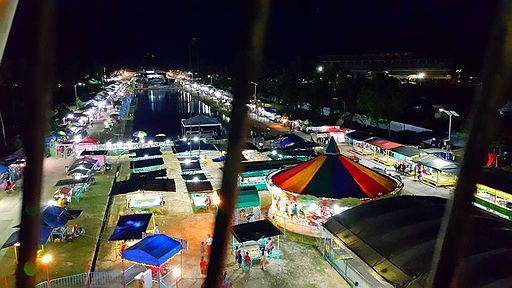 Naligayan Festival
This event is held to commemorate the Agusanon culture and heritage. Celebrated with rituals and tribal dances, this festival is held every year from June 12 –June 17. It also has a trade fair for tourists who want to buy different products made by the locals.
Angot Festival
Celebrated for six days, from September 22nd to the 28th, this event serves as thanksgiving of the people for a bountiful harvest. Rituals are done here, such as the offering of food to the god of abundant harvest, Ompo.
How to Get There
Prosperidad, Agusan del Sur can be reached by a plane ride from Manila or other domestic airports that fly to Butuan. From Butuan, you can take a bus bound for Davao and tell the driver to drop you off in Prosperidad.