Pangasinan is an outdoor enthusiasts' dream. It is blessed with many natural wonders, the Hundred Islands National Park being one. And about an hour away from the park in Alaminos is the great escape called Bolinao.
Way before Boracay made its mark as one of the most popular beach destinations in the Philippines, people flocked to the shores of Bolinao. But despite the lure of the south, a number are still drawn to the beauty of this remote town in Pangasinan.
What to See and Do in Bolinao, Pangasinan
Patar Beach. You will pass through a combination of paved and unpaved roads on your way here but the off-white sands will make you forget about the less-than-perfect ride.
Patar Rock. The beach is not only the amusement in Bolinao. You get to see some rock formations as you stroll along the shore. While they might not be as huge as the Kapurpurawan Rock Formation in Ilocos Norte, they still make great subjects for landscape photographs.
Waterfalls. There are three of them in Bolinao: Tara Falls and the aptly named Bolinao Falls 1 and Bolinao Falls 2. Tara Falls is a two-tiered cascade while Bolinao Falls are two falls in one area. It's fun to explore on your own but it's still best to get a local guide to help you out.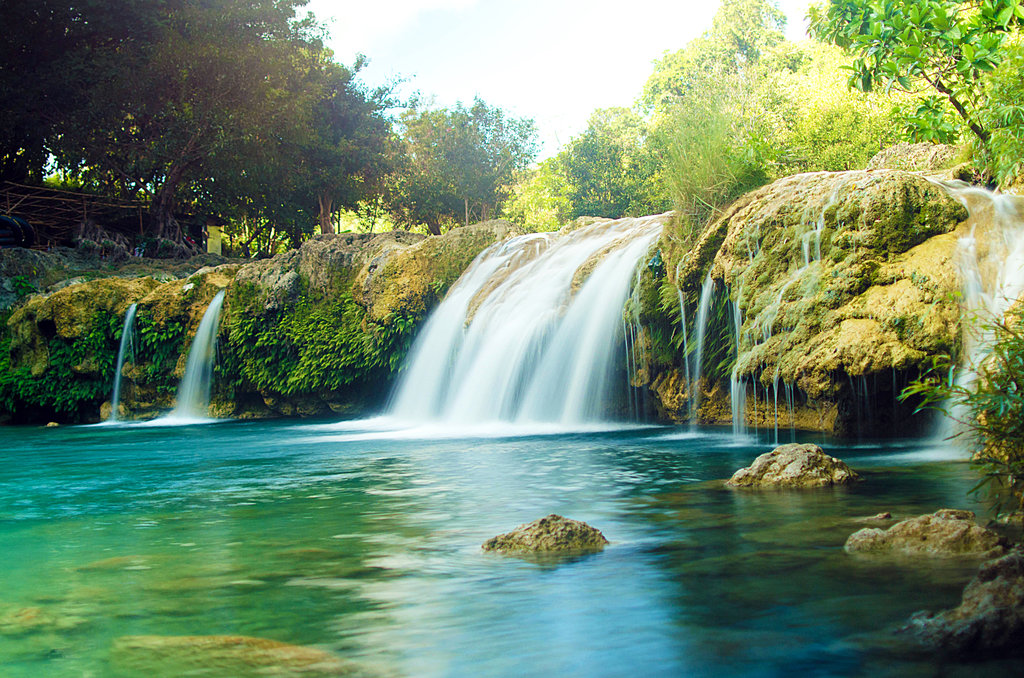 Enchanted Cave. After descending through rather steep stairs, you get to see an emerald green pool and just marvel at how it came to be that way. While you can enjoy the water, cave management has restricted entry to other areas. You need to pay PHP 150 to get into the cave, regardless of whether you are dipping into the pool or not.

Enchanted Cave's fresh water pool Photo by: jvelasco
This cave may be the best known in Bolinao, but there are two others called Wonderful Cave and Cindy's Cave. The former is located in a residential area while the latter also features an underground pool.
Getting to Bolinao, Pangasinan
Pangasinan doesn't have an airport as of this writing. Although there have been calls for the construction of an international one so getting to neighboring places such as La Union and Baguio becomes more convenient; a domestic airport has also been suggested in Alaminos. But for now, the best way to get to Pangasinan is by bus.
The duration of travel greatly depends on what time you took your trip. Since you have to board a bus in Metro Manila (Cubao or Pasay), and given the notoriety of traffic in the area, expect quite a long trip when traveling at peak times. A better time to leave would be between 9pm and 12mn when traffic has settled down a bit.
One-way fare is about PHP 470, making that close to PHP 1,000 for a round trip. Bus liners that ply the Manila-Bolinao route include Victory Liner (Cubao terminal) and Five Star Bus (Pasay terminal). The trips are scheduled hourly.
Beyond Bolinao
While you're in town and have the time to spare, why not travel an hour to the Hundred Islands National Park in Alaminos? You'll pay about PHP 70 to 80 for the trip and get to see a few of the famed islands around the park.