The Philippines is one country known for its rich culture and lively festivals. Most are religious and cultural in origin but all are full of fun, dancing and music. This is no surprise since this country has been colonized by the Spaniards who brought here many traditions and beliefs, particularly Christianity. Almost every month, there are festivals or fiestas celebrated in different parts of the archipelago. This is why there is more to this beautiful country than just beaches and warm people. Are you ready to know more about the Filipino culture and find out one of the reasons why it's more fun in the Philippines?
Here are some festivals to experience in the month of August: 
Rajah Baguinda Festival
Celebrated on the 2nd week of August, this festival is in commemoration of the time Rajah Baguinda arrived in Jolo, Sulu and said to have been a significant figure in the spread of Islam. He was also looked up to because he was also responsible for the reinforcement of the Sultanate Government in the archipelago of Sulu. This celebration lasts for three days and includes festivities and a cultural show. 
Kadayawan Sa Dabaw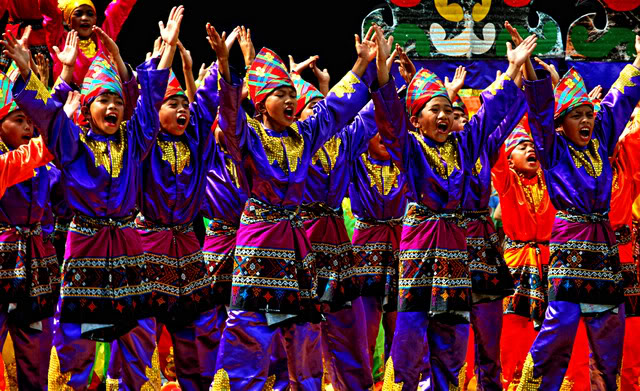 This highly anticipated festival is celebrated by the people of Davao every third week of August to give thanks to a bountiful harvest and to pay tribute to the indigenous people. This year, it will run from August 15-August 21. The term "Kadayawan" was derived from the word "madayaw", which is synonymous to beautiful, valuable and good while in Mandaya, it refers to something that brings good fortune and is also considered a celebration of life. This year, the highlight of the festival will be street dancing or Indak-Indak sa Kadalanan and Floral Float Parade or Pamulak sa Kadalanan.
Gigantes Festival
Lucban, Quezon is not only known for its Pahiyas Festival which is a harvest fest held in the month of May but also for its colorful parade of giants or Gigantes made of paper mache and around 14 feet tall. Similar to the Higantes Festival celebrated in Angono, Rizal, this festivity is observed on August 19, annually, to give thanks to wishes that have been granted to believers.
Ajonay Festival
Relatively a new festival that was organized by writers, dance choreographers and members of the academe from Maasin, Leyte, this local cultural event was started to showcase the rich culture of the province. The term "ajonay" means "call for cooperation". This Mardi Gras-like festival is celebrated with a parade and a dance competition joined in by different representatives from all the municipalties.
Palu Palo Festival
Basco, Batanes is one of the most beautiful provinces in the country and boasts of rich culture. This grand celebration depicts the lives of the Ivatans, an ethnic group in the island. The term "Palu Palo" means "stick" and these are what the natives used against the Spaniards and the Dutch hundreds of years ago. During the celebration, natives wear a traditional suit made from indigenous materials and perform a mock duel dance that symbolizes the natives' agility, bravery and skills in fighting.
There are still numerous festivals celebrated in almost every part of the archipelago that you can experience when you visit. Whether you are in any of the three major islands in the Philippines, there is a celebration to look forward to.