Planning to fly to the Philippines but don't know where to start? If you're coming from North America (either Canada or the US), you've got many options going for you.
But, first, my best advice is to check out Google Flights. It's a great search engine to check for the best airfare available. It's free and easy to use. We use it for our travel needs and it's great for most of what we need.
Here are some of the better airlines (in our opinion, of course) that regularly flies to the Philippines that you should consider. x
1. Philippine Airlines (PAL)
The Philippine Airlines (PAL) is the flag carrier of the Philippines. It is Asia's first and oldest commercial airline. Recently, it got the "Most Improved Airline of 2019" award from SkyTrax. It is a 4-star rated airline and is aiming to be a 5-star airline in 2020.
Being the flag carrier and having its hub in Manila, PAL is preferred by a lot of Filipino travelers (balikbayan) from North America. If you're coming from the West Coast, some cities (like Vancouver, BC) probably have only PAL as the airline that offers a direct flight to Manila. For parents (like myself) with little kids, flying direct with no stopovers is very very much preferred.
2. EVA Air
EVA Air is the second largest Taiwanese airline. It is a 5-star airline, as rated by Skytrax. I've flown EVA Air and their service is quite good. Airfare is usually competitive (depending on travel season). Their hub is in Taipei so expect to have a stopover in this city.
3. Cathay Pacific
Cathay Pacific or Cathay, is the flag carrier of Hong Kong. It is the world's tenth largest airline by sales. It is probably the most reputable and known airline globally in this list. Recently, it was awarded the fourth best airline in the world by Skytrax.
4. Korean Air
Korean Air is the flag carrier and the largest airline of South Korea. Like the three airlines above, it offers regular flights between Asia and North America. Airfare is quite competitive and service quality is also good.
The Rise of new Chinese airlines
I see a lot of relatively new (at least to me) Chinese airlines serving trans-Pacific (North America to Asia and vice versa) flights. There are the likes of Hong Kong Airlines, China Southern and China Eastern. Airfares from these airlines are usually very competitive. I haven't flown any of them yet but they are on my radar. What about you? Have you flown one? How was the service? Let us know in the comment section below.
Sample peak season airfare cost (YVR to MNL round trip) via Google Flights.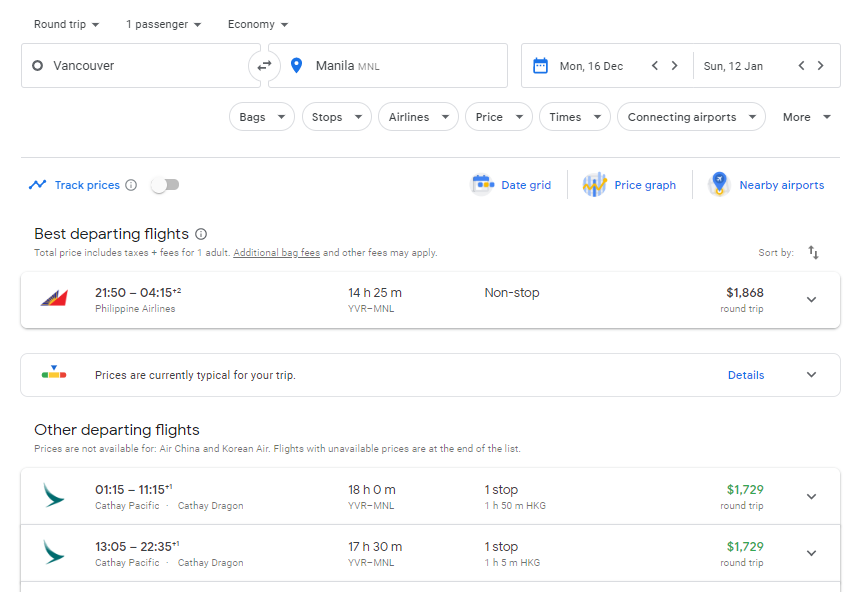 Another thing to consider
For most travel needs, Google Flights will give you a great idea on the best price to pay for airfare. But, sometimes, especially if you have some unique travel needs, you may want to use a travel agency to help you book your flight. There should be one specializing in Asian travel in your city. Better if you find one that caters to the travel needs of Filipino immigrants (balikbayans) as they will know the better airlines with affordable airfare to the Philippines.
We've used a travel agency before because of some unique need (stay of more than six months). We checked Google Flights but the best priced airfare we found was from a local (Vancouver, BC) travel agency.
What's your favorite airline travelling to the Philippines? Any travel tips? 
Comment and Share it with us below.