Located in Region 10, Northern Mindanao, Sapang Dalaga is a fifth class municipality in the province of Misamis Occidental. It is approximately 50 kilometers from the airport of Dipolog City and around 96 kilometers from Ozamiz City. From Ozamiz, it will be about two to three hours of travel. This part of the region boasts of panoramic mountains, Mount Pedoluan and Mount Dasa as well as bodies of water. It has 28 barangays.
History
Not much is known about the history of Sapang Dalaga except for the fact that its name was derived from an old Visayan word that can be traced back to the 14th century, even before the Spaniards came to colonize the Philippines. "Sapa ng Dalaga" means "maiden at the creek" As for the names of some of the barangays, these were also taken from names of trees and rivers.
Places of Interest
Sapang Dalaga Falls
Hidden in Sitio Celso Velez, Barangay Poblacion, this 60-foot waterfall used to be called "Baga Falls" because "baga" is a Visayan term from waterfalls. This majestic falls is surrounded by trees and boulders and about two kilometers from the municipality proper. Today, the area has been improved and converted into a small park. It also boasts of a man-made large catch basin where visitors can enjoy a relaxing swim and just be one with nature. There is also a gigantic statue as well as a grotto of the Virgin Mary and a foot bridge. Revelers can also rent cottages, picnic tables and a function hall for events and celebrations. Entrance fees for the falls are affordable at P20 for adults and P10 for children. Cottages are at P200 while picnic tables can be rented for P50 each. The function hall is for P1,000.
Caluya Floating Cottage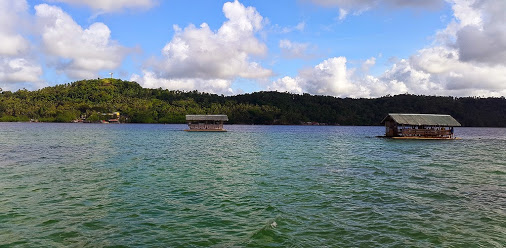 Whether you are traveling with friends or family and looking for some water fun and adventure, you can try one of the five floating cottages here in Barangay Caluya. This is just a few meters away from Caluya Bay. Activities to enjoy include swimming, snorkeling and fishing. You can also enjoy the log walks and even stay overnight. A pump boat will take you to a five to ten minute ride to any of the cottages. The place is secluded and serene, a perfect destination for some peace and quiet. The rate for floating cottages is P250 while the boat ride to the cottage is at P20.
Caluya Shrine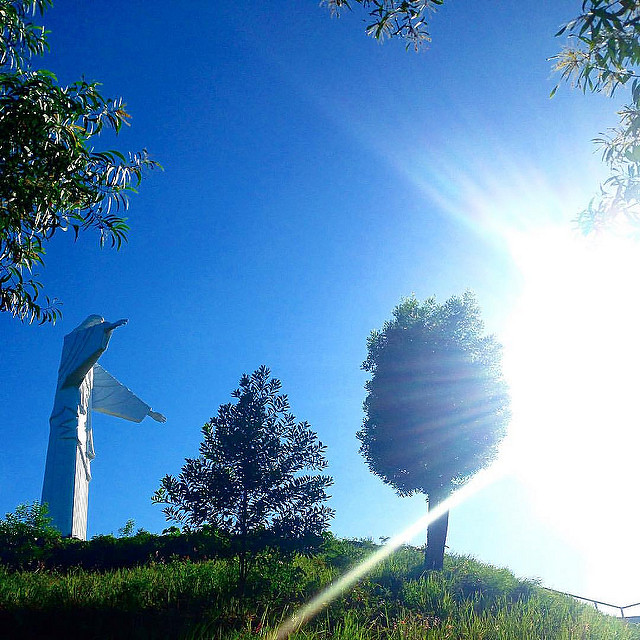 If you are familiar with "Christ the Redeemer" statue in Rio de Janeiro, Brazil, you need not travel far to have a similar experience when you visit Sapang Dalaga. While in Barangay Caluya, you can also see a giant statue of Jesus Christ which was built in a high ground that gives you a view overlooking Murcielagos Bay, Naputhas Island, Mount Malindang and Dioyo River. Truly a sight to see, this shrine has become one of the landmarks in the municipality.
How to Get There
If you are coming from Manila, you can take a plane ride to Ozamiz City via PAL or Cebu Pacific or from Manila to Dipolog. But if you are coming from Cagayan De Oro, you can take a 7-hour bus ride to Dipolog at Bulua Bus Terminal then take a barge from Mukaz to Ozamiz.