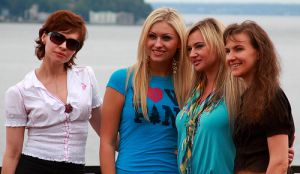 MANILA, Philippines – More direct flights to Russia are being pushed by The Department of Tourism (DOT) in an effort to lure more Russian tourists to visit the country this year.
Marketing programs to attract at least 5.5 million foreign tourists including Russians is being undertaken by DOT according to Tourism Assistant Secretary Benito Bengzon.
The DOT has appointed a new marketing representative based in Moscow to show the government's seriousness in luring more Russian travelers.
"In recognition of Russia as a potential market, we have appointed a marketing representative there. We used to have one over a year ago," Bengzon said.
Eventhough there was a problem of accessibility since there is no direct flight from Russia to the Philippines, the DOT official said that Russia posted a 40 percent growth in number of tourists in 2012.
"Russians have to travel about 12 hours to get to the Philippines but from January to November last year, we have 23,756 arrivals from Russia or 42 percent growth during the same period in 2011," Bengzon said.
There were about 3.8 million foreign tourists visited the country from January to November last year as per DOT records. The figure is 8.73 percent higher compared to the same period in 2011.
The biggest bulk of tourists were from South Korea or equivalent to one million followed by visitors from the United States.
The third biggest arrivals were Japanese tourists while Chinese came in fourth despite the prevailing tension with the Philippines over territorial claims in the South China Sea.
Among those that contributed big number of travelers are Taiwan, Australia, Singapore, Hong Kong and Malaysia.  DOT hopes to capture this year the greater bulk of tourists from neighboring Asian countries like Thailand and Indonesia.
He said there is a need to build more hotels and other accommodations to anticipate the surge in foreign tourists this year.
More tourists opt to stay in Phl
Meanwhile, despite the travel advisories issued by several countries on the Philippines, there are more foreign tourists who visited the country last year and opted to stay longer or beyond the period of their visa, the Bureau of Immigration (BI) reported yesterday.
BI Commissioner Ricardo David Jr. said that from January to December 2012 the BI visa extension office processed and approved a total of 172,055 applications for extension of stay by foreign tourists.
He said the number of approved visa extensions in 2012 was 13 percent higher than the 151,913 applications for extension of stay the bureau approved in 2011.
"Our country remains a favorite tourist destination that many foreign visitors are opting to stay here longer not only for vacation or to visit our tourist attractions but also to explore business and investment opportunities," David said.
Julius Cortez, BI visa extension office acting chief, said that under existing rules, non-visa required foreign tourists are admitted for 21 days upon their arrival in the country while visa-required nationals are granted an initial stay of 59 days.
Foreign visitors may apply to extend their stay for two months and renewable for extension every two months thereafter until they reach the maximum stay of 16 months, Cortez said.
"Tourists may extend their sojourn in the Philippines before the lapse of their authorized stay so long as they do not violate the conditions of their stay and pay the required fees to the bureau," he added.
BI noted that tourist visa extensions were high in December, August, July, and January when more than 15,000 applications were processed while only 12,000 tourist visa extensions were approved in April.
Flickr Creative Commons Image by Alaskan Dude