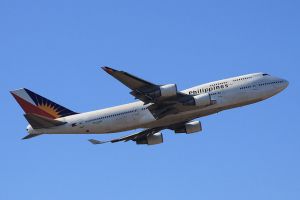 We went back home to the Philippines for Christmas 2012. Been living here in Canada for 10 years now. It was the first time I went back to spend the holidays in the Philippines. With me was the whole family, four of us (includes 2 kids: my eldest is 7 and the second is 18 months). For a family of four (at peak season) we paid more than CAD$6K for "economy class" round trip tickets to the Philippines. It's not cheap. And, it's just for 3 seats. My 18 month old daughter sat on our lap. Since I have young kids, I really have no choice but to fly with PAL as it's the only airline that flies direct to Manila from Vancouver. I hate stopovers and I know the kids will not like it as well.
No High Expections
I did not expect great service from PAL, to be honest. I was only hoping for a "more than" Ok service as the fare is quite expensive. My previous experience flying with PAL is not good. I felt like a second class passenger. Prior to this trip, my impression of PAL is they give better service to foreigners and Filipino-Chinese than to their fellow Filipinos. Kinda sad, but this is the same sentiment of other Pinoys abroad I've talked to before. So, going into the flight I wanted to see if they've improved. I was hoping that the change in management, from Lucio Tan to San Miguel Corp, although very recent, have changed things a bit for the better. I crossed my finger and was hoping to be pleasantly surprised.
The Trip Going Home to the Philippines
The check-in went well. The lady at the counter was nice and fast. That's a good start. But, the flight was delayed by an hour. Apparently, they were waiting for three passengers according to the PA. I was already advised by a friend that PAL flights are always 1 hour delayed so I was cool. I expected it. Waiting to board the plane, one of the lady at the gate kept on asking passengers to pay extra for any additional carry-on. To be honest, she was kinda disgusting. It was late at night and most were sleepy and she keeps on bothering those old folks to pay up extra.
The plane is new (BOEING 777) and nice. I really liked the individual screens and the selection of movies. Quality-wise, the screen wasn't sharp. For those with Ipad, it's probably better to load your Ipad with movies to watch. But, PAL's selection included some newer movie title so that's a plus for PAL. There were movies for kids as well. My 7 year old was watching almost the whole flight. Great, as it kept him quiet.
Inflight Service
It was "Ok". I have nothing bad to say about the attendants. They did their job. But, I couldn't say they were great as well. It was fine. I got decent service. But, didn't really feel the warmness and the hospitality, Filipinos are known for. In fairness, the attendants on the flight going to Manila are better than the ones going back to Vancouver.
The Food
It was no good. I hated it. The rice it seems was cooked by someone who doesn't eat rice. I know that plane food are generally bad but how can you not get "rice" right. Seriously, PAL should change whoever is their caterer for the Vancouver to Manila flight.
The Trip Back to the Vancouver
The check-in went well. When we came to the ever-chaotic NAIA, the lineup for our flight was long. Good thing, and kudos to PAL, they have people who direct passengers to any open PAL counter. So, our check-in went through fast. My biggest complain is in the boarding. In Manila, PAL , it seems, doesn't have a system. They called seniors, those in wheelchair and those with kids (that's us) so we were standing and lined up to board, but then, for some reason, they still weren't letting anybody to get in. It was probably a good 15 mins of standing. Then, it seems, they called everyone else too, so everyone is standing up getting ready to board. So when it was time to board, everyone was trying to board at the same time. It was chaotic.
Inflight Service
Again it was ok. Nothing bad to say about the FAs and nothing outstanding to say as well.
Food
A bit better than what was served in the flight to Manila. They probably have a Manila-based caterer this time. But, still, it's nothing special. Sometimes, I wonder they should have just ordered food from Chowking. I'll probably like that more.
From a Philippine Star Article:
"PAL is a good airline and brand. We're confident we can turn PAL and its sister budget carrier Air Philippines around in a year. Give me a year or two, PAL will have the most beautiful FAs (flight attendants) and the best service," said Ang, who earned a reputation for engineering business turnarounds.
The Verdict
I think PAL has improved a little bit (a good thing!). I think they have to improve more if they want to become one of Asia's best airline. Co'z, personally at this point, if there is another airline that flies direct to Manila, I would have prefer that other airline.
I do hope PAL becomes better. I want to see it succeed. I am a Filipino and it carries my country's name. Ramon Ang promised "a year or two" to turn it around. It's not a year yet so I can't hold him yet on his word. Though, I don't care about beautiful FAs. I do care about great service. PAL's not there yet.
To end this, I thank PAL for bringing me and my family to and from Manila safely. At the end of the day, that's what matters most to me.
Creative Commons photo above by Kentaro IEMOTO (Flickr) : Philippines B747-400M(RP-C7475)