This quiet town in the province of Aurora is the only non-coastal municipality in this part of the region.  However, this does not make Maria Aurora lag behind other towns like Baler and San Luis. Despite not being a surf haven, this town is popular for its other attractions and verdant landscape.  Its boundaries are Baler, Dipaculao, San Luis and Nueva Ecija.
History
Comprised of 40 barangays, this town got its name from the daughter of President Manuel L. Quezon and First Lady Aurora Quezon. Maria Aurora or "Baby", who was a law student at the University of Santo Tomas in 1949, was ambushed, together with her mother, brother-in-law and other members of the convoy by armed men who were believed to be member of the Hukbalahap. The Quezons were on their way to Baler for the inauguration of the Quezon Memorial Hospital. The town of Maria Aurora became a municipality on July 21, 1949.
Attractions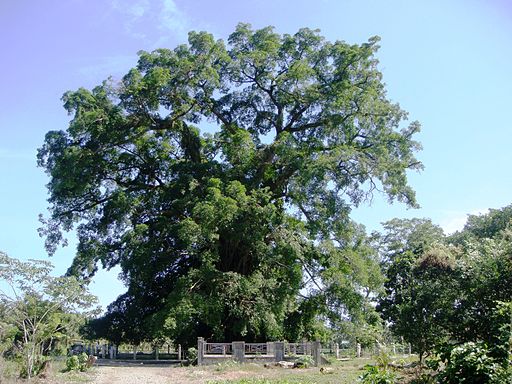 Millenium Tree
This massive tree is around 600 years old and is a Balete or Banyan tree which is perhaps the most popular attraction in the municipality. Said to be around 60 meters tall, with a diameter of between 10 and 15 meters, this gargantuan tree is so big that people can literally pass through its roots. Located in a private lot, stories have surfaced that when the owners tried to have it cut, a member of the family got sick and so did the supposedly driver of the heavy equipment to be used to cut it down. Today, it has become a landmark and a tourist attraction. Local boys can climb at least 5 fights of the tree in 10 seconds but tourists can just watch in awe. Located in Balete Park, it takes at least 60 men to hold hands and embrace the tree.
Different Kind of Caving
The Millenium Tree is not only a sight to see but also a place where you can experience caving not in a real cave but inside the roots of the Balete tree. The roots are located so high above that there are portions that are cave-like. Although it is dark inside, you can enter it and just enjoy the experience. Some visitors take pictures and videos inside the "caves" to capture this unique experience.
Balete Park
This is where the Millenium or Banyan tree is located and remains to be the centerpiece of the place.This park has been a setting for movies and television shows for so many times and still remains to be popular. There are two viewing decks at the entrance of the park and nearby, there is a Papaya plantation rich with ripe and large Papaya fruits.
Rang Ay Festival
Held every 20th of July, this is a festival of street dancing participated in by elementary and high school students who parade in the streets and dance while adorned in colorful costumes.
How to Get There
Maria Aurora, Aurora is accessible by land from two routes. One is the Canili-Pantabangan Road that traverses through Nueva Ecija's northern towns as well as Alfonso Castaneda, located in Nueva Viscaya. The other access road is the Nueva Ecija-Aurora Road that passes through the mountains of Sierra Madre. This is the route to take if you are planning a day trip to Baler, San Luis and Maria Aurora. There are five bus corporations that travels to Maria Aurora.