Bounded in the northeast by Mt. Kilakron and Mt. Kalatungan, Maramag is a first class municipality located approximately 158 kilometers from the southeastern part of Cagayan de Oro and to the south by Malaybalay, Bukidnon. It is composed of 20 barangays and the largest of which is Barangay Kuya. Maramag municipality is characterized by slopes as well as bodies of water. Baguic-ican River can be found in the east and goes to Muleta River. Other rivers are Maramag, Pulangi and Kulaman.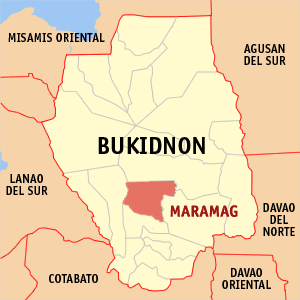 History
The original people who lived in Maramag are said to be the Manobos and the Maranaos. Its name is a Manobo term "Ag Ramag" or "Ag Ramag Ki Dini", which can be translated to " Let's eat our breakfast here". According to history, these two tribes were not in good terms and usually stop by Pulangi River before they go to a battle. This was also the spot where the locals would invite passers by to eat their meals with them.
Attractions
Blue Water Cave
This is an underground river that passes through a cave, thus the name. A natural beauty, the clear blue waters of this destination drains to Pulangi River, which is a tributary to Rio Grande de Mindanao. Above the Blue Water Cave is a cliff colored in majestic white that is also an ideal spot for rock climbing. Visitors can take a dip in the cool and clear water for a refreshing adventure. The trek to the cave is between 15-30 minutes depending on your pace. This is a good exercise as well and you can enjoy the cool water along with other visitors. Another interesting fact about this destination is that its waters are blue in color all-year-round. Apart from spelunking, tourists can also enjoy bird watching.
Musuan Peak
If you want to enjoy the sunset, you can hike to the peak of this elevation. Before you climb, you will have to go to the Mt. Musuan Botanical Gardens. If you arrive there early, perhaps you can enjoy the sights for awhile before you go to the summit. To reach Musuan Peak, you can take a bus if you are coming from Cagayan de Oro and travel time can be approximately three hours.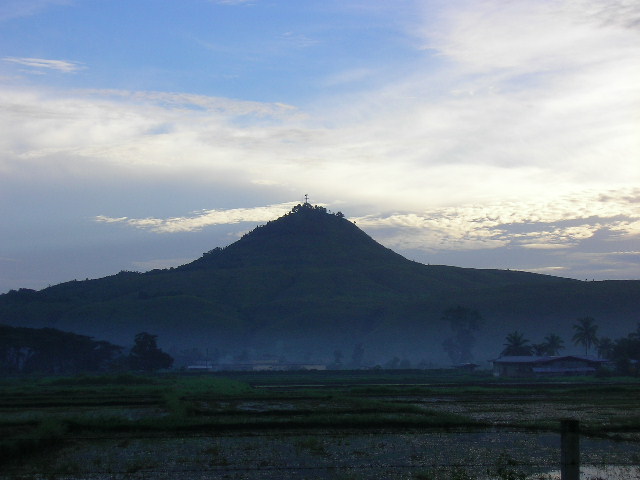 Maramag Falls
Although not yet popular among visitors, this 20-meter drop waterfall can be reached with a 30-minute hike from Barangay Camp 1 and boasts of a wide catch basin and rock formations. The rushing of the water cascading creates a refreshing sound that also adds coolness to the already cold breeze.
Zubiri Deer Farm and Aviary
Owned by the Zubiri family, this mini-zoo is a great destination to go to if you are travelling with kids. Here, you can find different animals and bird species. Since it is not as big as the ordinary zoo, the experience is not that tiring.
How to Get There
Bukidnon can be conveniently reached by land and via a bus ride from Cagayan de Oro. It is also reachable by plane if you are coming from Cebu, Davao and Metro Manila but you will be alighting in Cagayan de Oro, which is around 104 kilometers from Bukidnon.