Bordering the municipalities of Pagudpod, Calanasan and Claveria, Santa Praxedes is central plain surrounded by the Caraballo mountain range and occupies one-third of the Calvario National Park. Although it is one of the coastal towns of Cagayan, this 5th class municipality does not have direct access to its seacoast.
A Look at History
The town was Langgangan up until 1964, when it was changed to its present name with the signing of Republic Act No. 4149. A boundary dispute was ongoing in the early 1900s between Cagayan and Ilocos Norte as to where Santa Praxedes really belongs to and in 1922, it was finally decided that it is a part of Cagayan. It was originally inhabited by the Itnegs and Apayaos but emigrants from Ilocos Norte and Ilocos Sur were said to be the first settlers there. Today, it has 18 barangays.
Although this small town is only 11,000 hectares, this tourist destination does not fall short when it comes to adventure and nature tripping. The road trip going to Santa Praxedes is already an experience in itself since it takes around 11 hours by car. This might be a long drive but you don't want to miss the pit stops and the breathtaking views as you pass the towns going to your destination.
Places of Interest
Portabaga Falls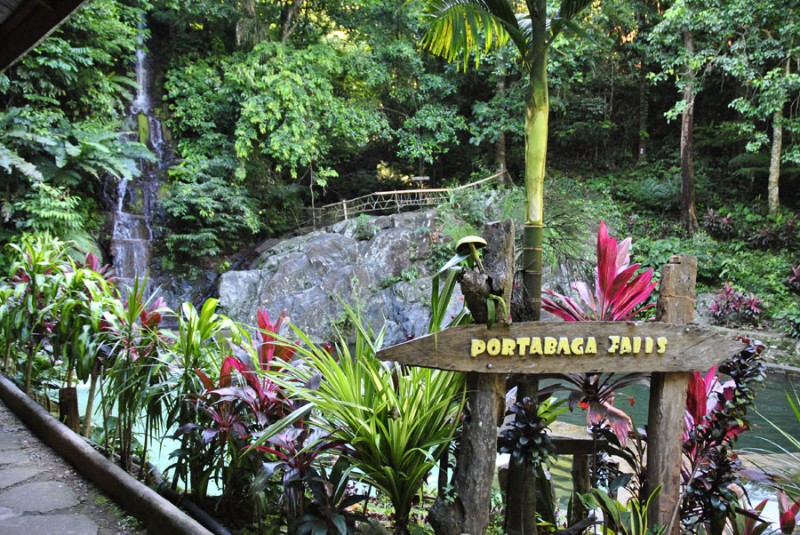 One of the two popular falls in the serene town, this body of water is one of the tallest falls in the province of Cagayan at 41 feet or around 15 meters. Boasting with three drop points, a huge catch basin that have been converted into a resort with swimming pool and huts that can be rented. You can hire a tricycle to take you the falls and the trip will be a short twenty minutes from Claveria Centro.
Macatel Falls
Not far from Portabaga Falls is another wonder of nature amidst the rice fields. Although it is somewhat hidden, tourists can never miss it because of the gushing sound of water flowing as the running stream of water heads to the falls. If you want more privacy and experience nature as it is, this should be included in your itinerary.
Beaches
Cagayan is endowed with a wide expanse of black & fine sand beaches sprawled along the coastal towns and this include Santa Praxedes along with Claveria, Sanchez Mira and Abulug, among others. There are homestay accommodations in Santa Praxedes if you are in a tight budget and want to experience how the locals live.
How to Get There
Located 600 kilometers north of Metro Manila, Santa Praxedes, Cagayan, can be reached in three ways, by car, bus and by plane. Cebu Pacific and Air Philippines have flight from Manila going to Tuguegarao. You can also book with Philippine Airlines from Manila to Laoag if you plan to have this route. If you plan to take the bus, there are several companies that offer daily trips to Tuguegarao. These are Florida Bus, Dominion Bus and Victory Liner.