While Daet may get its fair share of tourists thanks to surfing opportunities, there's still a lot more than Camarines Norte has in store. A town that largely depends on agriculture for a living, life in Basud is simple. The town proper I linked to different barangays through two major roads: the scenic Maharlika Highway (which stretches from the boundary of Daet to Camarines Sur) and the Mangcamagong Road which stretches from the boundary of Basud and Mercedes to the junction of Maharlika Highway.
Attractions 
While there are lots to see in the peaceful town of Basud, there are three attractions that stand out:
Taba-taba White Sand Beach – located on the shoreline of Barangay Taba-taba. The beach is accessible by the barangay road from the junction of the Mangcamagong provincial road. It is part of San Miguel Bay and is very shallow with a depth of four to seven feet during high tide. Taba-taba s known for its glittering sand which as around 40 meters of shoreline that extends along the sea coast of the barangay proper.
Mangcamagong Beach – offers the same white sand and clean waters as Taba-taba but this one has a much longer shoreline.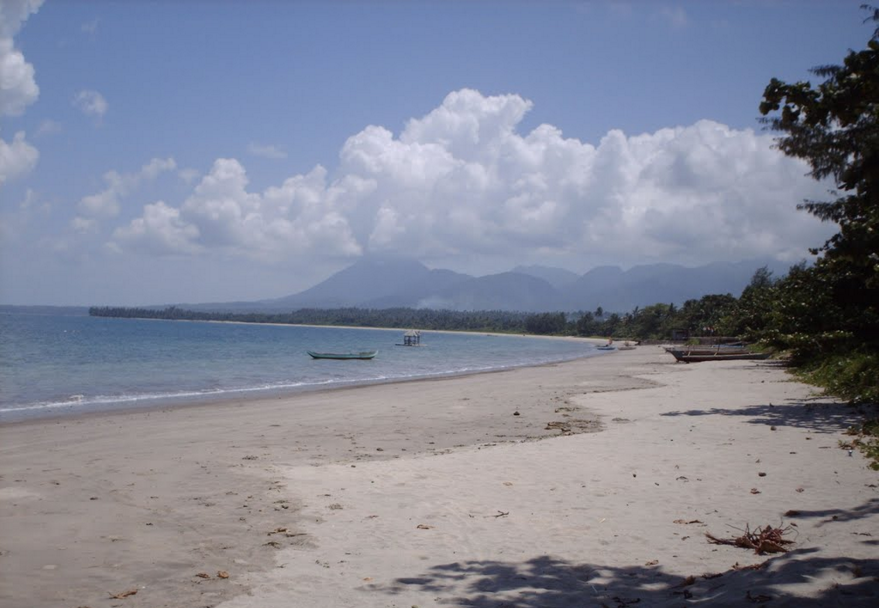 Bicol Natural Park – situated within the jurisdiction of Barangay Tuaca, the park has an 18-kilometer distance from the town proper. The park features a 3.34 hectare forest reserve land. In the heart of this forest is Bitukang Manok, a popular seven-kilometer wining road that lies between the provinces of Camarines Sur and Camarines Norte. The boundary can be identified because the Bahi River passes through a permanent boundary marker.
There are other historic, religious and natural attractions as well as parks and man-made attractions in town. However, their tourist potential still needs to be developed by the government. But given the limited resources available, these three listed above serve as the major attractions when visiting. Although, you can always ask a local where other attractions are located – they will be most delighted to help; they might even lead you to spots that they cherish that haven't been heard much outside of town.
Getting here 
You can always drive to Basud if you have a private vehicle and make stops along the way. But if you're going for public transportation, there are two ways for you to get here:
By land
Basud can be reached from Manila by bus. There are several bus liners that offer daily trips from Manila to Daet. From Daet, you take another transportation to get you to Basud. Travel time from Manila to Daet is eight to nine hours.
By air 
Sadly, there are no commercial flights to Camarines Norte yet. Although, if you want to travel by plane rather than spend eight hours on the road, you can book a flight to Naga in Camarines Sur. Philippine Airlines offers daily trips to Naga and travel time is about an hour.
From Naga, you can board a public van or bus that will take you to Daet. From Daet, you can get on another public transportation that will take you to Basud.