Christmas is in the air! What better way to celebrate and really get into the Christmas mood than to join in the fun and enjoy the simultaneous lighting of Manila's Chistmas tree and lanterns.
What makes this event special?
This is going to be Mayor Isko's first Christmas as mayor of the city of Manila. A lot has been done since he stepped into the office. Manila is undergoing cleanup and transformation. So, take this chance to join the event and see for yourself everything that has been happening and just show your full support!
Event Details and Location
Date : November 13, 2019, 6PM at the Kartilya side, Bonifacio Shrine
The city of Manila will simultaneously light up Luneta Park, Intramuros, Escolta, Tutuban Mall, Paco Park, Philippine Post Office, National Museum and Rizal Park Hotel.
Music is provided by : Adamson University Chorale and Adamson University String Orchestra.
** Info above provided via Manila Tourism & Cultural Bureau. We'll be adding more info as we get them so visit us back from time to time.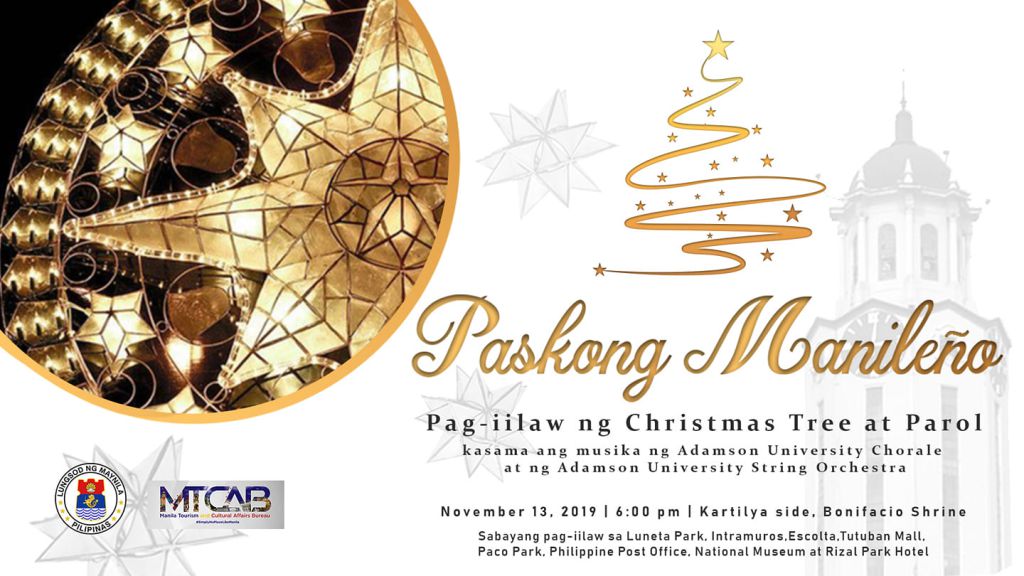 Map & Direction
The Bonifacio Shrine is easily accesible via the jeepneys that ply the Baclaran – Divisoria route. If you're taking the LRT, get off at the Central Terminal station and walk towards City Hall.
---
Bring all your friends and family!
This should be fun! Get out there and watch the Manila lighting of Christmas Tree event this coming Wednesday (Nov 13 at 6pm). I suggest you tour the area as well. Check out the newly installed dancing fountains, Bonifacio shrine, Mehan garden. Heck, you can walk and see for yourself the renovated Jones Bridge (still ongoing).
Show your support! Have a Merry Christmas the Paskong Manileno way!
#SimplyNoPlaceLikeManila
#PaskongManileno