Shopping wasn't as centralized and as stylish in the olden days. The shopping public was content with visiting one of the few small department stores or bazaars in downtown where they can find most of their shopping needs. There weren't many brands to choose from, but most goods were of satisfactory quality and affordable prices.
Today, these bazaars are struggling to keep up with the market shares of gigantic shopping malls fitted with leisure complexes, flashy designs, various eateries and a huge assortment of branded products. Many of these bazaars closed down in 1960s with the rise of larger, more modern malls.
Let's revisit the country's bazaars for a sec, and rediscover shopping during days of old.
H.E. Heacock's Department Store
Built during the American occupation, Heacock's is one of the country's biggest and most upscale department stores at the time. It continued to operate until the 1960s. It was a two-storey structure located in Escolta and Dasmarinas Sreets.
It was a venture company of H.E. Heacock, a partner of wholesale jewelry firm, Heacock & Freer in San Francisco. When Heacock came to Manila in 1900, he saw an opportunity to sell jewelries, especially those appealing to ex American soldiers and affluent men.
Heacock opened the first Heacock's retail store in Sta. Cruz, which initially carried various men accessories including watches, cufflinks and silverware. The store was then turned over to Samuel Gaches who then headed the company in 1910 and moved its venue to Escolta.
In 1918, Heacock's was housed in a modern eight-storey building with an electric door, pneumatic communication tubes and centralized air conditioning. The building was destroyed during the Battle of Manila, and since then Heacock's operated in a two-storey building.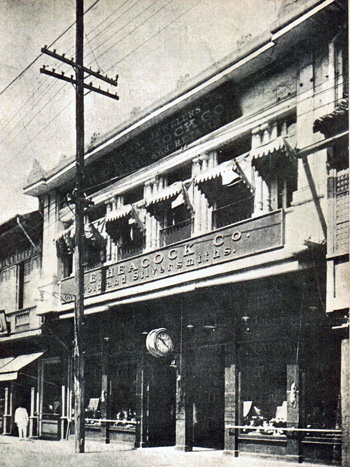 La Estrella del Norte
La Estrella used to be a luxury shopping center in Escolta from the early 1900s until the 1960s. Owned and run by Levy Hermanos, Inc., La Estrella sold extremely pricey and rare goods including Swiss watches, perfumes, gramophones, jewelries and other imported products.
The Levy brothers from France escaped to America during the Franco-Prussian war of 1870, and later arrived in Manila after their business ventures in New York and San Francisco failed.
When they came to the country in 1873, the brothers brought with them crates of religious items and some jewelries – spares of unsold merchandise from California. They later opened their first store in Iloilo City and called it La Estrella del Norte or Star of the North.
The brothers became popular in retail and manufacture of watches and jewelries and opened store branches in Singapore and Hong Kong, and back in New York and Paris. They likewise opened the store in Escolta.
In 1889, the company had change of ownership after the death of Adolphe Levy. La Estrella diversified and introduced to the Philippine market the first bicycle, the first phonograph, the first moving picture machine and the first automobile.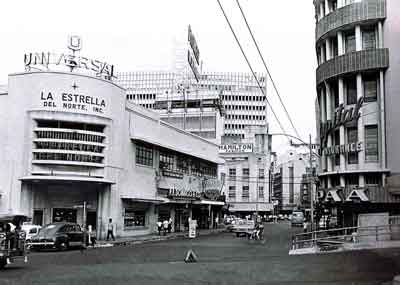 Botica Boie
Botica Boie was the first and largest drug store in the country. It operated in the 1830s founded by the Spanish Lorenzo Negrao, and the store continued to the 1960s. It is a historic one having played a major role in providing medicines to Filipinos in those years.
The drug store has had many owners including Germans and later the Araneta Family. It became a popular pharmaceutical establishment known for its freshly prepared medicines such as the distilled essence of ilang-ilang, an awarded concoction recognized in Barcelona among others.
Botica Boie diversified in the 20th century and started selling snack items like ice cream, soda, coffee and sandwiches. It also sold laboratory equipment and household items.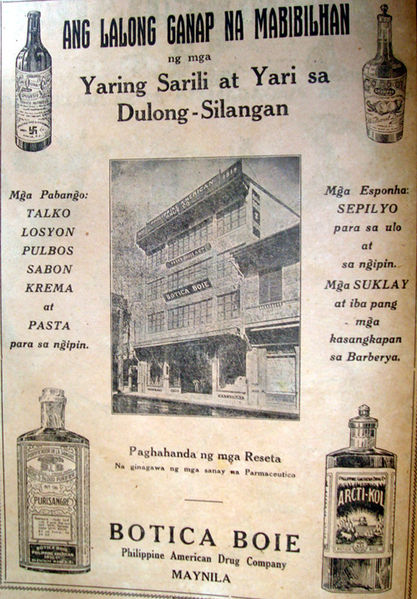 Beck's Bazaar
Beck's is another luxury department store along Escolta that sold various imported and costly items during the American regime. Its primary merchandise consisted of typewriters, gramophones, radios, and automobiles.
Beck's was originally the American Bazaar, the first department store in Manila that catered to the American market. Isaac "Ikey" Beck founded the American Bazaar in 1898 along Pasaje Perez Street, and later transferred venue along Escolta and renamed the store Beck's.
Beck likewise ventured into radio broadcasting and offered various programming including music, news and shows by Colombia Phonograph in America. Beck later died at a Japanese camp in 1944, and Beck's Bazaar was soon overtaken by Heacock's.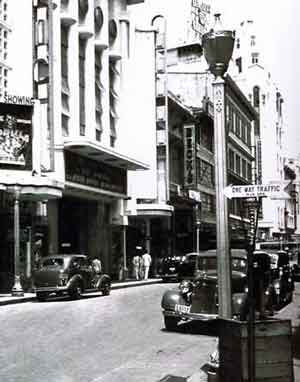 Good Earth Plaza
The Good Earth Plaza was located in the corner of Avenida and Bustos Streets. It was the first and largest department store in Avenida, and the first to feature escalators. It has a coffee shop flocked by churchgoers who attend mass at the nearby Sta. Cruz parish.
Originally Good Earth Emporium, it was initially a single department store, and then became Good Earth Plaza and housed a number of commercial shops. It remained operational until a fire consumed the building in 2008.