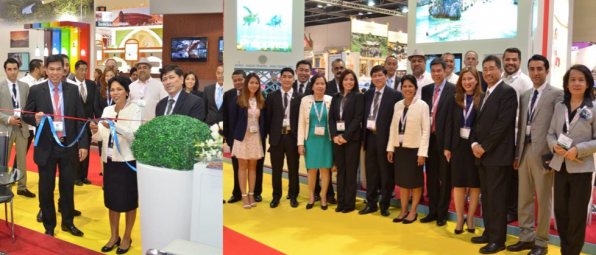 In line with its goal of further boosting inbound travel to the Philippines from the Middle East, the Philippines' Department of Tourism (DOT) participated in this year's rendition of the Arabian Travel Market (ATM) held at the Dubai International Convention and Exhibition Centre from May 6 to 9.
DOT Assistant Secretary Benito C. Bengzon Jr. led the delegation comprising 11 tour operators, four hotel and resort companies, and Cebu Pacific. Philippine Ambassador to the United Arab Emirates (UAE) Grace Relucio-Princesa and Consul General Frank R. Cimafranca officially opened the Philippine booth at the travel mart on May 6.
The event marked the fifth consecutive year the Philippines has participated in the travel fair universally recognized as the leading travel industry event for the Middle East and pan-Arab region. It is also regarded as the premier regional business forum for inbound, outbound, and intraregional tourism.
Tourist traffic to the Philippines from the Middle East continues to show steady growth as visitor arrivals for the first three months of the year totaled 16,423, a 22.10 percent increase over the previous year's figures during the same period. The UAE registered positive gains of 15.91%.
Since the roll-out of the tourism campaign It's more fun in the Philippines, the DOT has been actively working with the private sector, other government entities and relevant stakeholders to foster enhancements in the travel and tourism industry. These collaborations paved the way for the increase in tourist arrivals, upgrade of infrastructure, reforms on visa rules, liberalization of the aviation industry as well as the common carriers tax rationalization that serves as an invitation to international air carriers to make the Philippines a part of their primary route offering.
Emirates Airlines announced that it will commence daily direct flights to Clark International Airport starting October 1.
Cebu Pacific will also begin its daily non-stop flights from Dubai to Manila starting October 7.
A series of promotional and marketing activities in the region to continue building on the momentum is also underway. In April 2013, 22 key travel trade industry specialists from Saudi Arabia and the UAE immersed in a familiarization tour of top tourist destinations, such as Manila, Bohol, Cebu, Boracay, Clark, and Subic.