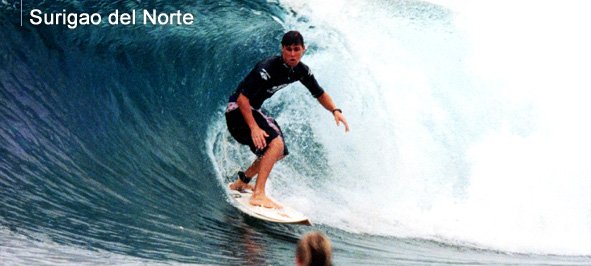 Most people come to Surigao del Note to go surfing. It's not a secret that in the Philippines, the best place to meet the waves is in Siargao Island, which is part of Surigao del Norte. Although that is where most tourists go, the province has several other attractions to visit, and here are the top 10 must visit: 
Sohoton Cave. This is a very enchanting cave that is half-submerged in water at most times. It is accessible only during low tides, and inside there is a lagoon with a number of islets with waters that just sparkle. The cave is located in Bucas Grande.

 
Lumondo Waterfalls and Eco Park. This is an enchanting place to visit, and it is one of the prides of Surigao. When you visit the waterfalls, you will be amazed with the great volume of water that falls down into a grandiose rock structure.

 
Cuyapnit Cave. To get to the cave, you will take a boat ride where you have to shoot the rapids of Baoy River. It is a 2.5 kilometer cruise that leads towards Cuyapnit Cave. Here, you will see a lot of stalactites, stalagmites, as well as a giant circular ceiling hole and a crystal floor. The cave is located in Gigaquit.

 
Magpupungko Rock Formation. This attraction in Pilar is a group of limestone and granite sculptures that face the Pacific Ocean. Other than the rock formation, there is also a beach with an ample stretch of white sand. There is also a natural pool that is really clear.

 
Lake Mainit. This is the fourth largest lake in the Philippines and the deepest part of the lake is 128 meters. The lake is located between the provinces of Agusan del Norte and Surigao del Norte. One of the best places to get a view of the lake is in Almont Lake Resort in Kitcharao, Agusan del Norte.

 
Guyam, Daku and Naked Islets. These three islets are gorgeous in that they all have powdery white sand and palm-fringed beaches. They are great places to head to if you want peace and serenity during your holiday.

 
Mapawa Cave. This cave is located 15 km away from the city proper. In this cave, you will see cathedral-shape inner domes that are just adorned with stalactites that look like natural chandeliers. Plus, the stalagmites are great too.

 
Buenavista Cave. This three kilometer cave is located in Hikdop Island, Surigao City. The cave features three entrances and also contains a pool that is knee deep, as well as a palatial chamber that is complete with a "kings" throne.

 
Basul Island. It's the nearest islet from Surigao City that is located to its northwest. It is characterized by its fine white sand on one side, and in the other, a rocky shore. This island can be seen from a ship approaching the city.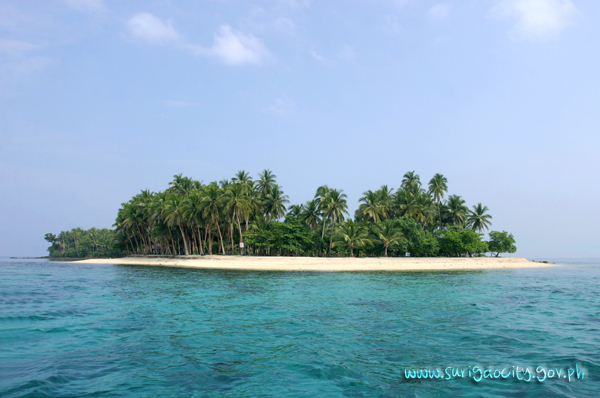 Raza Island. This island is undeveloped, which offers you the perfect escape if you want total peace. One of the great things about the island is the simultaneous interplay of high and low tides. What makes it even more interesting is that the tide reverses every three hours.

 
Getting to Surigao del Norte
BY AIR
There are direct flights from Manila to Surigao, as well as Cebu to Surigao. There are also direct flights from Cebu to Sayak Airport in Del Carmen, Siargao Island. Airline carriers with flights to Surigao include Philippine Airlines and Cebu Pacific. If flying directly to Surigao is not an option for you, you can fly from Cebu to Butuan City which is 2.5 hours by bus ride to Surigao City.
BY WATER
WG&A and Sulpicio Lines offer direct voyage from Manila to Surigao. If you plan to start from Cebu, Cokaliong Shipping Lines and Cebu Ferries offer direct voyages as well.
BY LAND
There are bus trips via RORO (roll on, roll off) from Manila to Mindanao, with Surigao City being the gateway. There are also several buses, jeepneys and air-conditioned shuttle vans that pass through different municipalities in Siargao Island and the mainland.