Leisure and relaxation destinations worth trying
Don't stress yourself over finding the right place for your next holiday getaway. If you consider Laguna, "The Resort Capital of the Philippines," on top of your itinerary list, then, your search is over.
Natural spring resorts abound in this place. Many of which are hot springs. No wonder why one of its cities is named Los Baños, a Spanish term for "the baths" or "bathing place."
Indeed, spending your vacation here can be a great reset button and source for amazing health benefits. De-stress in the therapeutic hot spring waters of Laguna and enjoy your life even more.
An oasis with health benefits
Swimming at Laguna's spring waters is an excellent source of exercise. It does wonders for the mind and body. It can help relieve muscle fatigue and pain. You don't have to be a swimming pro. Just enjoy this fun activity and easy exercise to pamper yourself.
A home to serene sanctuaries
The province embraces the southern shores of Laguna de Bay, the largest lake in the country, that is why there is overflowing of refreshing spring waters here. Below are some of the resorts around the island with spring water pools that can be the best alternatives to beaches for your next vacation: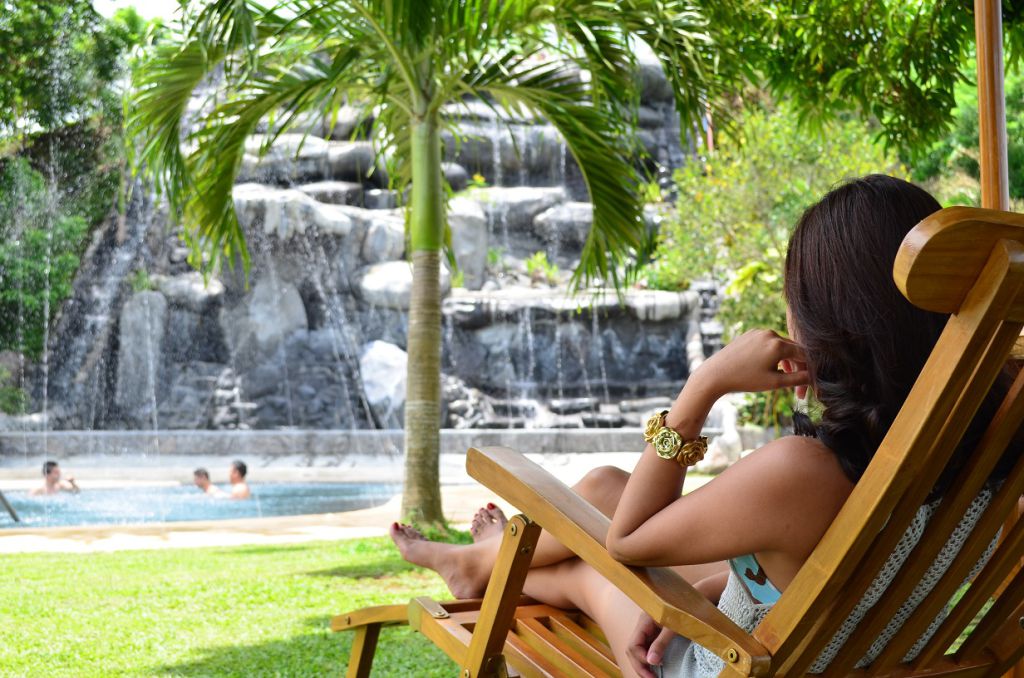 Sol Y Viento Mountain Hot Springs Resort.Nestled in a six-hectare property, this place offers scenic views of Mount Makiling, Makati City and Laguna De Bay. Imagine yourself basking in the warm sun while relaxing in the soothing, hot spring of this resort. Try it and find yourself enjoying the experience all day long.
Splash Suites Hotel.You need to get away from your regular routine and relax periodically. One of the great places to enjoy the best of both worlds is just right here in Laguna, particularly in the Splash Suites Hotel. Located inside Splash Mountain Resort, its pool will let you experience total wellness, from head to toe.
Other spring resort havens in the province include: Calamba – 88 Hotspring Resort and Spa, Agua Caliente Hot Spring Resort, C3Y Villa Private Hotspring Resort, Dona Jovita Garden Resort, La Vista Pansol Resort, Monte Vista Hot springs & Conference Resort, Plums Resort, Villa Teresa Private Resort, Wonder Island Resort; Los Baños – City of Springs Hotel; San Pablo City– Rockpoint Hotspring Resort – Hotel & Spa San Pablo; Alaminos – Hidden Valley Springs Resort; and Pagsanjan – Pagsanjan Falls Lodge and Summer Resort.
Traveling to Laguna
Laguna is a province of the Philippines found in the CALABARZON region in Luzon. From Manila, you can ride a bus to Calamba Laguna. The bus stations are located in Cubao (in front of the Alimall), Kamias, Quezon City (near Cubao) Buendia (corner Taft Avenue). Buses that are air-conditioned and are equipped with televisions are Lucena Lines, Jack Liner, Saint Rose, HM transport and Green Transit.
Another option is to ride in a bus with a sign board, "Going to Lemery Batangas." It will pass by the South Luzon Expressway, commonly known as SLEX. Then it will travel to Calamba, the town proper of Laguna. Just tell the conductor or the driver to stop over Calamba proper. It will take 1-2 hours to get to Calamba Laguna. From here, you can ride in Public Utility Jeepneys (PUJ) and tricycles if you want to visit other towns.
For you to make the most of your next vacation, discover the wonders of Laguna's natural spring resorts and build memories that last a lifetime.