Palawan is widely known for its natural wonders on land and above the water. Dense forests teem with wildlife and limestone cliffs dominate the skyline. Then there are the beaches. From Cuyo to Coron, you'll find pristine white sand and sculpted rock formations.
But I've one more to add to this province's plumed cap — the rich and diverse marine life. A wide range of ecological treasures lie beneath the waves. One worth mentioning is the Tubbataha Reef.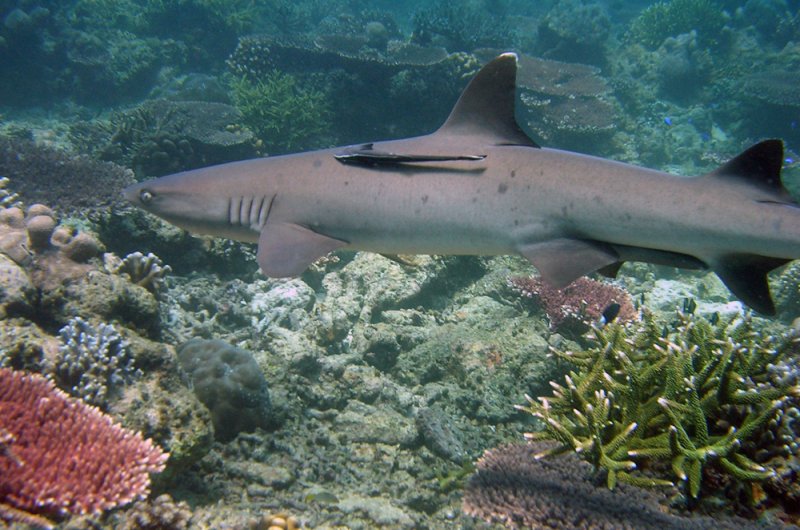 Background
Sulu Sea is considered as the geographic center of world marine biodiversity. Below it lies the aforementioned reef, which is a mecca for scuba divers. It's composed of two huge coral atolls (identified as North Atoll and South Atoll). A smaller coral structure, Jessie Beazley Reef, can also be found 20 kilometers north of the two atolls. This natural park is a part of Cagayancillo, a municipality roughly 130 kilometers to the northeast. Remote and somewhat isolated, the island is inhabited by fisher folk.
Tubbataha Reef is also a model of coral reef preservation. A total of 97,030 hectares has been marked as a Marine Protected Area (MPA). In 1993, UNESCO recognized it as a World Heritage Site.
Corals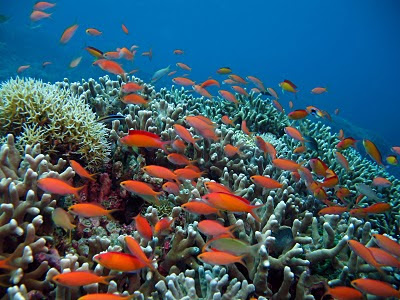 The nature park has about 10,000 hectares of coral reef. These are located at the heart of the Coral Triangle. There are 360 species of corals here, which amounts to half of all species that can be found in the world. Depending on the area, coral heads can range from 45 to 60 feet.
Other Attractions
The underwater terrain here is quite interesting. There are a number of caves, crevices, and overhangs that could be explored.
As mentioned earlier, the marine life is abundant too. Scientists have been making trips to the area since the 1980s. Collectively, their research has shown that Tubbataha is home to:
600 species birds including:
Cornetfish

Trumpet fish

Angelfish

Clownfish

Peacock groupers

Female Napoleon wrasse
111 species of sharks including:
Leopard sharks

Guitar sharks

White Tip sharks

Nurse sharks
13 species of dolphins and whales
There are also a hundred bird species spotted on Bird Islet. The spot is where sea turtles make their nests too.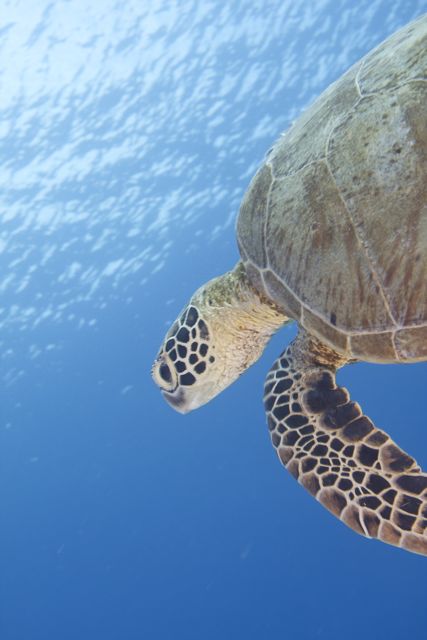 Getting There
From the capital, you can book a flight on one of the local airlines that travel to Palawan regularly. Dive operators in Tubbataha will usually pick up guests from the airport to the pier. The park is located 150 kilometers southeast of Puerto Princesa City. Expect travel time to be approximately 10 hours.
Find a complete list of dive operators in Tubbataha here.
Dive Season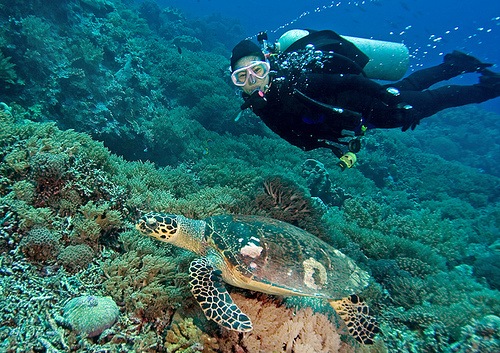 The current can be strong on the channel separating the two big atolls. Thus, it's best to know the best time to visit. Conditions are best from mid-March to mid-June. During this time, underwater visibility is between 30 and 45 meters. Clear skies and calm seas are also great bonuses.
Park Rules
Divers can help protect the beauty and bounty of Tubbataha by following the regulations set by the organization protecting this park. Prohibited acts include littering, feeding the fish, and using gloves while diving.
You'll find the complete list of rules below: