Zambales is a province located in Central Luzon that is blessed with lots of wonders to behold. It opened the doors to a gorgeous wonder that is Anawangin Cove. With the rise of popularity of the secluded cove, the road was paved for something quite similar, but set in a more picturesque setting: Nagsasa Cove.
Still located in the lovely province of Zambales, Nagsasa Cove is also fastly on the rise on the radars of tourists. Both coves share a lot of similarities to each other. The sand is more or less similar, but the area is quite larger. But when it comes to what you can expect, there are some things that Nagsasa Cove just offers a lot better.
What Makes It a Great Destination
Located around an hour and a half away from Barangay San Miguel and Pundaquit in San Antonio, Zambales, Nagsasa Cove has a ton of offerings for those who love nature.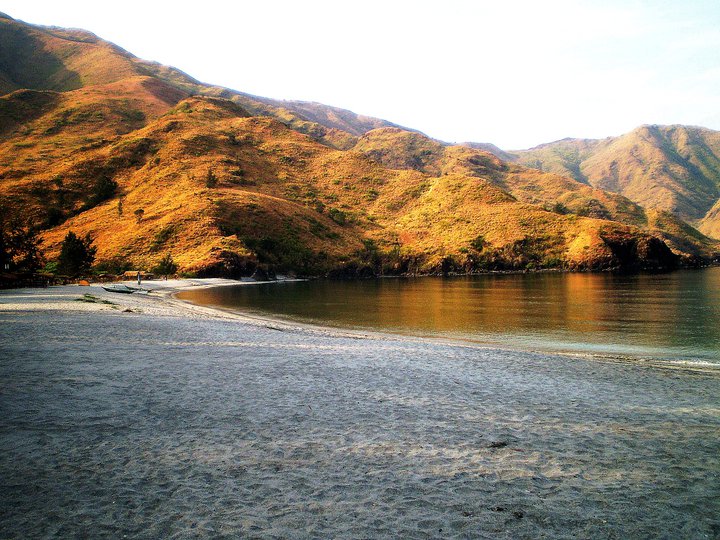 Stunning sight at Nagsasa Cove Photo by: moonwalkerwiz.wordpress.com
It features a lovely beach with grayish sand.
It has a lake where the wonderful mountains that serve as a backdrop are impressively reflected.
It has lovely, grassy mountains that turn brown during the summer months.
It features a waterfall that is hidden on the side of the mountain.
It offers serenity and simplicity.
How to Get to Nagsasa Cove
By Land
Catch a bus headed for Iba or Sta Cruz, Zambales. Bus company Victory Lines has scheduled trips for those locations. Just inform the driver that you are getting off at San Antonio. When you purchase the tickets, let the cashier know that you are only traveling as far as San Antonio to avoid being charged the full fare. The travel time is around 3 to 4 hours.
When you arrive at San Antonio, take a tricycle to get to Barangay San Miguel or Pundaquit.
At either Barangay San Miguel or Pundaquit, you will find bancas (boats) that will take you to Nagsasa Cove. The boat ride lasts about 30 minutes.
By Air
You can charter a flight to one of the following airports:
Subic International Airport
Castillejos Airstrip
Iba Local Airport
By Sea
There are two options for sea travel which are:
the Mt. Samat Express ferry ride from CCP to Subic
the Supercat ferry from Mall of Asia to Orion, Bataan. Once there, take a bus headed to Subic which will take an hour. From there, hop on another bus that will take you to Iba, Zambales but get off at San Antonio.
How Can You Enjoy Your Stay
If you enjoy the silence and beauty of nature, you definitely won't feel bored when you come to Nagsasa Cove for a visit. It is a destination made for those who want to find rest and relaxation and admire the beauty of nature.
That being said, here are some of the best activities to do:
Trek to the waterfalls. The trip takes about half an hour walk. You can also ask the locals for guidance on which path to take. It's best to do this while the sun is still up too.
Go camping. Given the location of the cove, no activity suits it best than camping. Also note that there are no commercial accommodation on the island, which makes camping your best option if staying overnight. If not, you can also stay in nearby Pundaquit or San Miguel which has several accommodation options to choose from.
Visit Capones Island and other neighboring islands. Hire a boat to take you to several nearby and equally wonderful islands: Capones Island, Camara Island, Anawangin Cove, Talisayin Cove and Silanguin Cove.
Capones Island is very scenic and features a lighthouse that dates back to the time of the Spanish occupation.
Camara Island is right beside Capones and what stands out about it are the very large rock formations.
Anawangin Cove is a very touristy place and is quite similar to Nagsasa, but the latter is much more scenic.
Keep in mind that not all of this can be visited in one day because it all has to depend on the weather.
Engage in water-based activities. The waters of Nagsasa are inviting enough for various water-based activities. Of course, there is swimming, but for those who want a little more action, you can always surf or skim – depending on your interests. One caveat: bring your own board.
When you want to take a quiet holiday in a hidden destination, make Nagsasa Cove the next place to visit when you start making your bucket list of travel destinations.