Batanes is well-known for its historic Ivatan houses and gorgeous lighthouses, but these aren't the only its best features. If you're spending your vacation in this province, you'll see that it also has a lot of surprisingly beautiful beaches to offer. Many of these beaches can be found in Sabtang Island, which is located in the southernmost part of Batanes and, together with two other slands Ivuhos and Dequey, makes up the Sabtang municipality. By taking the time to check out Sabtang Island, you'll get to visit and marvel at fantastic stretches of coastline, such as:
Morong Beach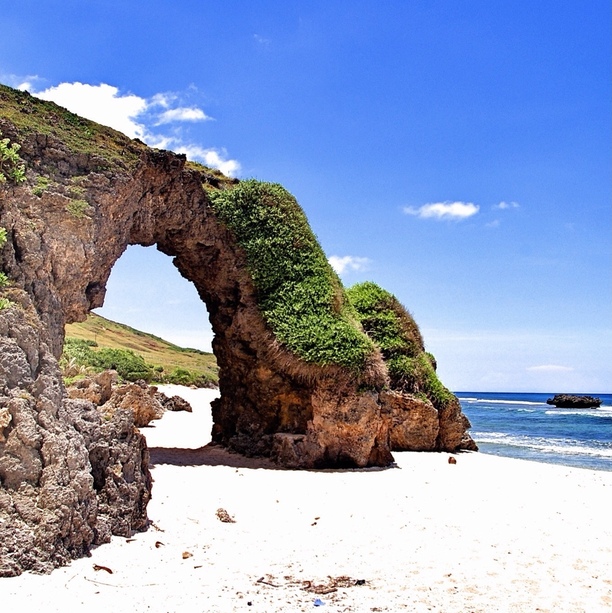 This is considered to be one of the most famous and most-photographed beaches in Batanes, which isn't really surprising since Morong is truly fabulous. It's essentially a long stretch of white-sand beach with blue skies and cool, crystal-clear waters and is bordered by low grassy hills. It also has a natural rock formation known as the Mayahaw Arch (which, over the years, has become a popular icon of Sabtang and even Batanes) and a serene and pristine cave called the Nakabuang Cave (where you can look for various sea creatures during low tides).
Morong Beach is a great spot for taking marvellous vacation pictures for your Facebook and Instagram accounts. If you're fit enough, you can even climb up the Mayahaw Arch to have a fun and unique souvenir picture. The beach is also an ideal place where you can enjoy a picnic lunch stop during your tour around the island. It's also a fantastic location for a quick dip, but be careful when swimming: the waters get calm in fair weather, but it's difficult to splash around in during low tide since the sea floor is rocky. To protect your feet and stay away from painful nicks and wounds, make sure to wear sturdy waterproof sandals or shoes and watch where you step.
Chavayan Beach
Barangay Chavayan is famous for being a quiet, picturesque village with well-preserved old stone houses. It's also known as the place where vakul (the traditional Ivatan head gear for women) are made and where locals and visitors can enjoy a gorgeous sunset. But these aren't the only things you can see and experience in Chavayan since you can also check out and hang around its beach!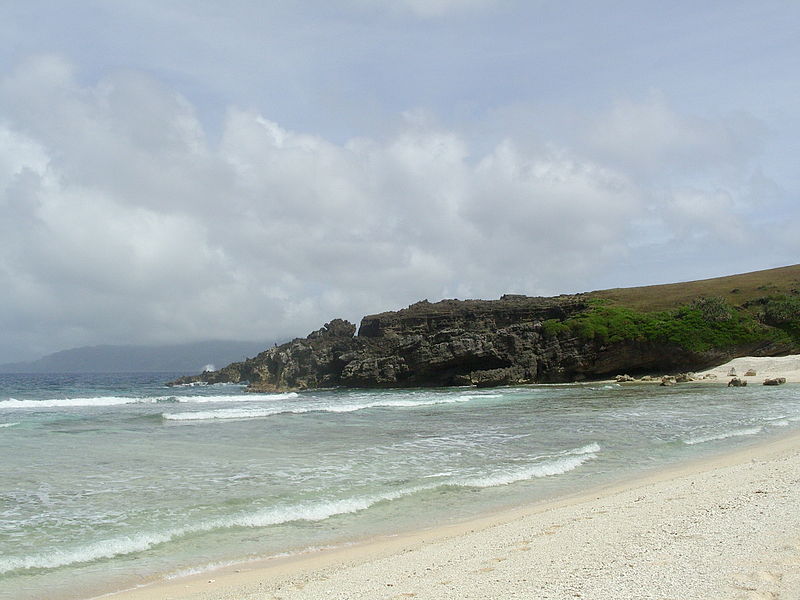 Chavayan beach might not be as famous as Morong, but it can still give its more popular neighbor a run for its money. Located on the southern end of Sabtang, Chavayan is a stony beach with several interesting rock formations you can explore. Make sure to check out the area at low tide; this way, you'll get to clearly see the rocks on the beach and marvel at the deep and eye-catching colors of the sea.
Getting There and Getting Around
To get to Sabtang and its beautiful beaches, you can fly from Manila to Basco, Batanes. Once you arrive at the airport, flag down a tricycle and head off to Ivana Port where you can board a faluwa (a traditional Ivatan boat) to Sabtang. On the island, you can rent a tricycle to get around, visit the beaches and check out the other sights. Alternatively, you can sign up for a group tour when you reach Basco, which is a great option if you love the fun and vibrant atmosphere that comes with traveling with many people. You can also rent a bicycle in Basco and bring it with you to Sabtang; this way, you'll have your own means of transport and can explore the island at your own pace and time.