The cold weather is starting to subside in many places, and spring and summer are just around the corner, which means camping season is about to be in full swing. Spending time in the great outdoors is incredibly fun and rewarding. It can help teach you new skills, how to persevere, and help you bond with friends, family, or loved ones.
Knowing that camping season is almost on the way, it's time for you to start stocking up on the right camping gear. There are so many different kinds of camping equipment you can choose from that it's like being a kid in a toy shop. If you're having a tough time figuring out what gear you'll need when you hit the hiking trails and woods, here are some helpful tips to get you started.
Figure Out What Kind of Camping You Want to Do
Not all camping is the same so it's good to know what you think you're going to be in for. The most common kinds of camping include glamping (camping in style, think backyard tenting), survivalist camping (extreme or rugged camping with very little gear), hiking/backpack camping (bringing enough that you can carry on a hike), and canoe camping (canoeing and portaging to find spots to camp). If you're doing survival camping, gear at savvysurvivor.com would be much more applicable than glamping. Consider if you'd need a satellite or ham camping radio compared to a tent and some sleeping bags depending on how serious your outing will be.
Plan Activities for Your Outing
While out camping, you also want to consider what kind of things you're planning on doing. Hiking is a common one, which would require you to bring lightweight bags, easily carryable and foldable tents, and water bottles that could be strapped to a belt loop. If you're going canoeing, it's easier to pack more things in, like fishing rods and nets, as well as a cooler. Think about what you'd like to do while out camping to help decide on gear.
Make a Budget
Camping isn't always expensive, and unless you're incredibly experienced and skilled at survival, you'll need to bring a decent amount of gear. Make a budget to keep your costs reasonable. Tents can cost anywhere from under $100 to $1000, depending on the durability of the material and size. Likewise, hiking boots can be pricey, but they're worth it for the added protection and comfort. Don't pack too much, but remember that even the essentials won't be entirely cheap.
Consider the Elements You'll Be Facing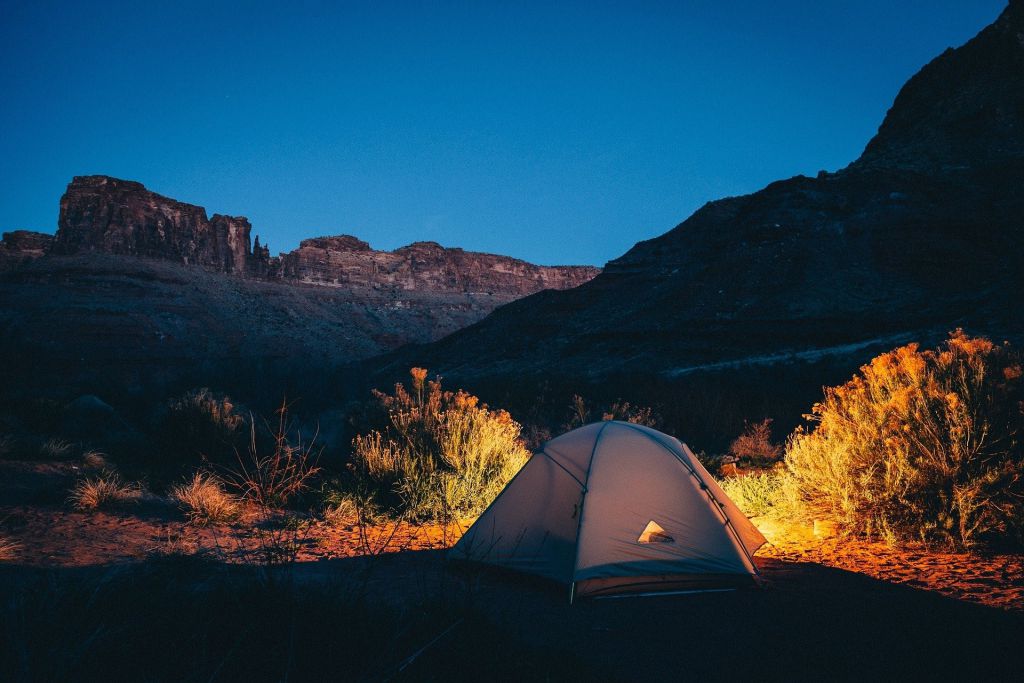 Depending on the season, where you're camping, and what kind of camping you'll be doing, the elements can change dramatically. If you're camping in the cold (night desert, close to open bodies of water, snow) you want to bring thermal underwear, socks, and insulated clothing for nighttime, as well as a down sleeping bag. If it's going to be hot, remember not to wear too much during the day because sweat will make you cold at night. Check the forecast ahead of time and bring enough hydration and food to stay energized, day or night, hot or cold.
Know the Type of Obstacles You Might Run Into
The outdoors are animals' homes, so you need to respect that you are in their backyard. Bring a whistle, possibly bear mace, and know-how to scare away animals if it comes to it. Consider bringing a raised pack to put in the tree so nothing gets at your food or water. Bring a small first aid kit with the essentials like gauss, bandage wraps, antibacterial, and anything that can help in case of scrapes, cuts, or bites. It's also advised you bring some kind of GPS, compass, or map, along with a water filter straw. These can help you out of most sticky situations out in the wild.
Focus on the Basics First
If you're a beginner to the world of camping, stick to simple treks, not very far into the forest with the essentials: tent, sleeping bag, lantern/flashlight, etc., and stay out for a night. Learn the basics of survival by making fires with flint or matches, and you can help build the skills to help you do bigger or longer camping trips. This is a good way to stay safe while still enjoying it, then getting better and better.
Camping is an incredibly enjoyable and rewarding way to get out of the house, and the best way to enjoy it is by bringing the right gear along with you. Use this helpful guide to pick out the right equipment you need to make your next camping expedition equal parts fun and safe.