The type of backpack that will suit you depends on various factors that this article will explore. Simply put, your needs and use of your beloved backpack will determine the volume, size, necessity of pockets or zippers, as well as any other extra features that you might want to consider if you'll be using this as an essential piece of travel equipment. Right, let's jump straight into showing you what you should be considering when buying a backpack:
How many days are you traveling?
Depending on how many days you will need to rely on the storage space of your backpack will greatly influence the volume of your backpack. You can consider weight, but it is better to think about it in days.
For example, will you be using your backpack for weekends away? Will you be trekking or traveling for multiple days – or even longer? For overnight or single-day trips, less than 30 liters will be sufficient, but 30 – 50 liters should stand you in very good stead for a couple of days. If you are a smaller person, then perhaps on the lighter side is best. For extended trips where you will only have access to your backpack as your primary luggage for the week or even weeks, something around 70 liters is great! If you will need your backpack for a mix of longer and shorter travels, then somewhere in the middle is good.
Always keep in mind that with a bit of a larger backpack, you can be assured that you will have enough room for clothes and necessities. And, there is no reason that for shorter trips that you can't pack your luggage less than completely full.
Explore new types and ranges
The availability of backpacks new to the market is amazing and it would be a great idea to thoroughly explore all your options before settling on one brand. Take all online recommendations seriously, as avid backpackers spend a lot of time trying and testing new products that have been amazing for their travels. Consulting this site will expose you to certain reviews, while the next site might show you completely different options. Research, research, research – the more knowledge the better!
Consider your torso length, not height
When measuring which height of a backpack is good for you, don't be tempted to get your height involved. Because most of the backpack's weight should rest on your hips, be careful to measure your backpack against your torso height. Adjust the straps tightly to ensure that they are sufficient to support the backpack's weight. If you are a smaller backpacker – shorter or younger – consider a backpack tailored to women. The torso dimensions are also likely to be shorter and narrower.
Some other features of specific backpacks can also help you if you are on the smaller side, like shoulder and hip padding. It can be very unsettling traveling long distances with an injured body part, especially if it is critical like your shoulders, lower back, or neck. Abiding by some safety rules and absorbing some great safety tips will help you make smarter decisions while you're traveling – minimizing the risk caused to your body. And one of the greatest safety measures you can take is learning how to distribute the weight across your backpack.

Additional features and compartments
Taking a look through all the different features of your backpacks is fantastic, as you will learn very quickly what you want! For example, how many access points does your bag have? Only having one main compartment can be limiting, especially if this is your primary form of luggage. Look for backpacks that offer multiple access points and compartments, providing greater flexibility and ease of use.
Here are some other ideas to look into:
● Ventilation for warmer weather
● External attachments, like bungees, loops, or daisy chains
● Rain cover!
● A removable top flap (lid) for day hiking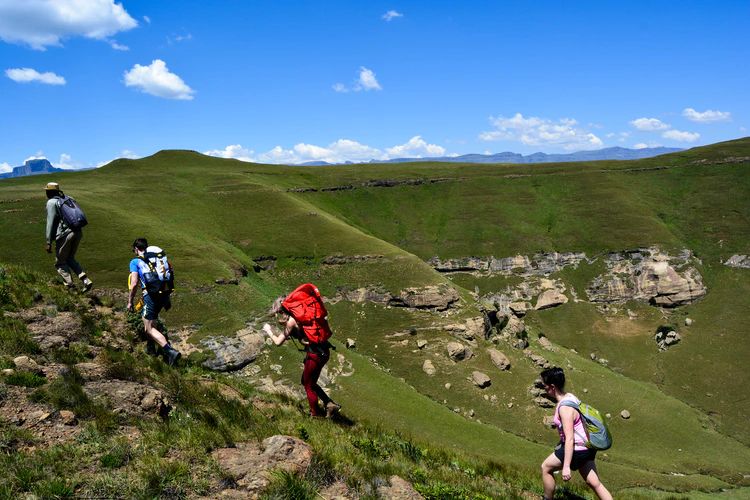 Appropriate frame support
While external frames are more traditional and no longer as commonly produced as internal frames, it is totally your choice as to whether you'd like this option. It will provide more durability, and allow for greater back ventilation and a heavier load to be carried, however, internal frames are made out of more lightweight materials. This will likely be better if you are susceptible to back or spine pain. It all depends on your needs and capacity.
Additional features of backpacks designed with craftsmanship can make all the difference to your trip – in comfort, flexibility, and style – but it is really up to you, as the consumer, to decide which options are worth it for you. Think about your decision carefully by consulting a specialist equipment shop or website, reading online reviews about backpacks you're interested in, and chatting to knowledgeable friends. As you will be utilizing your backpacks for many years to come, the decision shouldn't be made lightly. Take good care of the one you buy and it will serve you well!