69% of travelers actively seek sustainable travel options, according to a significant new survey by the World Travel & Tourism Council (WTTC) and Trip.com Group in collaboration with Deloitte.
In this follow-up report, WTTC partnered with leading global travel service provider Trip.com Group and its major consumer brands Trip.com, Ctrip, and Skyscanner, along with additional data from Deloitte, to examine the trends that shaped the Travel & Tourism industry in 2018 and will continue to do so through 2023.
The report "A world in motion: shifting consumer travel trends in 2022 and beyond" demonstrates that travelers are willing to reduce their carbon impact and promote sustainable tourism.
According to a poll contained in the report, three-quarters of travelers are considering traveling more sustainably in the future, and over sixty percent have opted for more sustainable travel options in the past few years.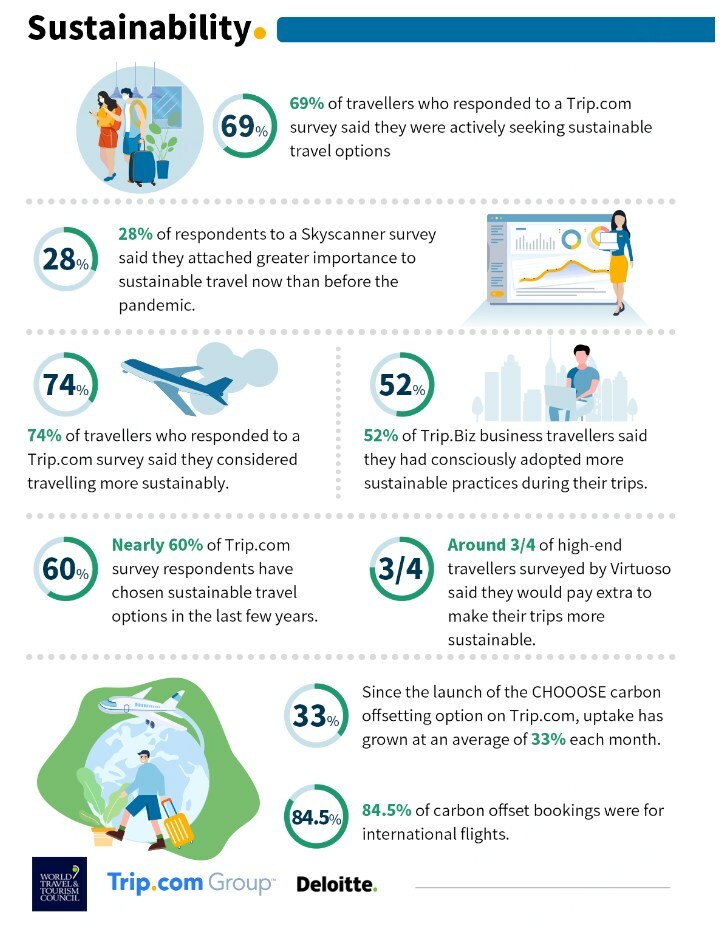 Another survey indicated that approximately 75 percent of luxury travelers are prepared to spend extra to make their travels more environmentally friendly.
Last year, after more than two years of travel disruptions, international overnight arrivals increased by 109% compared to 2021, demonstrating that travelers' wanderlust is very much alive.
In 2022, 86% of travelers intended to spend the same amount or more on international travel than they did in 2019, with U.S. tourists leading the list of big spenders. According to the report, consumers were willing to stretch their budgets for vacations last year, with 86% planning to spend the same amount or more on international travel than in 2019.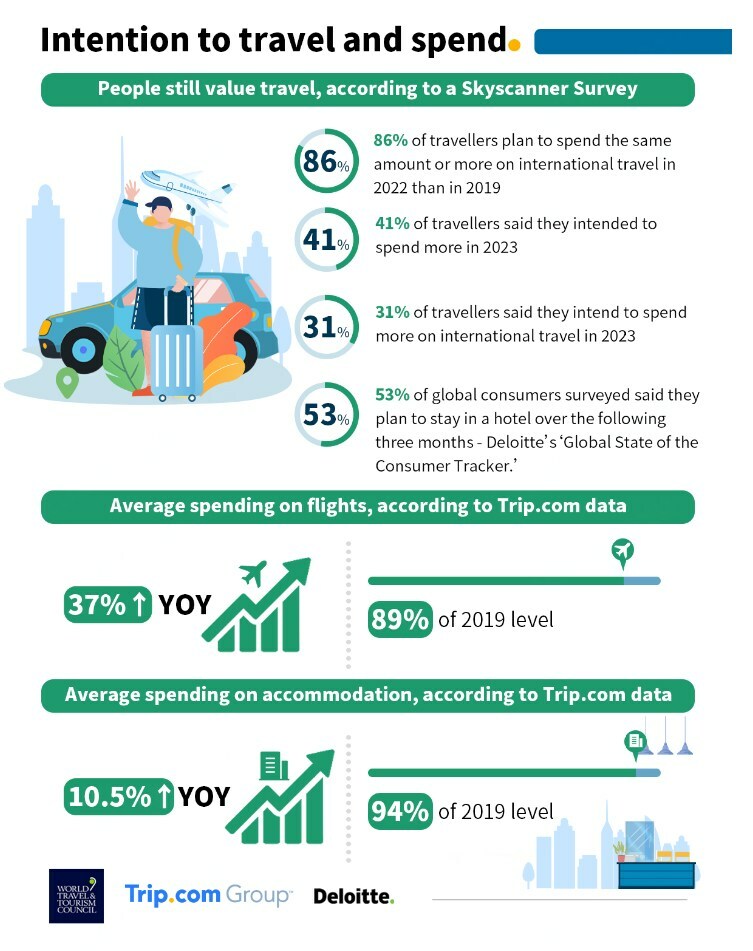 However, 2023 appears to be an even better year for travel expenditures. Despite worries about inflation and the global cost-of-living issue, over one-third (31%) of travelers plan to spend more on international travel this year than in 2022.
Moreover, according to Deloitte's 'Worldwide State of the Consumer Tracker,' more than fifty-three percent (53%) of global consumers questioned during the summer stated that they want to stay in a hotel during the next three months.
Julia Simpson, president, and chief executive officer of the WTTC, stated, "The demand for travel is now stronger than ever and our report shows that this year we will see a significant bounce back. 2023 is set to be a very strong year for Travel & Tourism."
"Sustainability is top of travelers' agenda, and consumers highlight the value they put on protecting nature and traveling responsibly."
Jane Sun, the chief executive officer of Trip.com Group, stated, "Travel & Tourism is a powerful force in driving the global economy, creating jobs, stimulating economic growth, and lifting communities out of poverty."
"The Asia-Pacific Region, with its rapidly growing middle-class and dynamic economies, is well-positioned to capitalize on the growth of the industry and take its place as a leader in the global tourism economy."
"I'm optimistic about the positive momentum for the global resumption and growth of travel in 2023, primarily driven by mainland Chinese consumers, which will help accelerate worldwide recovery and development."
Scott Rosenberger, Global Transportation, Hospitality & Services Sector Leader at Deloitte, states, "Travel is rebounding from the pandemic while innovating and meeting the demands of more modern alternative travel types, sustainable travel, luxury travel, and much more.
"Even the rise in inflation-driven financial concerns is not slowing the pace; incredibly travel is being prioritized and flexible/remote work arrangements are creating new opportunities. We are actively engaging with our clients as they embrace these new trends and create memorable experiences for consumers."
Other findings revealed in the report include:
2022 sun and sea package holiday sales are estimated to be up 75% compared to the previous year
Last year during the summer, international arrivals in European sun and beach destinations were just 15% below 2019 levels
According to WTTC's recent 'Cities Economic Impact Research', in 2022 visits to major cities are expected to see a 58% year-on-year increase, less than 14% below 2019 levels
Luxury holidays will prove particularly popular, with sales of luxury hotels expected to reach $92 billion by 2025 (compared to $76 billion in 2019)
In a survey, nearly 60% of travelers said they were either already paying to offset their carbon emissions or considering it if the price was right
To access more information and read the report in full, please click https://wttc.org/consumer-trends
[Source: WTTC Press Release]