SUBIC BAY FREEPORT, Zambales, Philippines — The Lighthouse Marina Resort collaborated with the UP Mountaineers, Subic Times and the non-governmental organization called "Samahan ng mga Responsableng Magsasaka at Mangingisgdang Pilipinas Inc", known as SRMMPI, Zambales Chapter for a Pre-Earth Hour activity held last March 10, 2013 at Sampaloc Cove in Subic, Zambales.
"Electricity and road access are not available in this area. The primary means of communication for this cove is through mobile phones. The nearest place where they can charge their phones is more than three hours away by foot. Hopefully with the solar panel, we will improve the lives of this small community. They will be able to charge their mobile phones and power an AM/FM radio", explained by one of the Go Green Program project leaders at The Lighthouse, Mr. David Bayarong.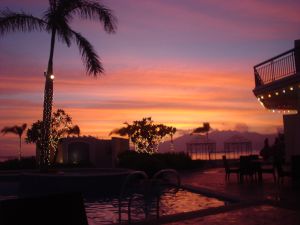 One of the most anticipated environmental events that have been celebrated by of millions of people around the globe would once again unite supporters of Earth Hour by switching off the lights from 8:30pm to 9:30pm on March 23, 2013.
In preparation for the activity, The Lighthouse donated a solar panel to Sampaloc Cove residents through its maintainer and representative, Mr. Bernie Bautista of SRMMPI. Upon the team's arrival at the cove, they talked to locals about the value of recycling by teaching the Leave No Trace principles and conducted a beach cleanup.
Besides exploring and promoting different coves in the area, The Lighthouse Marina Resort for the past four years, has gone beyond the hour by creating the Go Green Program in the efforts of sustainability and responsible tourism. Restricting access is one way to preserve these beautiful areas, but they also believe that by sharing these pristine destinations and regulating its visitors, more and more people will appreciate the beauty of mother nature and encourage them to be protectors of the environment.
To learn more about the Earth Hour celebration and how you can attend the Waste Management & Energy Saving Tips Seminar on March 23, email [email protected] or log on to www.facebook.com/lighthousemarinaresort. You may also show your support for Earth Hour by switching off your lights from 8:30pm to 9:30pm on March 23, 2013.
This event is supported by:
Earth Day Network, Zero Carbon Resorts EU, DOST, SBMA, BandaSolar Corp, UP Mountaineers, Leave No Trace Organization, Subic Enerzone, Pactec, UAI, GDP, JRA and Exodus Tribe Dancers
Media Partners:
K-Lite 96.7FM, Solar Entertainment, Jack TV, ETC, 2nd Ave. SubicTimes.com, Subicupdater.com and Subic.com