PASAY CITY, Philippines — Launched in 2010 Social Media Day was established to recognize the ways that online networks have changed lives. Embracing the social media revolution, Sofitel Luxury Hotels will mark this year's event on 30 June with a flurry of online activities across the region to interact with fans and celebrate how social media has changed the way Sofitel engage with travellers. Sofitel will be awarding over 70 lucky winners with memorable magnifique experiences, ranging from hotel stays, spa treatments and dining privileges across its world-renowned luxury hotels.
Over 70 hotel stay, spa and dining privileges to be won across Sofitel Hotels in Asia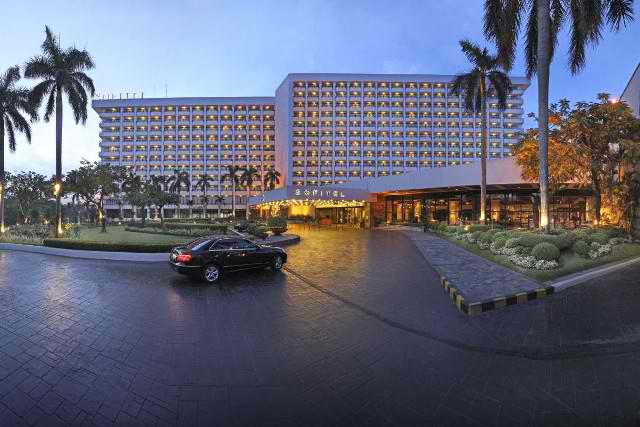 Close to 10 Sofitel hotels across Southeast Asia and India will take part this year through unique social media based contests and events from 24 to 30 June in the lead up to the annual global event. From photo contests on Facebook, Twitter and Instagram that inspire imagination and provide unique insights into the world of Sofitel, to themed parties that celebrate the best in the social media arena, the hotels will mark the week with contests and prizes abound.
Guests and fans will be prompted to use the hashtag #SofitelSMDay in a variety of campaigns for the chance to win a broad range of exciting rewards. Highlights from different hotel regions include:
Thailand
Sofitel So Bangkok (@SofitelSoBKK)
– Celebrating the power and reach of social media, Sofitel So Bangkok fans can participate in the Facebook photo challenge to submit an image with the most number of people, tweet
'what you like about So Bangkok that you want to share with the world'
with the hashtags #SofitelSMDay and #SofitelSoBangkok or upload a creative Instagram picture of themselves with the letter 'S' and 'O' with the hastags #SofitelSMDay & #SoSnapShot to win exclusive stays in the hotel's So Comfy rooms, and dining vouchers for Red Oven or the infamous Cocoa Rush Hour at Chocolab. The hotel will also be inviting local celebrities and online icons as guest micro-bloggers.
Sofitel Bangkok Sukhumvit (@SofitelBKKSuk) – Inspiring guests to let their imaginations run wild, Sofitel Bangkok Sukhumvit will be hosting a social media photo contest where guests have to post up the most creative and innovative images on Facebook or Instagram with the hashtag #SofitelSMDay and the hotel's handle @SofitelBKKSuk for a chance to win a variety of gastronomic and relaxation packages including hotel stays and dining privileges. Four winners will be chosen based on the award categories 'Most Popular', 'Most Creative', 'Most Unique', and 'Most Magnifique'.
Sofitel Krabi Phokeethra Golf and Spa Resort – Engaging participants in a game of chance, the hotel will launch a campaign where one lucky fan will get to win a luxurious 3 Day 2 Night stay at Sofitel Krabi Phokeethra Golf & Spa Resort for two in just three easy steps! To participate, fans have to 'like' the hotel's Facebook Page, select a number between one and a thousand in a reply to the activity post and share the activity on their own personal wall. The number, related to the luxury hotel, will be revealed on 1 July 2013.
Cambodia
Sofitel Angkor Phokeethra Golf & Spa Resort (@SofitelAngkor) – Promoting immersion and sharing of local cultures, Sofitel Angkor Phokeethra Golf & Spa Resort will host a Facebook photo contest that celebrates the culture and tradition of the magnificent Angkor Wat temple. Fans are encouraged to share personal photos taken at the iconic monument and entries will be judged under three categories including best 'Family Moment', 'So fun!' and 'Mystic' to win spa treatment, complimentary meal and other privileges.
Sofitel Phnom Penh Phokeethra – Designed to allow patrons to share their gastronomic adventures with friends, the hotel will host a Facebook competition inviting fans to submit photos of their culinary experiences at the hotel's dining venues with a short personal caption. The hotel will share all entries across the different social media platforms and the fan who generates the most buzz at the end of the campaign will win a complimentary night stay at the magnificent Sofitel Phnom Penh Phokeethra.
Vietnam
Sofitel Plaza Hanoi (@SofitelHanoi) – In conjunction with Vietnamese Family Day on 28th June, Sofitel Plaza Hanoi celebrates family ties with a week-long photo contest on Facebook. From 24 to 30 June, fans are invited to submit an image that best represents their happiest family moments taken at Sofitel Plaza Hanoi to qualify for amazing prizes including hotel stays and complimentary dining vouchers.
Sofitel Saigon Plaza (@SofitelSaigonPl) – In keeping with the spirit of French joie de vivre, Sofitel Saigon Plaza will host a '7 Magnifique Days at Sofitel Saigon Plaza' photography contest to showcase guests' unique experiences at the hotel. During this week-long campaign, fans are encouraged to share a memorable experience at Sofitel Saigon Plaza with accompanying photo to vie for the daily prizes that includes spa and dining vouchers and the chance to compete for the grand prize and ultimate indulgence – 2 nights stay package at the Prestige Suite including spa and dining vouchers.
Sofitel Legend Metropole Hanoi (@MetropoleHanoi) – There are so many ways social media has changed the world. To celebrate this digital revolution, Sofitel Legend Metropole Hanoi encourages Facebook fans to take the time to reflect and share unique stories on how social media has changed their everyday lives. The contest, which runs from 20 to 30 June, will see the most unique, fun and meaningful entries receive a variety of luxurious free nights and dining vouchers.
Philippines
Sofitel Philippine Plaza Manila (@SofitelManila) – Sofitel Manila celebrates Social Media Day with a full suite of exciting social media related events throughout the week engaging guests from check-in to check-out. The hotel will be preparing themed treats for its guests including specially designed cupcakes giveaway and engage them via a social media photo wall in the lobby encouraging them to pledge their commitment to responsible social media usage. In celebration of the global event, Sofitel Manila will also launch an exclusive "SoLuxurious at Sofitel" package which includes a 'social media butler' who will help create a social media diary documenting guests' stay. The hotel will also be hosting an exclusive "tweet and greet" event with the movers and shakers from the social media scene with an exciting live tweet feed wall and raffle to celebrate the event in style.
India
Sofitel Mumbai BKC (@SofitelMumbai) – A picture is worth a thousand words at Sofitel Mumbai BKC where fans can take part in a series of photo caption contests to best describe fun and unique shots that represent this culturally magnificent hotel for the chance to win a pair of dining vouchers to the hotel's signature restaurant Jyran–Tandoor Dining & Lounge.
* * * * *
Discover Sofitel on www.sofitel.com (http://www.sofitel.com/)