PASAY CITY, Philippines — Sofitel Philippine Plaza announces the launch of the Sofitel-Run Rio Battle of the Sexes Leg 2, a 5 k and 10k Fun Run to be held on the 1st of September 2013 at the SM MOA Grounds, SM Mall of Asia. Luxury prizes from Sofitel is at stake during the fun run including a three night stay at the Sofitel suite, access to Club Millésime, the hotel's exclusive Club lounge, dining at Spiral, beauty treatments from Le Spa and Vietura, the new Aesthetic Lifestyle Institute. The second run follows the success of its first leg which attracted more than 3,000 runners last March 2013.
Sofitel Manila, in partnership with Run Rio, proudly present the second leg of the successful charity fun run, Battle of the Sexes, for the benefit of the Virlanie Foundation!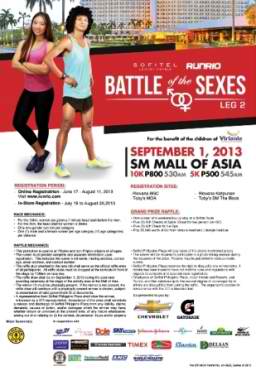 RunRio is a series of 10k and 5 K fun runs organized by the Sofitel Philippine Plaza together with RunRio Inc. and headed by the foremost running coach in the country, Coach Rio de la Cruz. The Battle of the Sexes Fun Run's unique concept of male vs. female is a first in the country with both 10 k and 5k race. Male and female participants will compete with each other in one finish line, one venue, and one distance. Female runners will start the race then the male runners will follow after 3 minutes (5k) and 7 minutes (10k run).
Sofitel Philippine Plaza general manager, Adam Laker says, "We were delighted with the success of our first ever run in collaboration with Coach Rio dela Cruz which attracted more than 3,000 runners. Over PHP 755,000 have been raised and has been used to purchase a van that was recently handed over to the Virlanie Foundation for their activities for the street children of Manila. It is Sofitel Philippine Plaza's advocacy to create a brighter future for the less privileged children of Manila. Since 2007, the hotel has launched several projects to help raise funds to support the foundation's benevolent activities in order to reach out to the children and families living in the poorest areas of Metro Manila.
Sofitel – Run Rio Battle of the Sexes is presented to you by Gatorade in cooperation with Gold's Gym, World Balance, Rexona, Sky Cable, Prime Power Manpower Services, Eupac, Dole Philippines, Darlington Socks, Johnson and Johnson, Health Express, Delsan Office Systems, Star Xpo Enterprise, Classica Litho Corporation, Nizoral, Primier Water and Timex. Media partners include Philippine Star, Business World, Manila Bulletin, WhenInManila.com and ABS-CBN News Channel.
The run officially starts at 5am at the Mall of Asia grounds. Gun starts at 05:30am for 10k and 5:45am for 5k.
Tickets are on sale at Php 500 for the 5K and Php 800 for the 10K, inclusive of the run registration and running kit. Registration sites are at Riovanna BGC and Katipunan and Toby's Mall of Asia and SM the Block.
For more information on the Run Rio Fun Run, visit www.runrio.com or contact and email 0929 7178164 and [email protected].
Sofitel, World Class Hotels & French Elegance
Sofitel is the only French luxury hotel brand with a presence on five continents with 120 addresses, in almost 40 countries (more than 30,000 rooms). Sofitel offers contemporary hotels and resorts adapted to today's more demanding and more versatile consumers who expect and appreciate beauty, quality and excellence. Whether situated in the heart of a major city like Paris, London, New York, Shanghai or Beijing, or nestled away in a country landscape in Morocco, Egypt, French Polynesia or Thailand, each Sofitel property offers a genuine experience of the French "art de vivre".
Sofitel Legend and & Sofitel So are two labels that come to enrich Sofitel Luxury hotels. Sofitel Legend hotels are iconic and mythical; they are often centuries-old listed heritage buildings: Sofitel Legend Metropole Hanoi, Sofitel Legend The Grand Amsterdam and Sofitel Legend Old Cataract Aswan. Sofitel So hotels are new « boutique hotels » characterised by a stylish focus on contemporary design by famous architects and/or embellished by international celebrities from the world of fashion, design or art: Sofitel So Mauritius Bel Ombre, Sofitel So Bangkok and Sofitel So Singapore (2013).
About Sofitel Philippine Plaza Manila
Sofitel Philippine Plaza Manila Hotel is a unique 5 star luxury hotel in Manila with a resort setting close to Mall of Asia, Manila Ocean Park, Intramuros, US Embassy, PICC, and major tourist spots in the Philippines. Sofitel 5-star accommodation includes 609 rooms and suites boasting of balconies and spectacular views of world famous Manila Bay sunsets.