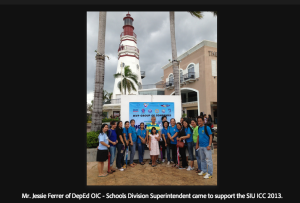 The Lighthouse Marina Resort with the International Yachting Fellowship of Rotarians (IYFR) Philippine Fleet, in partnership with Metro Pacific Investments Foundation (MPIF), in cooperation with Ocean Conservancy and ICC Philippines collaborated in one of the largest volunteer efforts in the world for ocean preservation. The Subic Shore It Up! International Coastal Cleanup (ICC) last September 21, 2013 proved to be a consistent environmental event that is celebrated every 3rd Saturday of September. In fact, the Philippines is the second largest participating country in the world with 143,946 volunteers in 2012.
Despite the rainy weather, people participated and have spread out to their nearby cleanup sites that have been increased this year. Thus, they were able to see firsthand that there is trash not only in the beaches and coastal areas but also even in their very own locations. These include four locations in SBMA, all 17 Barangays of Olongapo City and 11 towns from Zambales, for a total of 47 cleanup sites. An official count is yet to be announced, but to date, there are approximately at least 20,000 volunteers.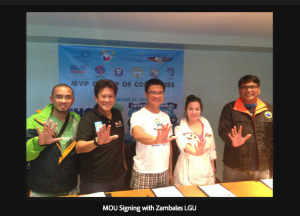 "Our objective for the Shore It Up! ICC has always been to unite everyone in cleaning our waterways and inspire people to change their methods of dealing with trash," explained by Jun Avecilla, ICC Area Coordinator, International Vice Commodore of IYFR and President of The Lighthouse Marina Resort.
They achieved their goal in tapping all 17 Barangays of Olongapo and the working group of Zambales for a series of Waste Management Seminars in August and September led by Mr. Bert Guevara, President of Earth Day Network.
Not only were they able to reach out to officials and other concerned citizens, but the whole Saturday was dedicated to educating children and the public for a sequence of environmental activities. MPIF invited 50 Cub Scouts and 50 Girl Scouts ages 8-9 for a Junior Environmental Scouts Seminar after the coastal cleanup. This was followed by Water Bonsai Making by Public Employment Service Office (PESO) of Zambales to the Senior Scouts of Olongapo City Regional High School Students and a Contreras Sculptures & Casa San Miguel Art Workshop with Special Program of the Arts (SPA) students from several Olongapo City High Schools. This is one way to instill values in the minds of our youth.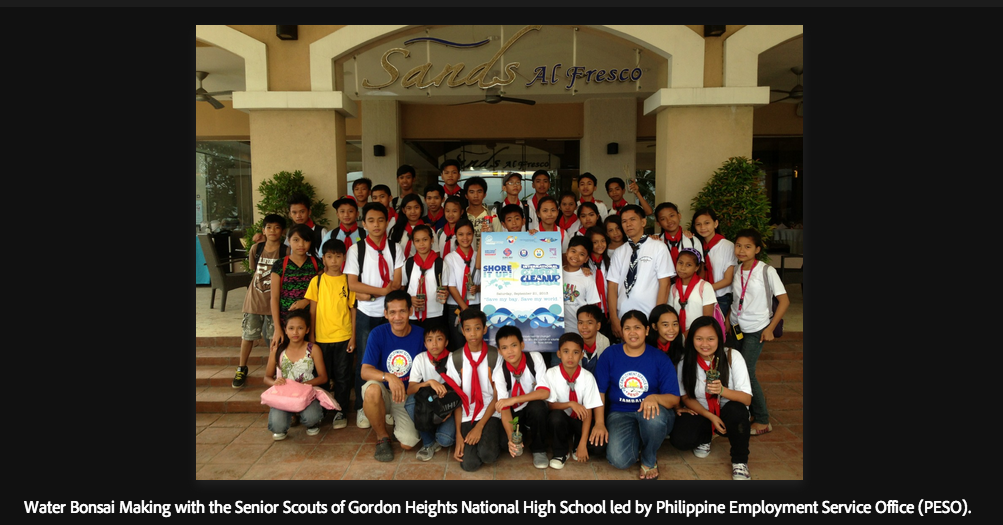 Every additional person making a change adds up to something meaningful. Through the data collected from Ocean Conservancy's annual cleanup, innovations to develop materials, manufacturing processes and products that will interrupt the cycle of pollution has been made.
This event is in cooperation with: City of Olongapo, Province of Zambales, Subic Bay Metropolitan Authority, Vice Governor's Office, Public Affairs Office of Olongapo City, Earth Day Network, Rotary Club of Cubao West, Rotary Club of Subic Bay, Rotary Club Cluster 4C, Rotaract of Subic Bay Freeport, Lions Club 301-DI, PLDT Smart Foundation, One Meralco Foundation, SPI Global, Metro Pacific Tollways, Maynilad, People Management Association of the Philippines, SBFCC, JCI Olongapo, Ayala Malls Harbor Point, Philippine Coast Guard, PACTEC Inc, Clawdaddy's, Aqua Pik, Abenson and Printing Excellence.
Media Partners: TV 5, Philippine Star, SubicTimes.com, SubicUpdater.com, Subic.com, Get Wet Asia, C! Calibre & K-Lite 96.7fm.
Please visit the official site: www.iccz.lighthousesubic.com, Complete List of SIU ICC 2013 Cleanup Sites and SIU ICC 2013 Supporters for more details.
For inquiries and reservations, contact:
THE LIGHTHOUSE MARINA RESORT Subic Line (Tel/Fax): (+63 47) 252.5000 or (+63 47) 252.7545 or visit the website: www.lighthousesubic.com
Follow us on Twitter @lighthousesubic
Like us on Facebook! www.facebook.com/lighthousemarinaresort / www.facebook.com/icczambales
Instagram/Twitter/Facebook Hashtags: #lmrgogreen ; #icczambales; #iccsubictimeslmr
The Lighthouse Marina Resort is Subic Bay's premier luxury hotel with 34 modern and tastefully-appointed rooms and suites, an all-day dining mecca, a nautically inspired bar and a host of leisure and relaxation facilities in a spectacular location.