Hawaii is awesome. It's the 50th state of the U.S. with an astonishing population of 1.4 million people, most of which live on the islands. In fact, the entire state only has about one quarter the population of New York City.
Hawaii is diverse in so many ways. It's home to Native Hawaiians, Chinese, Japanese, Mexicans, Samoans, Puerto Ricans, Filipinos, Koreans, Vietnamese, Filipino-Americans and several other nationalities. It's also home to a variety of cultures. This diversity along with its natural beauty really makes Hawaii such an awesome place.
It came as no surprise that Honolulu and Maui in Hawaii were included in the top holiday travel destinations for 2021 according to AAA travel forecast.
In the newly released AAA year-end travel forecast, AAA expects a 33.9% increase in travel sales from last year. Almost 110 million Americans are expected to travel during the holiday period, nearing pre-pandemic levels of 2019. Also, air travel will completely (almost) rebound from its low in 2020. 6.4 million travelers are expected to fly during the holiday season representing a 184% increase from 2020 and about 87% of air travel volume of 2019.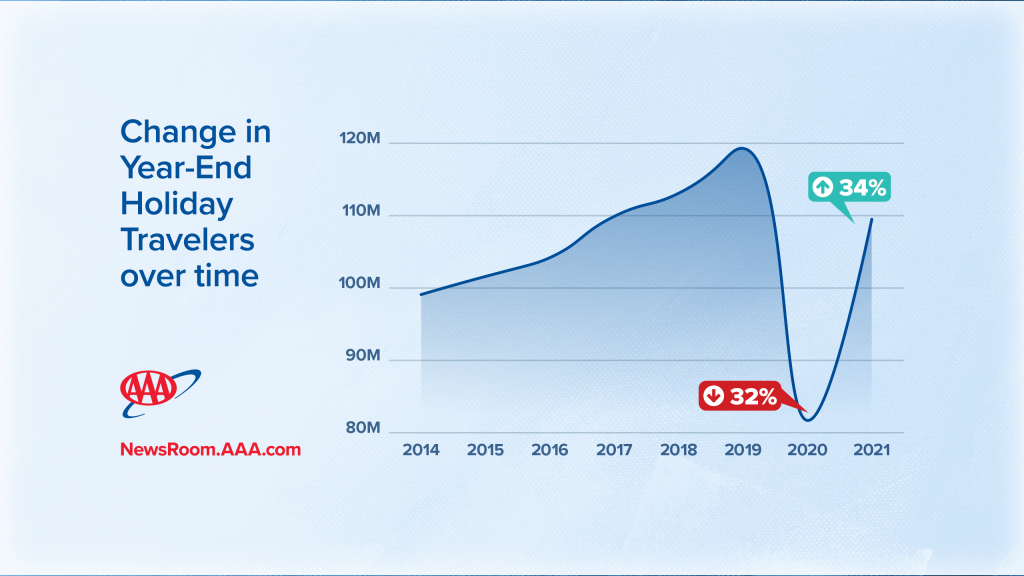 The year-end holiday period in 2021 is defined as Thursday, December 23 to Sunday, January 2. This year's 11-day period is one day shorter than the previous year's. Other top travel destinations for Americans included:
Orlando, FL
Anaheim, CA
Las Vegas, NV
New York, NY; Kahului, Maui, HI (tie)
Honolulu, HI
Miami, FL
Fort Lauderdale, FL
Tampa, FL
Phoenix, AZ
San Diego, CA
Why Should You Travel to Honolulu?
Honolulu, capital of Hawaii, is a unique world of warm tropical weather, amazing activities, culture, beaches, food, and nightlife. It's a place that will give you a unique and fascinating experience. Honolulu has been a destination for adventure and culture since the days of Captain Cook. With a variety of things to do, eat and see, there are so many ways to spend your time in Honolulu.
A trip to Honolulu will give you a different experience than visiting any other city. Take your time to explore the Hawaiian culture, experience a sunset cruise, enjoy one of the island's gorgeous beaches, or do something new and amazing like surfing or windsurfing.
Honolulu has some of the most unique and unusual things to see and do in the world. Honolulu's famous sunsets and sunrises, world-class surfing and scuba diving, and world-famous Waikiki are just a few examples of the places in Hawaii that will leave you awestruck and inspired.
Other popular experiences include snorkeling, walking through the historic district, shopping, touring and taking a trip through Oahu's North Shore.
Why Should You Travel To Maui?
Maui is an incredibly beautiful destination that attracts thousands of visitors every year. Maui has a large number of gorgeous beaches, waterfalls and lush scenery that is sure to take your breath away. However, there is so much more to do than just swim in the ocean and relax. Maui has a lot to offer both for long trips and short trips to the island.
One of the best and most popular reasons to visit is to unwind at the most sought after resort island of Hawaii. There are lots of places to stay on Maui, but most are expensive. However, finding accommodations that are within your budget is easy when you look for a vacation rental instead of staying at a hotel.
There are a lot of benefits to visiting Maui. For starters, there is a multitude of activities to choose from during your stay. You can visit the Maui Zipline, take a hike at Iao Valley, or see the breathtaking scenery at Wailea Beach. There are also plenty of activities for your little ones such as the Maui Ocean Center, Kahili Golf Course and the Kapalua Water Park.
There are also plenty of other ways to see Maui that are not necessarily related to activities. There are plenty of things to do when it comes to exploring Maui. For instance, you can join a Maui tour to see things such as Haleakala, the sunsets and even the ocean from above. You can also take an aerial tour to see Maui, the West Maui Mountains, and the islands of Molokai and Lanai. Lots of really interesting things to do and explore.
Travel Safety Notes
Before traveling, always consult travel guidance and recommendations from relevant government agencies. Some helpful resources are:
AAA COVID-19 Travel Restrictions Map
---
Credits: Photo used courtesy of AAA Newsroom