Grandview Tower, Angeles city's grand five-star hotel announced the official opening of the hotel and condominium property operations this 2013.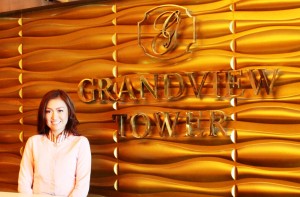 Angeles City, Philippines, January 25, 2013. The opening of Angeles City's grand five-star hotel, the Grandview Tower was finally announced on Monday, January 21, 2013. Mr. Jones Albanza, Sales and Marketing Head for Grandview Tower Hotel stated that the hotel operations of the condominium and hotel investment property will be in full swing by the third quarter at the earliest or the fourth quarter, the latest.
Grandview Tower Hotel is now offering condominium and hotel investment opportunities to hotel investors. The hotel provides investment advantages such as strategic location, luxurious and stylish suites, fine amenities and flexible financial service. The suites are meticulously designed to give visitors and clients a five star living experience in the hotel and at the same time giving clients greater value for their investment.
In the recent report on Clark International Airport's increased passenger traffic coming to Clark, the passenger growth is expected to carry on to 2013 and beyond. Clark's booming tourism is now affecting hotel accommodation demand around Clark and Angeles city area. The continuous growth in the number of people flying to Clark results to increased demand in hotel accommodation that is a perspective that hotel investors are focused on.
Grandview Tower's first class residential building is located near Clark Freeport Zone, one of the most developed world class business center and fastest growing tourist hub in the Philippines. It is also a few drive away and to shopping malls and exciting tourist destinations in Central Luzon. Being a flagship project of the Philippine Land Group Inc., Grandview Tower is boasts 92 spacious hotel suites and 46 residential units, making it the first of its kind in the region.
About Grandview Tower
Grandview Tower is a prime 5-star condominium hotel accommodation and investment within the center of business and entertainment of the growing city of Angeles, Pampanga. The condo hotel offers over 90 spacious hotel suites all furnished with modern and state of the art amenities, security and world class service. Within just minutes away from the city's shopping, tourist, dining and entertainment destinations, the Grandview Tower is ideal for tourists, business people, expats, and locals. For more information, go to www.grandview.ph or call (045) 892.0555.