CLARKFIELD, Philippines — Widus Convention Center has 2 function halls which can be divided into 5 small rooms. The Vegas Hall can hold up to 500 attendees seated theatre-style, 400 for classroom set up and 300 for banquets. While the Macau Ballroom can accommodate intimate gathering that requires 100 persons for a buffer setup with dance floor. This venue has state-of-the-art facilities and provides complete-in-house services that will include food & beverage, business center, surround sound system, themed events and entertainment and meeting equipments such as Motorized screen, LCD monitors, Built-in LCD projectors and Centralized control system devices services making ease and convenience for any meeting or event planner.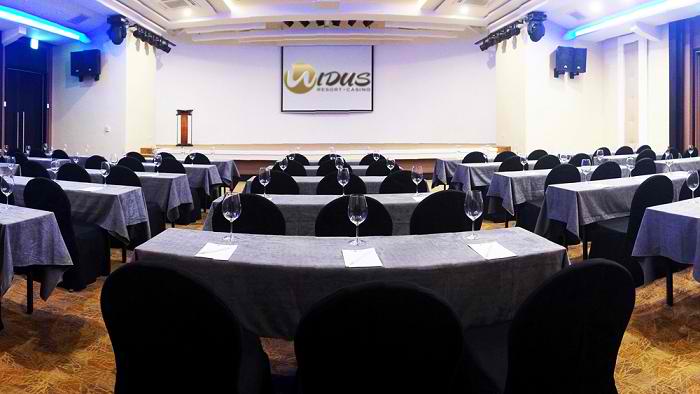 From casual to formal, personal to corporate, the new Widus Convention Center is a wonderful place to hold your next gathering; the center provides ideal location for weddings, business meetings, birthdays, exhibits, promos, receptions, reunions, anniversaries, thanksgiving and other special events.
Widus takes pride of WCC not just because the place is well-designed and very functional but also because it's very different. What make it different are our people — the services we offer, the care we provide. It's our commitment to ensure that even the smallest details are well taken care of; the dedication to make your experience extraordinary; the passion to make your events extra special and memorable. These are the things that set us apart from all the rest. And we challenge you to see and feel it for yourself.
Widus Resort and Casino Clark is located in Clark Freeport Zone Pampanga, 5 minutes away from Clark International Airport (CIA) which offers both local and international flights via different Airline and 5 minutes away from Duty Free Shops. Guests can also enjoy nearby local attractions and historical landmarks. For inquiries and reservations, please call +6345 499 1000 or visit www.widus.com.