Bali, also known as the island of the Gods, truly lives up to its name. In Bali, every kind of natural and man-made beauty can be found. There are white sand beaches, gorgeous waterfalls and ancient temples. Some people travel to Bali to party. Some people go to explore. Some people come to find peace and commune with nature. There's a little bit of everything to everyone to enjoy this awesome island destination. Let our concise and updated Bali travel guide below give you the info you need.
Where is Bali?
The island of Bali is located in the Lesser Sunda Islands of Indonesia. It is situated about a mile east of Java and separated by the narrow Bali Strait. Indonesia has more than 17,000 islands and Bali is its most popular island and main tourist attraction.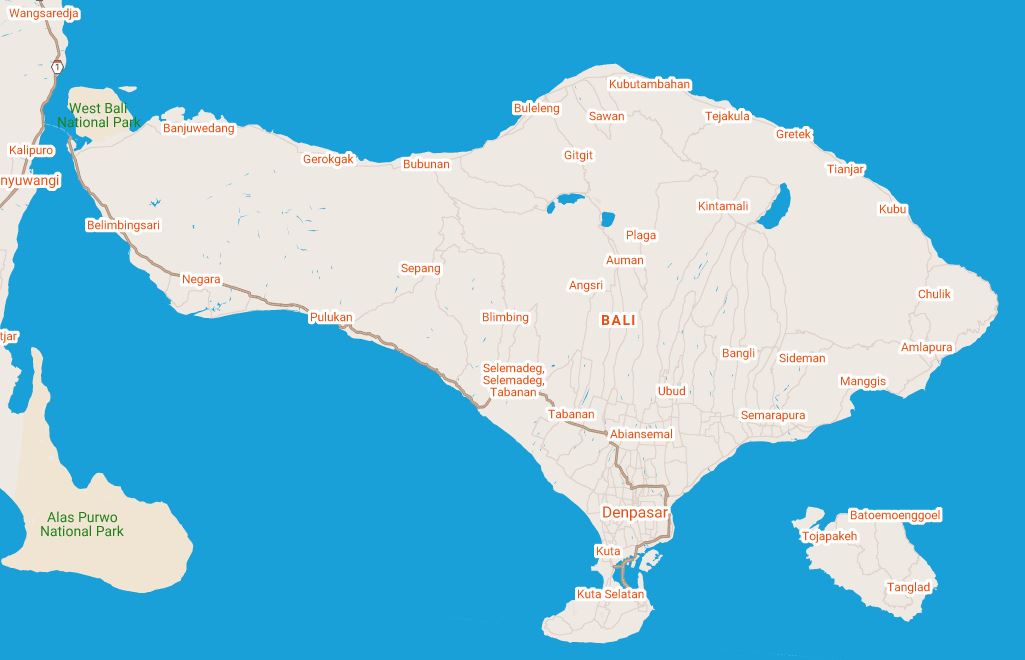 Bali is situated in an area known as the Coral Triangle, a roughly triangular-shaped body of water in the tropics, which is also known as the "Amazon of the seas" for its marine biodiversity filled with a variety of fish, turtles and other marine animals.
Estimated Flight Hours To Bali
| Flight | Estimated Flight Hours | Notes |
| --- | --- | --- |
| Sydney to Bali | 6 hours | |
| Los Angeles to Bali | 21 hours | |
| Toronto to Bali | 22 hours | |
| New York to Bali | 23 hours | |
See Available Flights To Bali (From Flight Partner)
Why travel to Bali?
There are countless reasons why people travel to Bali. For many frequent Bali visitors, Bali is one of the most peaceful and beautiful places in the world.
1. Genuinely Warm and Friendly People
Bali offers a lot of appealing places to visit but its people are probably its best attraction. The local Balinese people are among the most gracious and cultured people on earth. Once you've landed, you'll notice right away the calm pace and the broad smiles among the locals of the island.
2. Culture and Arts
The people of Bali are fond of poetry, music, dancing as well as arts and crafts. The Balinese culture affects almost every aspect of life on the island. Balinese art is evident everywhere and is manifested in painting, sculpture, wood and bone carving.
A must-attend when visiting Bali are the musical performances and traditional dance shows. The Balinese Gamelan (Balinese traditional music) and dancing are an integral part of Balinese life as they serve to honour their Gods, deities and ancestors. Every village has its Gamelan club.
3. Plentiful Food Choices
The island boasts a variety of food choices for the discerning traveller. There are the traditional Balinese and Indonesian cuisines to enjoy as well as international cuisines including healthy organic, vegan and even raw food choices. You can have anything from a $1 Nasi Goreng (Fried Rice) from a street-side vendor or you can dine in one of the finest restaurants spending $100. The choice is yours.
4. See Nature At its Finest
More than just beaches, sun and parties. Bali is a perfect getaway for travellers looking for natural scenery for relaxation, adventure or a combination of both. Bali is mostly mountainous with Mount Agung (Bali Peak) as its highest peak. There is plenty of waterfalls to explore. This is one thing our Bali travel guide writers really like about Bali.
5. Abundant Accommodation Options
Bali has plentiful choices on where you can stay. You can stay in guest houses run by Balinese families up to luxurious villas that can be a little expensive. Families visiting resorts and hotels can enjoy various amenities like the kids' areas, lagoon pools and sometimes even water slides.
6. Popular Wedding Destination
Bali is considered by most as one of the most romantic islands in the world and is a top honeymoon destination. It is a popular place for destination weddings with its white sand beaches and exotic and green mountain setting as a backdrop.
Important Facts You Should Know Before Visiting Bali
1. Do you need a Visa?
Americans visiting Bali and staying for less than 30 days are not required to have a visa. Just make sure your passport is valid for at least six months upon your arrival. Indonesian authorities regularly deny entry to all foreign nationals who arrive with less than six months validity on their passports. You'll also want to make sure you have enough space in your passport for two stamps: one upon entering and the other upon exiting. For longer duration stays, US citizens can apply for a passport at any Indonesian Embassy or Consulate in the US.
2. Voltage and Electronics.
Electricity in Bali runs on 220 volts unlike in the States where it runs on 110 volts. Most portable electronics nowadays have a built-in voltage converter and can handle different input voltages. But, better check to make sure. Look at your charger as most will have a label with input voltage range (typically you'll see.100V to 240v). If your electronics can handle 220V then you're good.
Power outlets in Bali will accommodate any plug type C and G. If you typically use A and B you'll want to bring an adapter with you. We suggest you get an adapter before travelling. There are plenty of good quality ones to choose from at Best Buy or Amazon. If you plan to travel to nearby Southeast Asian countries, then an adapter will be a good purchase.
3. Internet and Wi-fi
Internet in Bali is really strong everywhere. There is available Wi-fi in nearly every bar, cafes and pretty much any establishment you go to. Speed is acceptable and we've been able to upload large videos in under an hour. If you like to be online all the time, rest assured that you can get a good connection.
4. SIM Card for Local Calls
Once landed, get a SIM card for local calling. They are readily available at convenience
stores and are pretty cheap and easy to install.
Dial 112 on your phone for emergencies. 112 is Bali's version of 911. One tip, most times it will be faster to get a cab and drive to the nearest hospital or medical centre if you can do so rather than waiting for an ambulance. Also, the Balinese people are always ready to help so if you are in an emergency don't hesitate to ask for assistance!
Other numbers: Ambulance = 118; Search & Rescue = 111, 115, 151; Police = 110; Fire Dept. = 113;
5. Must-Have Apps on Your Phone
Make sure to install Google Maps, Google Translate, Airbnb, Agoda and riding hailing apps Grab and Gojek. Grab and Gojek are like the Uber/Lyft equivalent in Bali. Make sure to install them before arrival to have the chance to upload your payment methods. We also recommend installing messaging apps WhatsApp and/or FB messenger. They are quite popular in Bali and useful if you'd like to communicate with locals or tourists you met there.
6. Some Common Greetings in Balinese Language
It is always great to show off that you took the time to learn some common Balinese words. We actually recommend that you download Google translate on your phone just so you can refer to it from time to time.
Halo (HAH-lo) – Hello
He (Hey) – Hello (informal)
Selamat tinggal (S'LAH-maht TING-gahl) Goodbye
Dadah (DaH-DaH) Goodbye (informal)
Sampai jumpa (sahm-PAHY D'JUM-pah) – See you later
Apa kabar? (AH-pah KAH-bar) – How are you? (literally 'what's news'?)
Selamat pagi (S'LAH-maht PAH-ghee) – Good morning
Selamat siang (… SEE-yang) – Good day (or good afternoon)
Selamat sore (… SOH-ray) – Good evening
Salamet malam (… MAH-lahm) – Good night
Selamat tidur (… TEE-door) – Good night (when going to sleep)
7. Mass Tourism and Managing Expectations
Arriving at Denpasar airport, you will realize that you are not alone in the quest to explore all of Bali's greatness. Bali has been a popular tourist attraction and it can get crowded and full of tourists at times. In 2019 (pre-pandemic), the island saw a total of almost 6.3 million direct foreign tourist arrivals! There are still plenty of really good places where you can relax and unwind. But, expect popular tourist attractions to be crowded during the tourist season.
8. Clothes to Bring
Bali is located close to the equator so it will always be warm/hot. We recommend packing light breathable clothing and comfortable shoes. Shorts and shirts made with polyester or nylon are a great choice. If you plan on hiking some of the surrounding volcanoes, bring long-sleeved shirts and a light jacket. if you're planning on hitting the beaches on Bali and the surrounding islands, shorts and t-shirts are great. And, yes, bring your best sunglasses.
Bali Climate and Weather
Bali weather is fairly even all year round. The average year-round temperature stands at around 30 °C (86 °F) with a humidity level of about 85%. Daytime temperatures at low elevations vary between 20 to 33 °C (68 to 91 °F), but the temperatures decrease significantly with increasing elevation.
Much like other places near the equator, there are only 2 seasons in Bali, the wet and the dry season. The wet season starts in approximately October until April. This can bring significant rain, particularly from December to March. Comparatively, there are fewer tourists around this time so it has its advantage. The dry season starts approximately in May until September. This is the time of the year where there's a lot of tourists in Bali.
Bali Travel Awards and Recognition (some)
Bali has consistently been in the top 10 best island destinations of the world. Here are some of the travel awards and recognitions it has received.
World's top destination in TripAdvisor's Traveler's Choice award in January 2021.
Best Island award from Travel and Leisure in 2010.
No. 2 in BBC World's Best Islands in 2011
World's Favorite Tourism Destination at the 2020 PVK Award.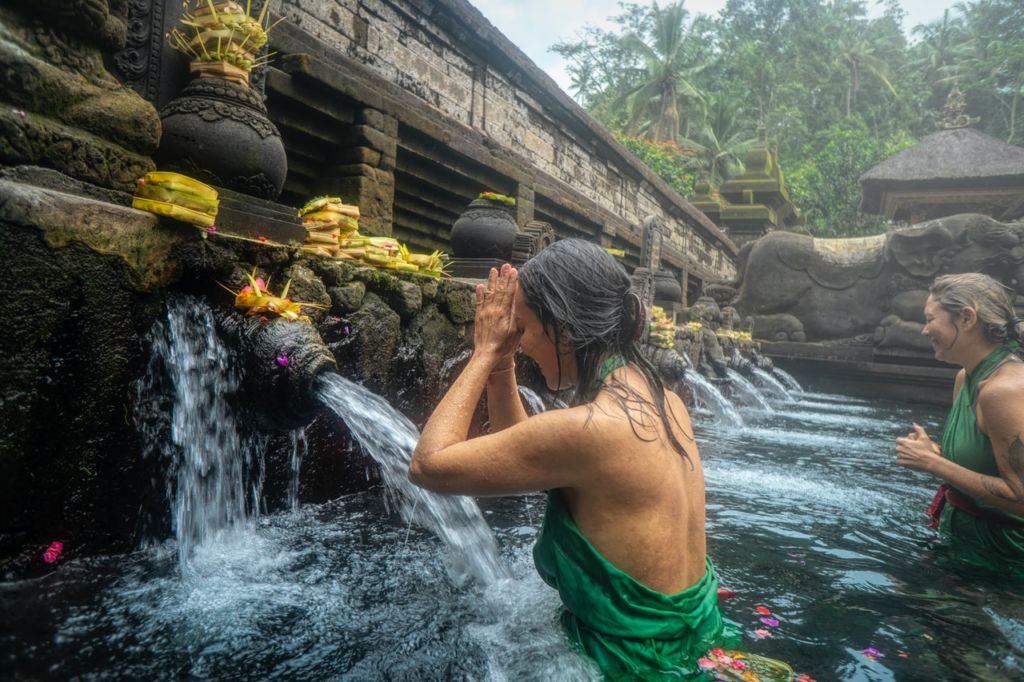 UNESCO Heritage Site in Bali
The Subak Irrigation System
The cultural landscape of Bali consists of five rice terraces and their water temples that cover 19,500 ha. The temples are the focus of a cooperative water management system of canals and weirs, known as subak, that dates back to the 9th century.
Interesting Tidbits About Bali
The highest point in Bali is Mount Agung at 10,308 feet (3,142 metres) in height and known locally as the "navel of the world" or the geographical and religious center of the world.
Traditional Balinese see Mount Agung as the holiest mountain, similar to how the Greek sees Mount Olympus. Many believe that it is the residence of the gods and from the mountain the gods look down the lives of people below.
When Islam won over the rest of Indonesia, Bali became a refuge for many Hindu nobles, priests, and intellectuals. Today it is the only remaining stronghold of Hinduism in the country.
Balinese villages have temples and an assembly hall, usually located on a square that serves for festivals and markets. Each family lives in its own compound surrounded by earthen or stone walls.
Nyepi (a public holiday), is a day of silence, fasting and meditation for the Balinese. The day after is celebrated as New Year's Day. On this day, the youth of Bali practice the ceremony of Omed-omedan or 'The Kissing Ritual' to celebrate the new year.
The Bali airport is named after Colonel I Gusti Ngurah Rai an Indonesian National Hero who died in Bali fighting the Dutch during the Indonesian War of Independence in 1946.
When rock icon David Bowie died, his ashes where scattered in Bali as instructed in his will.
Majority of local Balinese can speak multiple languages. Balinese and Indonesian are widely spoken in Bali as well as English.
Let us know if you need more info that is not in this Bali Travel Guide. We strive to add the latest and relevant info you'll need to get to Bali.
---
@Photo Credits : Alexandr Podvalny from Pexels