NLEX TARA NA SA NORTE 2013, July 12-14, 2013, Atrium, Robinsons Place, Manila, 10:00 a.m. – 9:00 p.m. daily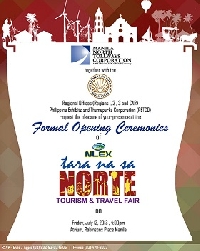 The Manila North Tollways Corporation (MNTC), the builder and concessionaire of the 84-km world-class North Luzon Expressway (NLEX) together with the Department of Tourism Regional Offices – Regions 1, 2, 3 and CAR are pleased to announce the staging of NLEX TARA NA SA NORTE 2013 on 12-14 July 2013 at the Atrium , Robinsons Place, Ermita, Manila.
The event will focus on the four regions of North Philippines namely, Cordillera Administrative Region, Cagayan Valley Region, Ilocos and Pangasinan and Central Luzon which among themselves hold some of the country's most diverse cultural treasures and traditions. The DOT northern regional offices will have their individual booths in the fair to showcase its most attractive tourism destinations and attractions. It will also feature corporate booths that will offer affordable tour packages and services, discounted airfares and hotel accommodations.
It shall also treat visitors to three days of fun-filled events such as corporate game shows, raffle draws of airline tickets , hotel accommodations, tourism quiz bee , flairtending exhibition and many more.
The exhibitors include Air Asia, Microtel Inn , Fersal Hotel Group, Philippine Retirement Authority, Punta Riviera Resort, Clarkland, Puerto del Sol, Azalea Residences, Java Hotel, Plaza del Norte, Dasoland, Camp John Hay Manor, Sun Cellular, Province of La Union, TIEZA, Tarlac Convention and Visitors Bureau, Nueva Ecija Convention and Visitors Bureau and Easy Trip,City of Alaminos NEEDCO and EM Leathercraft.
Locators of Subic Bay Freeport such as Terrace and Bayfront Hotel, Subic International Hotel, Treetop Adventures, Lighthouse Marina Resort, Subic Travelers Hotel and Event Center, Ocean Adventure, Subic Bay Yacht Club, Court Meridian Hotel and Suite are also joining the event.
The fair is sponsored by Cebu Pacific, Subic Bay Metropolitan Authority (SBMA) , Smart Communications Inc., Maynilad and is supported by Robinsons Place Manila and North Philippines Visitors Bureau (NPVB).
More information about the event can be obtained from the Event Manager, Philippine Exhibits and Themeparks Corporation (PETCO), Tel. No.s (63 2) 832-93-03 to 05, Fax 556-27-23 email [email protected].