The Department of Tourism (DOT) and the Tourism Promotions Board (TPB) have stepped up support for this year's Eid'l Fitr celebrations from August 9 to 11, 2013, at the Atrium/The Block of SM North in Quezon City and in other areas of the country.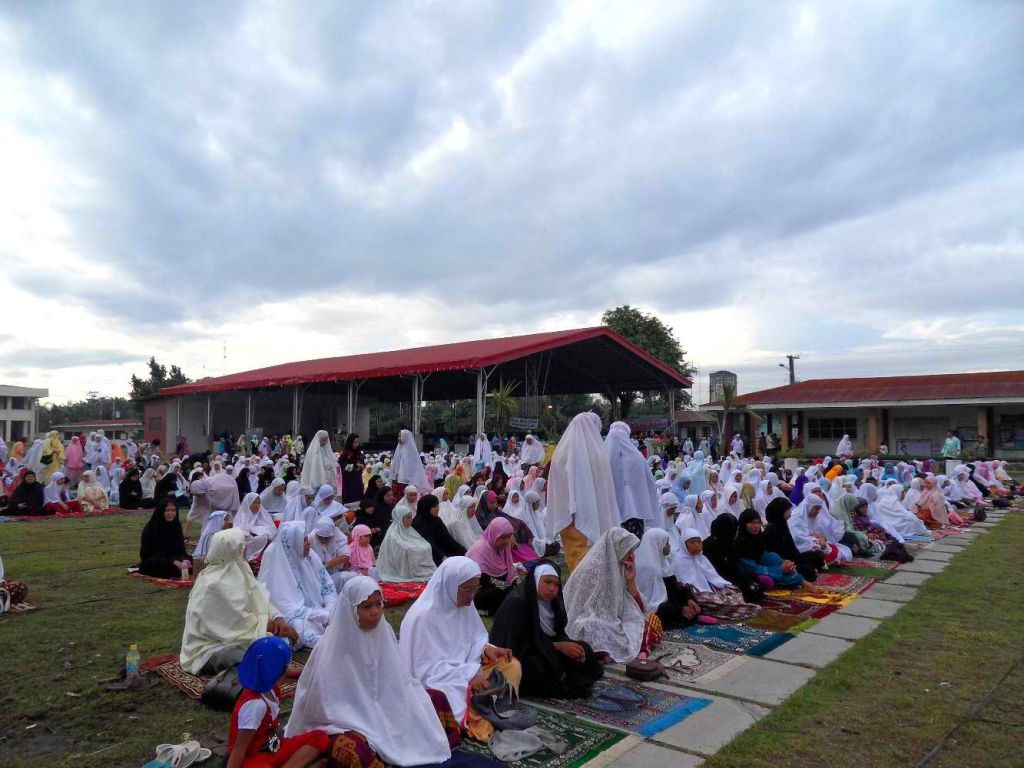 The Eid'l Fitr Festival, organized by the Magbassa Kita Foundation, Inc. led by its Chairperson, former Senator Santanina T. Rasul, will feature a variety of activities from country displays by the different Islamic embassies in the country; institutional exhibits by Local Government Units (LGUs), government agencies, and donor agencies working on peace and development initiatives; trade fair of products from Mindanao; fashion exhibit on traditional Muslim attires; interactive Salam Villages; and cultural presentations.
An Art Exhibit is also scheduled from August 2 to 8, 2013, at the Podium, Mandaluyong City, to kick start the Festival with works of world-renowned craftsmen led by Abdulmari Imao and fashion creations by Pitoy Moreno.
Eid'l Fitr (also known as Eid-al-Fitr, Id-Ul-Fitr, Eid) is the first day of the Islamic month of Shawwal signaling the end of Ramadan, the month of fasting and prayer. Eid literally means festivity and after a month-long sacrifice, Eid'l Fitr (festival of fast-breaking) is looked forward to as a period of merriment, sharing, and forgiveness.
In 2002, the Eid'l Fitr was recognized as a national holiday by the government, making the Philippines the first predominantly Christian country worldwide to have done so. The proclamation was enacted to promote peace and harmony among all major religions in the country.
"The DOT is one with our Muslim brothers and sisters in this year's celebration of Eid'l Fitr. As in the past, our participation is a constant recognition of the close affinity with the Muslim community and deep appreciation of our cultural diversity that lends more beauty to our country. The Eid'l Fitr celebration provides opportunities to showcase the best of Muslim culture and traditions, as well as enable guests and even strangers to experience the practice of thanksgiving and sharing. The Bangsamoro Framework Agreement, a milestone achievement forged under President Aquino's administration, is one among the many reasons why this year's celebration is more meaningful," Secretary of Tourism Ramon R. Jimenez Jr. said.
The DOT has rallied various tourism-oriented establishments to support the festival. Among the mall chains with sale and activities are SM (Bicutan, Quiapo, Davao, Lanang, GenSan), Robinsons (Robinsons Place and Starmills in Pampanga) and Ayala (Glorietta 2 in Makati City, Trinoma in Quezon City and Market! Market! in Taguig City). On the other hand, restaurants offering Halal food are the following Hotel and Restaurant Association of the Philippines (HRAP) members: Bacolod Chicken Inasal in Greenhills, Coffee Shop of Bayview Park Hotel, Café in the Park of Century Park Hotel, Riviera Café of Heritage Hotel, Market Café of Hyatt Regency Hotel and Casino and Circles of Makati Shangri-La.
The TPB, as the marketing arm of the DOT, intends to institutionalize annual support to the Eid. TPB Chief Operating Officer Domingo Ramon C. Enerio III said, "Festival support is just one aspect. What is more important is capacitating local government and communities to enhance existing and develop new tourism products. Our industry is likewise excited by the prospects of a peaceful Mindanao. Our brand campaign will ring truer as this unfolds."
"We are thankful for the support of these establishments who have responded to our call for participation. The success of Eid'l Fitr is also a testament to the government and people support for the peace process towards the sustainable development of Mindanao. Tourism is a vehicle to achieve inclusive growth and Mindanao can very well capitalize on its rich natural and cultural resources. We enjoin every Filipino to take an active role in making the entire country a peaceful, more fun, and must-experience destination in Asia," Secretary Jimenez added.