The Department of Tourism – Region III announces the conduct of a 3-in-1 event onstage at the SM City Clark in Pampanga on June 19, 2013, Wednesday, 1:30 p.m. to 5:00 p.m.
To be presented to the tourism pubic are: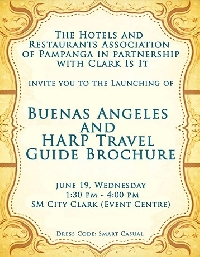 1) the launching of the Travel Guidebook which was conceived and developed by the Hotels and Restaurants in Pampanga (HARP) led by its President Mitch Otsuru of Yu Fu In Japanese Restaurant. Said guidebook contains the whereabouts, facilities and amenities of the association's member entities such as hotels, restaurants, resorts, travel agencies, tourist transport service providers, among others. The information material will soon be made available free to the traveling public;
2) Launching of the latest innovation in Capampangan brand of hospitality called "Buenas Angeles", a form of greeting that is expected to change the way the Capampangan welcome their guests at home; and
3) launching of the www.clarkisit.com or a corporate-social-responsibility portal under the umbrella organization called Peregrine Development, Inc. that aims to digitize information relating to Clark and the whole of Angeles City including nearby towns and cities, thus giving the tourism public the power to manage their tour itinerary while in Clark and its environs (where to stay, where to dine and what to do).
The Department of Trade and Industry is also expected to mount their project with the members of HARP in relation to the setting up of a One-Town-One-Product (OTOP) program whereby each hotel and restaurant in Pampanga is bound to display in their lobby the region's indigenous product line.
The invitation is open to the public.