ASIA PACIFIC TRAINING INSTITUTE OFFERS TRAVEL AGENCY OPERATIONS COURSE!
Date: August 28 – 30, 2013, 9:00 a.m. – 5:00 p.m., 2/F Kaisa Angelo King Heritage Center, 32 Anda cor. Cabildo St. Intramuros, Manila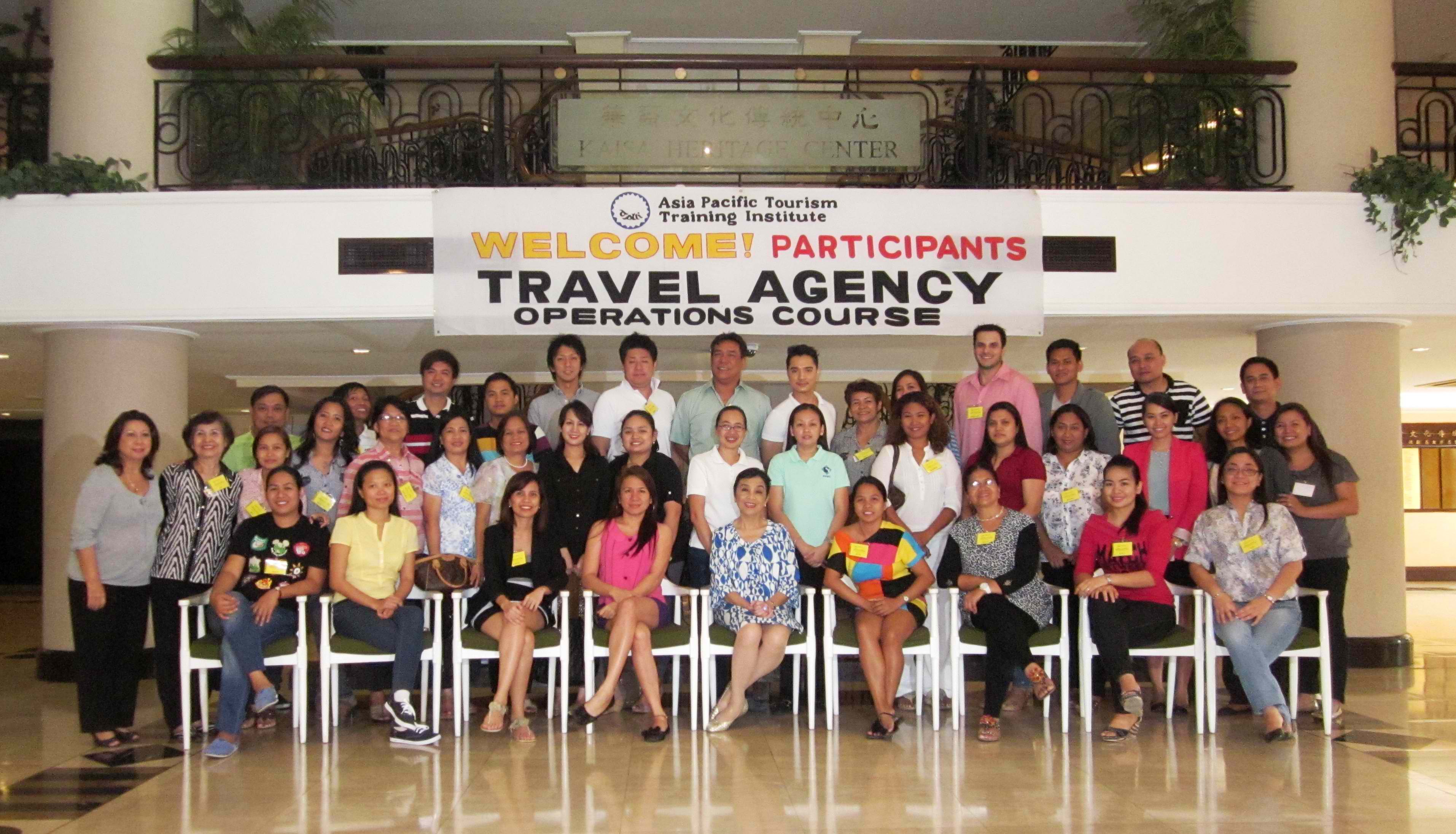 The Travel Agency Operations Course is a basic skills training program focusing on outbound travel for new travel professionals. It has been designed to meet the growing demand for well trained staff in the travel industry.
The course materials have been produced by a team of travel professionals and training specialists from the airlines, travel agency, and tour operations businesses and are reviewed periodically in accordance with IATA & ASEANTA standards. Training manuals used are approved by the Association of South East Asian National Tourism Associations (ASEANTA).
The APTTI certificate guarantees a high standard of training and has gained industry recognition and acceptance. The APTTI Certificate is among those documents required by the Department of Tourism for travel agencies applying for DOT accreditation
Who Should Attend:
– Travel assistants and frontline staff of travel agencies;
– Current and future owners of travel agencies;
– People working in non-travel related fields who wish to shift to a career in travel;
– College students and graduates seeking employment in the tourism industry.
How to Register:
Call Elli Ella / Tess Pascual at Tel. No. (63 02) 464-9022 / 725-3209, Mobile No. 0916-474-1701 and reserve a slot for the seminar.
– Fill up registration form which we will fax to you. Please fax it back.
– Pay registration fee of P9,500.00 cash or check payable to Asia Pacific Projects, Inc. We will send a messenger to your office / house to get the payment. An Original Receipt will be issued to you.
– You may pay at our office at 27th floor, BPI Buendia Center, 372 Sen. Gil Puyat Avenue, Makati City 1226. You are considered registered only upon full payment of the registration fee.
– Bring 2 x 2 picture on the first day of classes.
Course Fee: P9,500.00 (VAT inclusive)
Inclusions:
– Covers hand-outs, lunch, am & pm snacks and certificate of completion accredited by the DOT.
Cancellation Policy:
– Cancellations made between August 14 – 21, 2013 are subject to refund less 10% administrative fee.
– Cancellations made after August 21, 2013 are non-refundable and may not be applied to the next Travel Agency Operations Seminar.
DEADLINE FOR REGISTRATION/PAYMENT: August 21, 2013
SEMINAR SCHEDULE:
FIRST DAY
– How to Open a New Travel Agency
– Accreditation Requirements for a Travel Agency
– Overview of Travel Agency Operations
– Documentation Services
– Other Products and Services Offered By a Travel Agency
SECOND DAY
– World Geography
– Itinerary Planning
– Reservations
– Air Fares / Ticketing
– Philippine Geography
– Inbound & Local Tour Operations
– Tour Costing
*Please bring calculator for tour costing.
THIRD DAY
– Quality Customer Service and Effective Communication
– Financial Management and Controls
– Sales and Marketing/New Technologies in Travel
– Wrap Up Session
– Awarding of Certificates of Completion
FOR YOUR REGISTRATION, PLEASE CONTACT:
ASIA PACIFIC TOURISM TRAINING INSTITUTE
27th floor, BPI Buendia Center, 372 Sen. Gil Puyat Avenue, Makati City 1226
Tel. Nos. (63 2) 464-9022 / 725-3209
Email: [email protected]
Website: www:asiapacificprojects.com