The third international installment of the Mt. Apo Boulder Face Challenge was recently held in Davao to raise tourism activity and awareness for the environmental protection of the Philippines' highest peak. The competition brought foreign and domestic challenge takers to cover 113.3 kilometers in four different activities: 47.8 km of biking, 50 km of trekking, 3.5 km of water tubing, and 12 km of road running—all in 24 hours. Regular hikers usually take two days to climb the peak of Mt. Apo and one day to descend.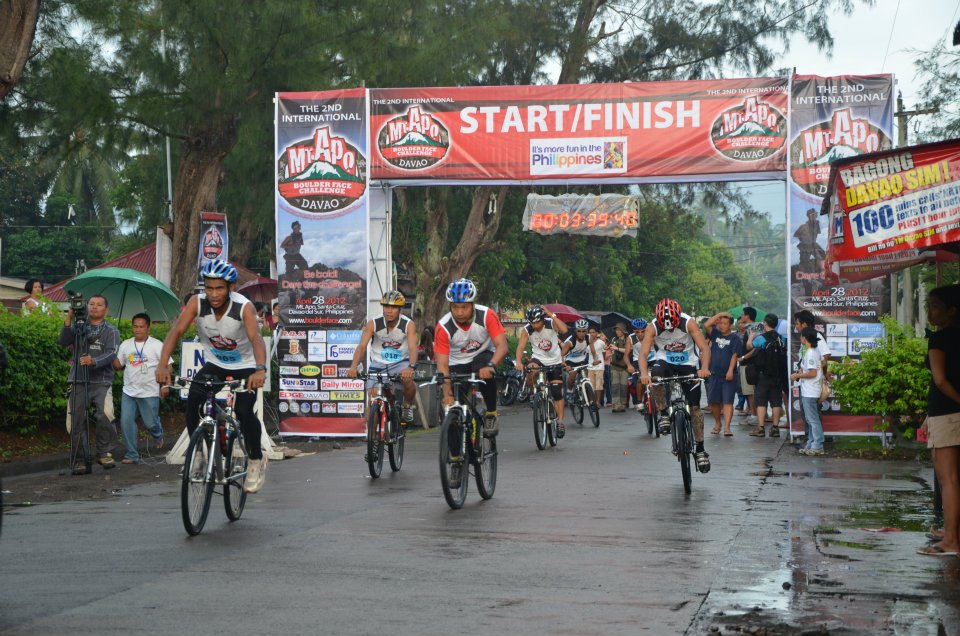 The race served as the highlight of the annual Pista sa Kinaiyahan or Feast of Nature, a municipal festival in Sta. Cruz, Davao del Sur. Sta. Cruz is one of the entry points to climb the highest peak in the Philippines which boasts of sound environmental practices.
Department of Tourism (DOT) Region XI Director Arturo Boncato explained that there is a growing awareness to protect and save Mt. Apo. "The Davao Region's brand promise of from islands to highlands can only be true if there is protection of the environment. The "highlands" part of the brand promise refers mostly to Mt. Apo which is home to Davao's most iconic symbols—the Philippine Eagle, waling-waling, and durian," Director Boncato added.
"Protecting the environment is central to our ecotourism campaign with flora and fauna as the main draw for some visitors. It is imperative that government, civil society, and industry share the responsibility to protect those that are unique to our country. The Mt. Apo Boulder Face Challenge is a fun way to heighten environmental consciousness among locals and for our foreign participants to enjoy the natural endowments of the area," Secretary Tourism Ramon R. Jimenez Jr. said.
Armored car driver and escort Mario Escalner and Ronald Dagaang of the People's Park Runner Club of Davao, Inc. bested 31 other teams (28 local teams, one from the Netherlands and two from Indonesia). The tandem, with the help of Alexander Fulgencio, their logistics partner, clocked in 12 hours, 22 minutes and 58 seconds to win P150,000 and other special prizes.
Dexter Nonato and April John Maniyog of Team DOTA/Columbia finished second place in 12 hours, 32 minutes and 21 seconds winning P100,000 cash prize, while Dioscorro Genunsalao Jr. and Romeo Capapas Jr. finished third with 12 hours, 46 minutes and 51 seconds taking home P75,000.
The Davao Region is set to receive P1.5 billion worth of tourism infrastructure projects this year, including a road improvement project connecting the foot of Mt. Apo in Davao del Sur to Davao City.
"As significant reforms in aviation such as the removal of the Common Carriers Tax and the upgrade to Category 1 by the U.S. Federal Aviation Authority, we must carry on with our reforms to improve accessibility, product development and enhancement, marketing, and human resource development in order to maximize our tourism potential—more importantly to increase employment and business opportunities for our communities," Secretary Jimenez added.
Director Boncato said that next year's Mt. Apo Boulder Face Challenge promises to be bigger and much more fun with the launch of a category for women and other exciting activities.