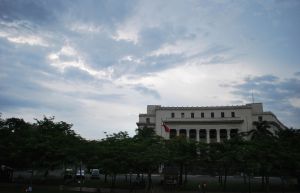 With myriad upscale shopping malls, commercial buildings, and accommodations in Manila, this vibrant city perfectly matches its status as the capital of the Philippine Republic. But as it progresses as a high-class metropolis, it never fails to keep a vigilant eye on its rich history and heritage. And since its history and culture is firmly rooted in colonization, many of the most-visited tourist spots in the area exhibit the city's commitment to its origin. Read on to know the 5 most interesting museums that you should visit during your vacation in a hotel in Manila.
1. National Museum

Being the country's official repository, the National Museum houses the most impressive collection of ethnographic, archaeological, and historical artifacts that depict Philippine history and culture. Here, you can find a total of 1,032 visual art pieces composed of paintings, sculptures, and icons. The museum also shelters the most number of plant collection in the country, which used to be one of the largest in Southeast Asia. Cultural materials from the different ethnic groups of the Philippines, ranging from weapons and textiles to agricultural tools and personal ornaments, are also displayed in this place.
2. Museo Marino

With the combined efforts of the Associated Marine Officers' and Seamen's Union of the Philippines (AMOSUP) and All Japan Seamen's Union (JSU), Museo Marino in Malate was built to pay tribute to the works of seafarers. The museum's highlight is the walls of seafarer chronicles, which are built from the life stories of AMOSUP members. It also boasts 4 state-of-the-art model ships, which are donated by JSU. Another interesting display that you should see in this depository is the bust of Capt. Gregorio Oca who established the first marine officers' union in the Philippines.
3. Escolta Museum

Established in 1938, this museum placed at the mezzanine of Calvo Building showcases the affluent heritage of Escolta, which was known as the Philippines' Western Emporium at the turn of the century. Here, you'll be impressed with the displays of aged photographs and old newspaper articles that mirror the grandeur of this historical street. Also on exhibit are Spanish to late American Period print advertisements and scale models of establishments located along this short thoroughfare.
4. Museo Pambata

Whether spending a vacation in a 5-star accommodation or a budget hotel in Manila with kids, you should not miss the various attractions that can be found in Museo Pambata. Situated along Roxas Boulevard, this educational site features interactive exhibits that require children's involvement in exploring and discovering various concepts while they play. Here, the youngsters can use their senses and learn an array of ideas at their own pace and space. With its aim to be a discovery museum and resource center, Museo Pambata also holds a broad range of creative and scientific services for children.
5. Casa Manila

Casa Manila is actually one of the grand houses built in the walled city of Intramuros during the Spanish regime. It is located across the equally invaluable San Agustin Church. This edifice epitomizes the house of an ilustrado (a rich Filipino) in the late 19th century. Today, it stands as a museum of the bygone era's architecture and lifestyle. The 3-story building is a replica of the house of Don Severino Mendoza, a merchant from Binondo, presenting a mixture of European and Chinese furniture and decor. To complete your city escapade, make sure to visit Casa Manila during your vacation in a budget accommodation in Manila.
About the Author:
Eljay Deldoc is a full-time copywriter for hotel websites. He is also a freelance writer for radio and theatre. He holds a degree in Communication Arts. He's been with the academe for 3 years as a Literature and English Instructor.
Article Source: http://EzineArticles.com/?expert=Eljay_Castro_Deldoc

http://EzineArticles.com/?Manila-Museums:-Presenting-a-Closer-Look-at-Philippine-History-and-Culture&id=7348610

Photo: National Museum By asteegabo (@Flickr) under CC BY 2.0