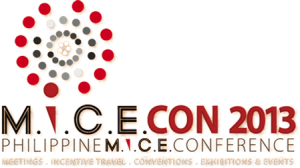 MANILA, Philippines – Twelve of the world's top tourism honchos and experts in related disciplines will lead the foreign delegates to the forthcoming international conference on meetings, incentive travel, conventions and exhibitions/events (MICE) in Davao City.
They will act as conference speakers to share their expertise in MICE and help the tourism industry take advantage of this ever-growing lucrative sector worldwide.
Constituting the 12-man panel of MICE speakers, according to the Tourism Promotions Board (TPB), are four from Australia, US, New Zealand and Singapore, Canada, South Korea, Hong Kong, and the Philippines.
TPB Chief Operating Officer Domingo Ramon Enerio III said the speakers had been invited to guide the country's MICE organizers and suppliers in aligning their business operations with the global market trends and industry practices.
"The speakers are geared at unloading a wealth of knowledge and expertise to our local industry players as they do business with their foreign clients during the MICECON 2013," Enerio said.
The topics to be discussed include Imagining the Future of Travel by New Zealand's Victoria University School of Management Prof. Ian Yeoman, the Future of Meetings in Asia Pacific by International Congress and Convention Association Asia-Pacific chapter chair Martin Winter, Keeping Associations Health, Wealthy and Wise by Australian Society of Association Executives president Tony Steven, and Content is King and MICE Technovations: Tomorrow's Hottest Technologies Today by MCI Australia managing director Ray Shaw.
Also interesting are the topics on Rise of Asian Brands by Brand Consultants Ptd Ltd chief executive officer Jörg Dietzel, Brand Strategy on a Tight Budget by Publicis-Manila chair and CEO Ma. Teresa D. Villanueva, the Tourism and Business Value of Meetings by Seoul Tourism Organization vice president Maureen O'Crowley, Let's Kill Murphy!  Bullet-proofing Meetings from Disasters and Other Event Terrorists by GainingEdge chief executive officer Gary Grimmer, and the War for Talent – The Secret to Attracting, Motivating and Retaining the Best by ACI HR Solutions founder and CEO Andrew Chan.
Other equally important topics are the Incentive Travel and Motivational Event: What's In, What's Hot by Incentive Research Foundation chief research officer Rodger Stotz, the Mark of a Leader by The Mark of a Leader master storyteller Don Allison, Why Meetings Matter by New Zealand's Conventions and Incentives CEO Alan Troter, and Tips, Tricks and Techniques for an Extraordinary Event Experience by Sequoia Productions founder and president Cheryl Ceccheto who oversees the Emmy's and Oscars' Governors Ball.
"This conference component of MICECON 2013 is expected to attract participants, not only from Davao City and Mindanao, but also from various parts of the country and the rest of the world," said officer-in-charge Stanie Soriano of the TPB MICE and Business Development Unit.
The MICECON 2013 will be held on March 6 to 9 in the newly-opened SMX Convention Center in Lanang, Davao City, the country's southern melting pot that stands to have its biggest international event since hosting the ASEAN Tourism Forum in 2006.
MICECON 2013 is organized by the TPB, with the full support of the city government of Davao led by no less than Mayor Sarah Duterte, Davao Tourism Association (DATA) headed by Ms Gene Bangayan, Davao Region Tourism Council, Association of Davao Event Organizers and Suppliers, Small Hotels Association of Davao, Davao Travel Agencies Association, Philippine Association of Convention/Exhibition Organizers and Suppliers (PACEOS), Meetings, Incentive Travel, Events/Exhibitions (MITE) Philippines Inc. and Philippine Airlines (PAL).
More information on MICECON 2013 can be obtained from the Philippine M.I.C.E. Conference Organizing Committee (Tel: 5256110, 5256635; Fax: 5216165; Email: [email protected], [email protected]; Facebook: MICECON 2013 Davao or visit: www.micecon.net).