The sense of achievement that a mountaineer derives from conquering a mountain's peak is hard to explain but is so fulfilling and full of adventures.  Most of the time, this sense of achievement is carried on with him through out his lifetime and becomes a part of his own character.
Mountaineering is both a physical and a mental sport.  Physical, in the sense that you need to prep up your body to be able to hike, climb, rappel, traverse rivers and withstand the rigorous climates and terrains going to the peak of a certain mountain destination/campsite. Mental, because you have to internally challenge yourself that you can reach and conquer the peak specially for major climbs no matter how difficult or no matter how technical the climb is.
We've listed below those that are popular in the mountaineering community and came up with a ratio of 5:5; 5 minor climb destinations and 5 major climb destinations. Trip the Islands is all about destinations in the Philippine islands and mountains are part of them.
---
Top 5 Minor Climb Destinations
#1.  Mount Pico de Loro, Cavite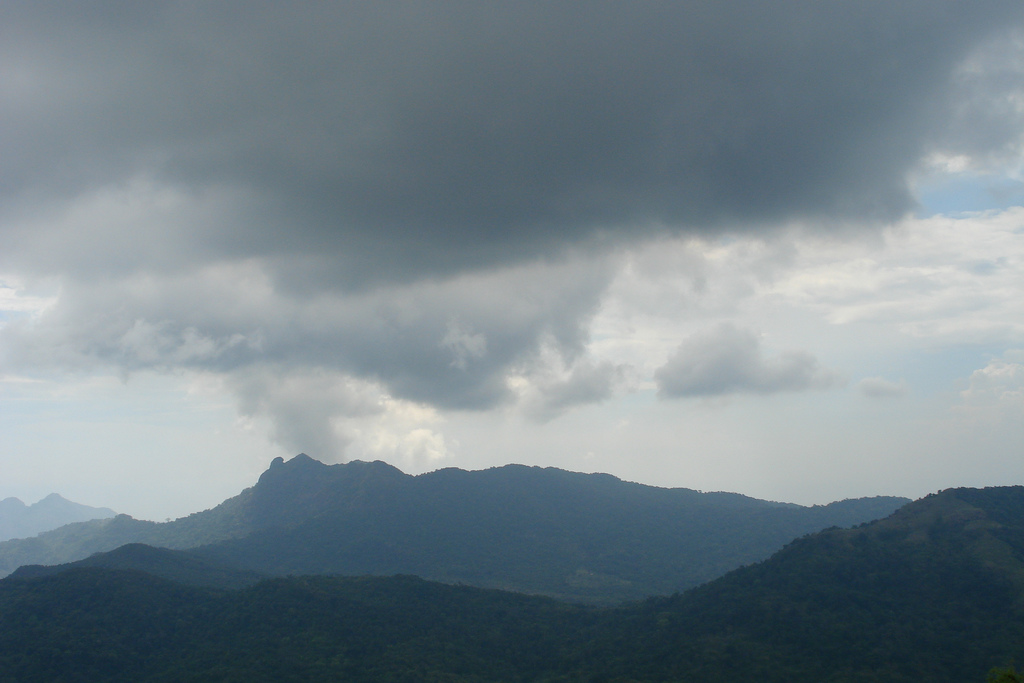 Mt. Pico de Loro stands 664 meters above sea level at Maragondon, Cavite, 85 kilometers southwest of Manila. In the 1500s, the Spanish named it Pico de Loro because its rocky summit resembles a parrot's beak. Pico de Loro offers a magnificent 360 view from the summit.  It is situated with the Caraballo Mountains in the north, Nasugbu, Batangas in the south, Maragondon on the east and the South China Sea on the west.  It is the highest point within the boundary of Cavite and Batangas.
The view from the summit is awesome. Facing the sea on the north-eastern side of the Manila Bay area, you can actually see ships passing by the Batangas and Bataan shore lines while the entire Batangas and Cavite on the south-eastern side will offer you a magnificent view of the south-eastern mountains like Batulao and Talamitam.
How to get there:
Going up to Pico via Puerto Azul (Ternate Cavite):
Bus from Lawton to Maragondon = P 60.00/head (depends on the current rates)
Maragondon to Jump-off point at the Magnetic Hill = P 300.00 – 500.00 (Hired Jeepney)
Registration fee at DENR office P20/head (depends on the current rates)
Going Back to Manila via Brgy. Papaya Trail (Nasugbo, Batangas):
Brgy. Papaya to Nasugbu Banca Ride = P600.00 or P100.00/head (depends on the current rates)
Tricycle Ride = P6.00/head (depends on the current rates)
#2.  Mount Daguldol, Batangas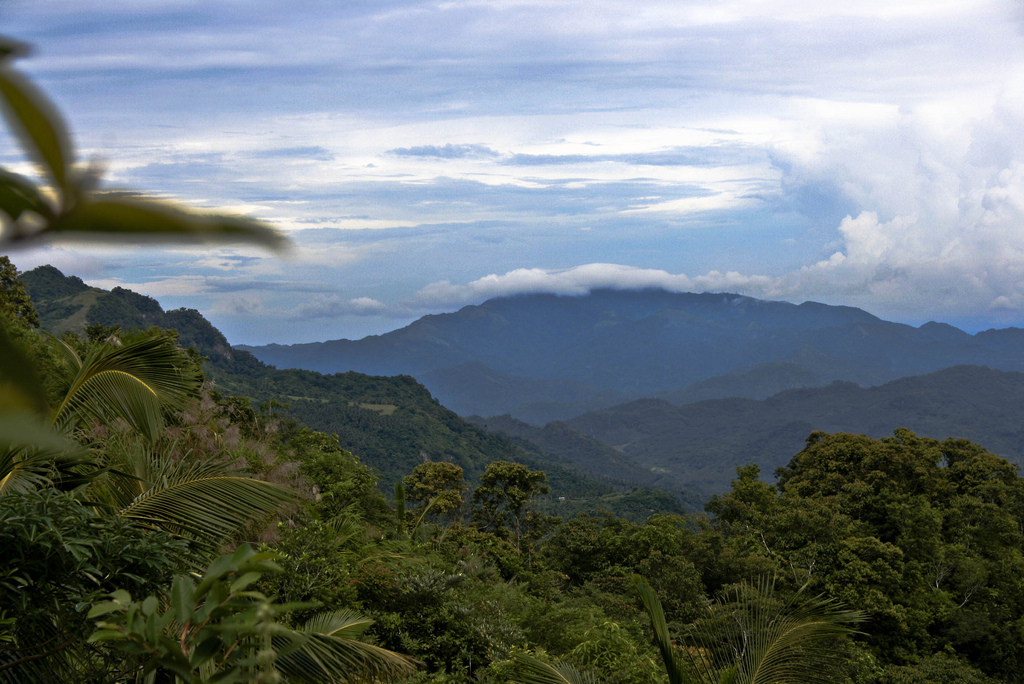 Mount Daguldol is 670 meters tall.  It is one of the country's most popular mountaineering destinations. It is very close to Manila. On the summit, one would see a golf course-like campsite and there's a beach at the foot of the mountain. One could enjoy a dip in the beach after a long mountain climbing adventure.
The trail is gentle and lined with rest stops, friendly locals who sells soft drinks, halo-halo, buko & other refreshments. Standing at 670 meters tall, it boasts of a stream and waterfalls where visitors can cool off. Once in the summit, it provides a good view of the Batangas Strait and the high mountains of Mindoro Island.
How to get there:
From Manila, there are RRCG & ALPS bus lines along Taft Avenue & ALPS bus in Cubao almost across Nepa Q-Mart. Take a bus to San Juan, Batangas. Upon arrival at San Juan, Batangas, ignore all the tricycle offers. Just walk your way left towards the town proper from Alps bus station in San Juan.  There, you could see the public market where you could buy everything you need.
Once you already got what you need for the climb, take a jeepney ride going to Hugom. Fare is P40 (depends on the current rates).  It would take almost an hour to get there.  Register at the barangay (P 35 depends on the current rates) and arrange for a guide if you don't have one yet (P350 guide fee depends on their current rates).  The climb could take 5 hours to reach the summit.
#3.  Mount Maculot in Cuenca, Batangas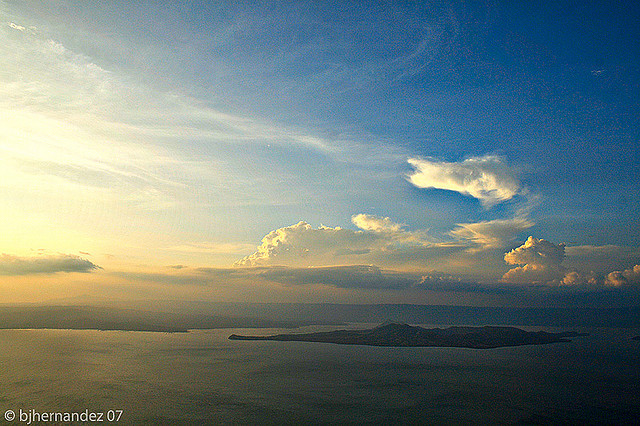 Mt. Maculot is ideal for beginners who just want to enjoy nature. It is just an easy and refreshing hike that takes an average of 2 hours going up to the "Rockies." The "Rockies" is the highlight of the whole climb where one can see the breathtaking views of Taal Lake, Taal Volcano, and nearby towns of Batangas and Tagaytay.
On a clear day one can also see Mount Makiling's silhouette looming in the horizon. This mountain can be day hiked or camped overnight. If you are up to a little more challenge, you can also do a traverse hike from the so called "Grotto" side of the mountain, passing by the summit, and continuing to the "Rockies" before going back down.
How to get there:
Take the bus at Buendia-Taft going to Lipa Batangas P124/head (depends on the current rates), get off at Tambo exit (Star Tollgate) and take a jeep to Robinsons P8/head.  Once in Robinsons mall, there are jeepneys in front of the mall going to Cuenca P24 (depends on the current rates), get off at Cuenca Municipal Hall.
Take a tricycle P20/head (depends on the current rates) going to the jump-off site wherein there is a mountaineer's stop at Ka Manuel's wherein you can prepare stuff and clean up after the climb.  Registration fee is P10/head (depends on the current rates).
#4.  Mount Batulao in Nasugbu, Batangas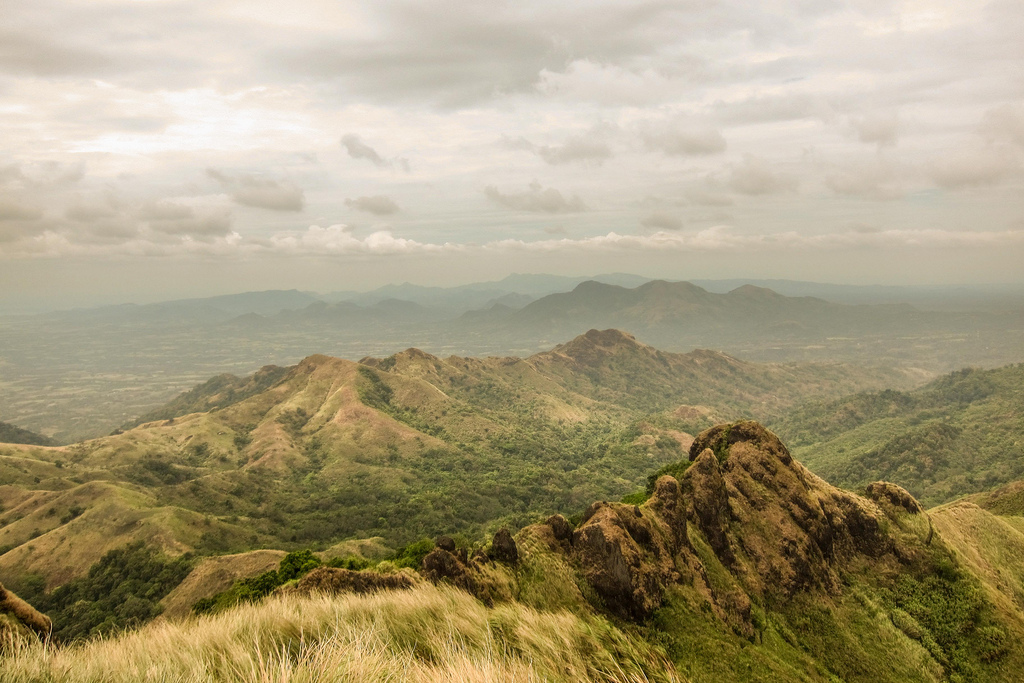 This is another mountain that is easily accessible from Metro Manila and ideal for beginners with only a 3-hour bus ride passing by Tagaytay City, Cavite. The mountain's jagged tooth-like peaks are quite a sight to behold. It's a 3 to 4 hour hike along open windy trails, with nice views and mountain landscapes. This can also be day hiked or camped overnight.
How to get there:
Take a bus at BSC Golden Dragon Terminal at Pasay going to Nasugbu, Batangas P106/head (depends on the current rates). Get off at Evercrest Golf & Country Club in Calaruega road.  There is actually no visible jump-off site to take the dirt road that follows.  If you are unsure on the directions going up, you could get a guide for P300.
#5.  Mount Pinatubo, Zambales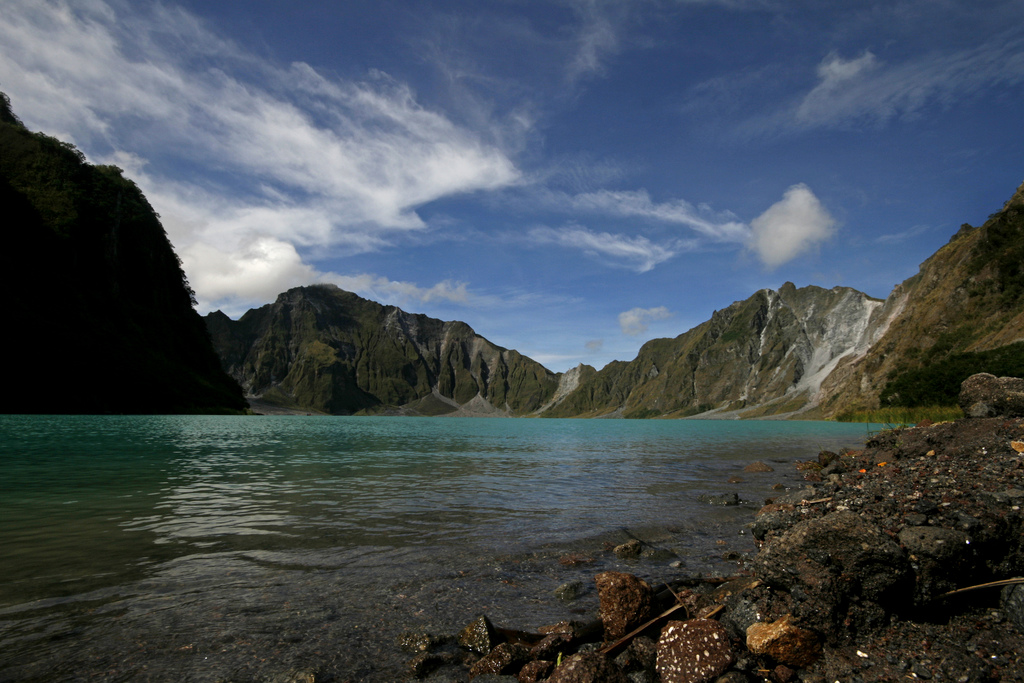 In June 1991, an eruption, considered to be the second largest volcanic eruption of the 20th century, obliterated the summit of Mount Pinatubo.  From 1745 meters tall, it now stands at 1486 meters. Located at the intersection of Zambales, Tarlac and Pampanga, the 1991 eruption was the first murmur after a 500 year silence.  It is now a biking and mountaineering destination.
The eruption formed astonishing valleys of ash and a large caldera with a lake covering the terror within. If you are planning to trek Mt. Pinatubo, start as early as possible.  If trekking from Sta. Juliana, it might take an 8hrs walk through the lahar deserts but if you ride a jeep, it would just take you 4 hrs to reach its summit.  There's a shortcut called the Skyway wherein after a 4×4 jeepney ride, it will just be an hour or so trek to reach the summit.
How to get there:
From Manila, take a Victory Liner bus in Pasay or Cubao Terminals to Capas, Tarlac P300-340/head (depending on the current rates).   From Capas, take a jeepney ride to Paitlin then a tricycle ride going to Sta. Juliana.  If you have some budget, you could hire a jeepney (special) from Capas to Sta. Juliana P400.  Once in Sta. Juliana, register at the Barangay and pay a conservation/registration fee of P50/head.
---
Top 5 Major Climb Destinations
#1.  Mount Pulag, Benguet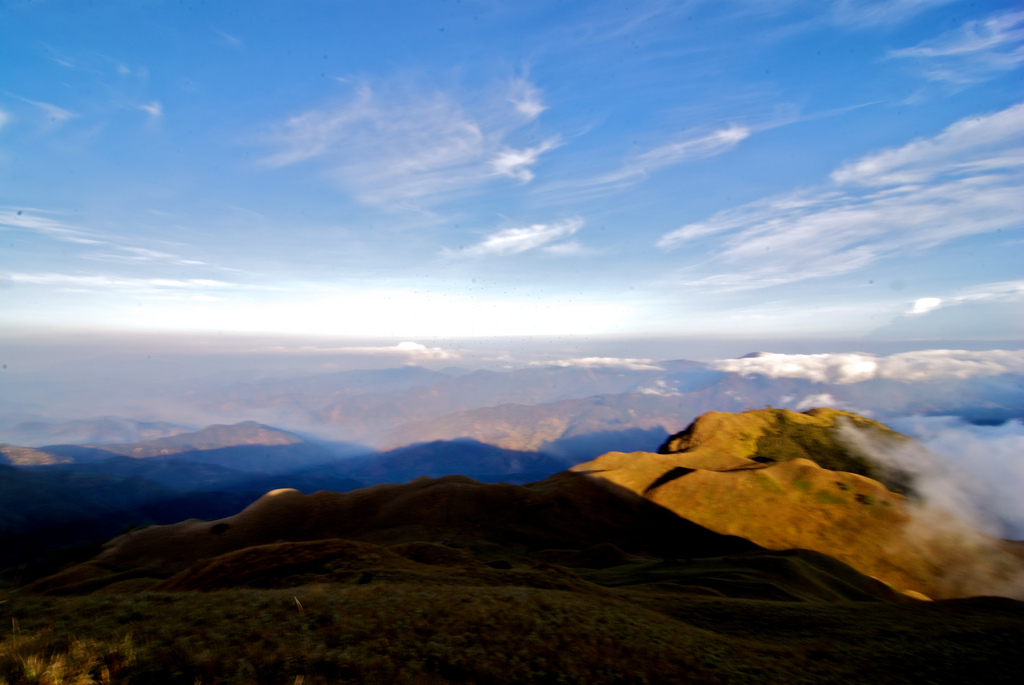 Mt. Pulag at 2930 meters, is the 3rd highest mountain in the Philippines and the highest in Luzon.  It is located in the central region of Cordillera and is often called the "playground of the Gods".   Covering portions of Benguet, Ifugao, Nueva Viscaya, it is considered the seat of the Igorot tribal culture. It's only a six-hour drive to Baguio City, making it a popular mountaineering and hiking destination.
Mountaineers and hikers could have the chance to experience three types of vegetation; cool, dry pine forest at the bottom; dark, mossy forest in the middle; and vast grasslands at the summit.  Once in the summit, there is a spectacular 360 degree view of the Cordilleras. With good weather, you would get a clear view of the mountaintops over a vast ocean of white swirling clouds.
How to get there:
The trip to Pulag usually starts from the 8-hour bus trip from Manila to Baguio. This can be best done overnight so that you can rest throughout the entire trip. The bus that leaves Manila by 10-12 PM is the best trip to take. Arrange your transportation by hiring a jeepney parked along the Caltex station near Burnham park and Session road or by taking the Norton buses (Northern Transit Terminal Station at the top of Magsaysay Avenue) bound for Kabayan Benguet.
There are three established trail for Mt. Pulag namely the Ambangeg (Babadac), Ellet (Eddet) and Kabayan (Akiki or Killer Trail).  Another trail goes directly to Kayapa, Nueva Vizcaya which is known as the Lusod trail.
#2. Mount Kanla-on, Negros Occidental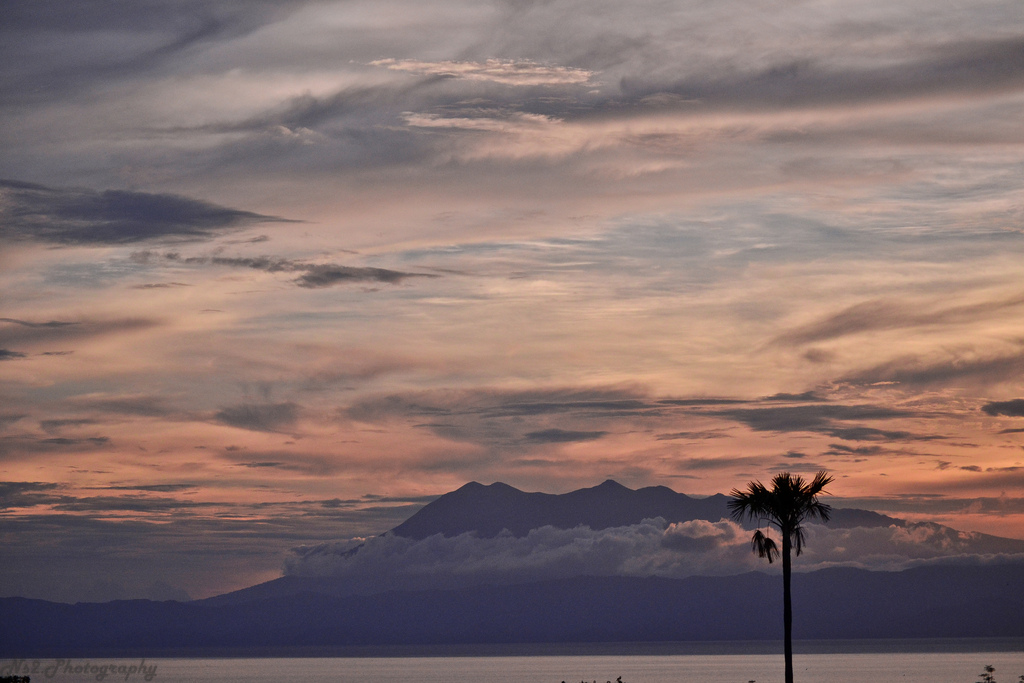 Mt. Kanlaon stands at 2465 meter. It is one of the most beautiful mountains in the Philippines. It is certainly the highest and most active volcano in the Visayas with its craters, cones, sulphuric vents, hot springs, caves, natural gardens and mini forests. Most prominent are the enormous caldera on the north and a deep active crater on the south.
This rugged terrain takes its toll on climbers and it was the scene of a fatal erruption in 1996. Despite this, it's astonishing scenery, magical flora and fauna and bloody history make Kanla-on the pride of Negros Island.
The best time to go is during the dry season which is between February and May. Because it rains all year round even during the dry season, it is always good to prepare for poor weather. At the upper level, the steady presence of fog will keep everything damp.
How to get there:
From Manila, take a flight to Bacolod City or Dumaguete City then take a bus for Guintubdan or Wasay jump-off points.
#3.  Mount Makiling in Laguna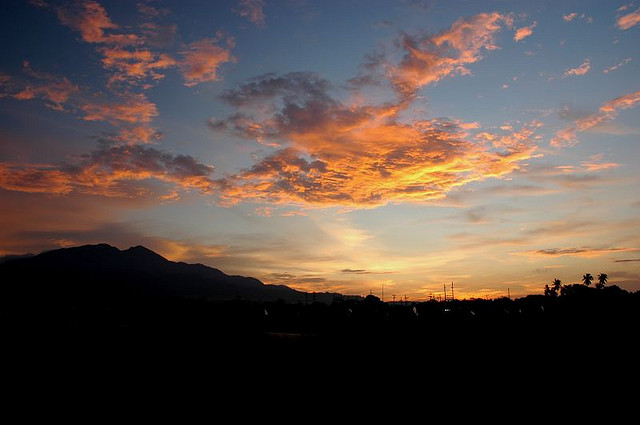 Mt. Makiling is one of the favorite training climbs of mountaineers because of the tough challenges that await every climber. Among the man-made attractions in Mt. Makiling are the botanical gardens, the mudsprings, flatrocks. There are two campsites in the destination:  for those who would like to just have a day-hike, they usually go to Peak 1, while those who are challenged to reach its summit usually hike towards Peak 2.
The trail in this mountain is heavily vegetated, where one should go over or crawl under fallen logs and navigate through dense vegetation composed of thorny rattan plants. Blood leeches (locally known as limatik) abound in this mountain but only during the rainy season.
How to get there:
Ride a bus from Cubao or Buendia going to Sta. Cruz, Laguna. If coming from Alabang, ride a bus going to Calamba and then take a jeepney to Los Baños. Get off at Los Baños Crossing, walk towards 'El Danda' street beside Robinson's Mall & ride the jeepney going to UPLB Forestry.
You could also rent a jeepney from El DAnda that will take you directly to UPLB Forestry all the way to the get-off point/entry point of Flat Rocks and Mud Springs. Be prepared to pay extra, maybe more than 100 pesos for a one-way ride.
#4.  Mount Tapulao in Iba, Zambales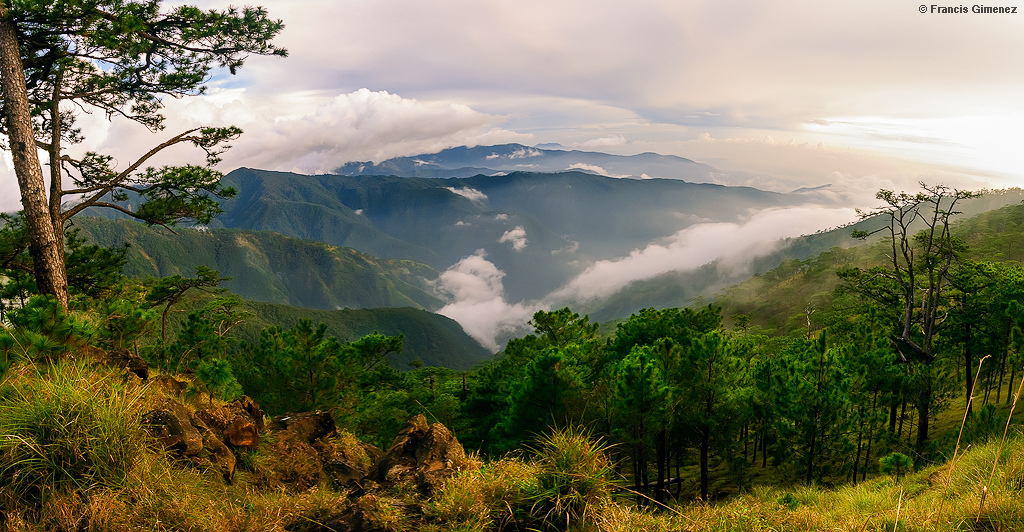 Mt. Tapulao stands at 2,037 meters.  Mountaineers usually call this mountain "The High Peak"  referring to the seemingly endless hike with an average of 12 to 14 hours going up to the summit alone. This is also oftentimes called the "Poor Man's Pulag" due to the resemblance of the environs to Mt. Pulag on higher elevations.
The trail to the top of Mount Tapulao is on rolling and gradual terrain that takes hikers through a number of distinct ecosystems: from lowland grass and scrubland dominated by talahib (cogon grass) to its flanks of secondary to primary dipterocarp forest, mossy montane forest and pine forest above 1,800 metres that extends to the adjacent mountains.
After a grueling hike through the rocky reddish soil, hikers are treated to refreshing cool breezes and breathtaking views upon reaching the pine tree forest.
How to get there:
For those who would like to commute by bus, they can take the Victory Liner Bus up to Iba, Zambales and then hire those tricycles at the Bus Station. Although it is more expensive, hiring one tricycle would cost P400 which could accommodate 4 persons. The distance from the Highway Crossing to the Resettlement Area is 7.8 Kilometers.
#5.  Mount Apo, Davao Del Sur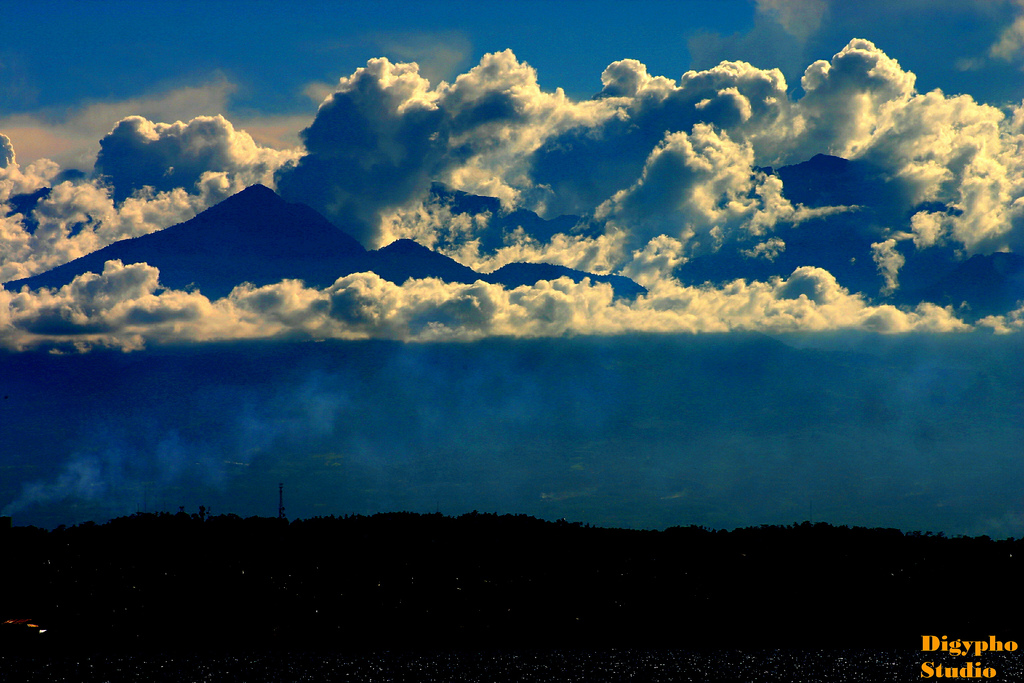 Mount Apo is the highest mountain in the Philippines which stands at 2,954 metres.  It is called the King of Philippine Peaks and is the grandfather of Philippine mountains. In Davao City, one can see this magnificent mountain towering over the horizon. Climbing Mount Apo is every Filipino mountaineer's dream. On it you would find the "Mossy Forests," "The Boulders," the extinct crater, the "Lake Venado" – the highest lake in the country.
On the summit itself, this mountain's breathtaking landscapes are truly a sight to behold. Climbing Mount Apo requires hiking through thick mossy forests, steep trails and most notably, an endless trek up giant rock boulders below the mountain's summit. Sulphur vents and deposits are silent reminders of the volcanic past deep under Mount Apo.
The mountain is home to several species of plants and animals, including the beautiful, but nearly extinct Philippine Monkey-eating Eagle.
How to get there:
Take a flight to Davao City then hire a jeepney for the cities of Digos of Kidapawan. From Davao City to Kidapawan City via Bus: Bus Companies: NCTC, Weena Express, Jing-Jing Express Grand Transport, etc.
Bus Station: Ecoland Bus Terminal, Davao City.  Schedule: First Trip: 3:00 a.m. 20 minutes interval for succeeding trips
Travel Time: 2 Hours 15 minutes.  Fare: P48.00 Regular, P69.00- Aircon.  Aside from buses, there are L-300 Vans and Jeepneys that offer lower fare rates.
Upon arrival in Kidapawan City:  Proceed to the City Tourism Development & Promotions Division, Office of the City Mayor, Kidapawan City for registration.  Registration fee: Local Trekkers P20 .00.  Foreign Trekkers P50 .00
Included in the Registration fee is one certificate of Climb per successful climber.
To jump- off point:  Jeepney from Kidapawan City bus station to Lake Agko campsite, 21 kms. from Kidapawan Poblacion
Travel Time : 1 Hour 15 minutes. Fare : a. P30.00/ person. If by chartered jeepney, P800.00-P1,000.00 Round Trip.
Upon Arrival at Lake Agko Campsite:  Arrange for services of porters. Porterage Fee: P150.00/ day.  A porter carries a minimum load 15 kilos and charges and additional of P7.00/ kilo each day in excess of 15 kilos. A fraction of the day of the porter's services, either on the first or last day, is considered whole day.
---
Summer is fun and aside from the usual destinations, one could alternatively visit the beautiful mountain destinations regardless whether you are a mountain climber or not.  These destinations are for everyone who wants to enjoy, visit and explore the best of the Philippines.
Here at Trip the Islands, as long as it is in the Philippines, we are going to cover them. It is our commitment to our readers to bring out the best of what the Philippines has to offer.
PLEASE LIKE & SHARE US ON FACEBOOK