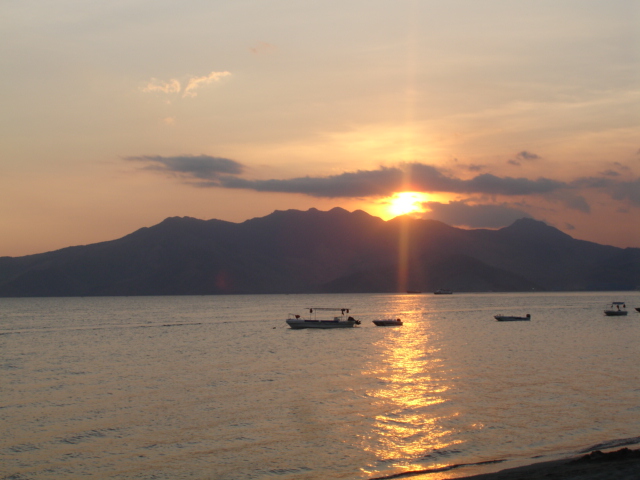 By Charles W Davis Jr
There is one ship wreck at Subic Bay that holds a special interest for me. She is the Lanikai. As a dive site she not anything special, just a wooden sailboat that there is only a little left. It is her life that I find most interesting. Lets start with a quote from her official record from the US Navy.
Lanikai (Named for A village on Oahu, north of Honolulu.) a schooner-rigged diesel-powered yacht built 1914 at East Oakland, Calif., taken over by the Navy at Cavite Navy Yard, Philippine Islands, under charter from Luzon Stevedoring Co., Inc., 5 December 1941; and commissioned the same day, Lt. Kemp Tolley in command. The official record also tells us that she was 150 tons and she had a length of 87'3″ and a beam of 9'0″. Her top speed was 7 knots and had a crew of 19. Her weapons were a 3-pound cannon left over from the Spanish-American War and a 2.30 cal. Machine gun from World War I. Not much interest in that but it does hide an interesting story and sets the date of the turning point of her life. Notice she was commission two days before the Pearl Harbor attack and the start of WWII.
Lets step back and she how an California girl ends up in a tropical world like the Philippines and into military service. I mean California is for movie stars and may be spies. She started her life as a humble ship and like a movie star born with a different name. Built as schooner Hermes in Oakland, California for Jaluit Gesellschaft of Hamburg, Germany and launched in 1914. As Hermes she sailed in the inter-island copra trade (coconuts)in the German held Pacific Islands until being interned in Hawaii at the outbreak of World War I.
She was Commissioned as USS Hermes April 1, 1918. and spent the war as a patrol boat. After the war she stayed around Pearl Harbor doing odd jobs till she was sold to Lanikai Fish Co. and renamed Lanikai in 1926. Over the next few years she was in the fishing industry first around Hawaii and then later in Alaska.
Then in 1937 it happened, ever Californian girls dream, she was "discovered" she was in a movie. And not just any movie but in the block buster Metro-Goldwyn-Mayer production Hurricane, starring Jon Hall and Dorothy Lamour. It was not a bit part either but a major role. She was a central character in the movie. Following completion of the film, Lanikai was used as the MGM yacht. ( MGM promotional material from that time stated the Yacht belong to Sam Goldwyn.) Later she was sold and moved to the Philippines.
Late in November 1941 it became apparent to the American Government that Japanese Naval and land forces were tactically deposed for major operations in Southeast Asia, but her precise destination was unknown. A large convoy was steaming south from Formosa Straits, and it was hoped that learning the destination of these ships might reveal Japan's intentions.
On 2 December, President Roosevelt ordered through Chief of Naval Operations, Adm. H. R. Stark, that Commander-in-Chief, Asiatic Fleet Adm. T. C. Hart "charter three small vessels to form a defensive information patrol…to observe and report by radio Japanese movements in the west China Sea and Gulf of Siam."
Lanikai, which bad been seen by millions in the movie "Hurricane", was one of the small ships chartered to learn of Japan's intentions. Fitted out at Cavite, in only two days, the schooner lay at the entrance of Manila Bay in the early hours of 8 December (7 December east of the International Date Line) awaiting daylight to thread her way through the dangerous minefields that guarded the harbor. Tolley's orders read: "Patrol off the entrance of Camranh Bay and report the direction taken by the Japanese Fleet when it emerges." However, at 0300 word of Japan's attack on Pearl Harbor arrived with orders to return to Manila.
For years historians have held that the commissioning of the USS Lanikai was to provoke war with Japan. Admiral Tolley in his book the "Cruise of the Lanikai" provides more evidence to support this position. It is now generally accepted that the original intent of the President was to create an incident that would raise public outrage against Japan. Three small vessels not of military designed were to follow the Japanese navy and hopefully annoy them to the point that the Japanese would attack. The sinking of a US Navy ship would constitute an act of war against the US by Japan. It was hope that public outcry would propel the US into the war, much like the Maine in the Spanish-American war.
The Lanikai did provide an active role in the war and the book "Cruise of the Lanikai" is a well written first hand account.
After peace returned, Lanikai was brought back to the Philippines for later return to her owner. However, while anchored in Subic Bay, Lanikai sank during a typhoon. She may rest in Subic Bay but her spirit remains in the movie and the book.
About the Author:
Charles W. Davis Jr is President of Seahorse Tours and Souvenirs http://www.seahorsetours.com and a member of the Board of Advisers of the Subic Bay Dive Association. He is the Author of Four books including the Subic Bay Travel and Diving Guide. Scuba diving information can be found a the Seahorse Tours web page and also at http://www.subicbaydive.com
Article Source: http://EzineArticles.com/?expert=Charles_W_Davis_Jr
http://EzineArticles.com/?Subic-Bay-Philippines-Dive-Sites—Our-Movie-Star:-The-Lanikai&id=7045532
Photo: Subic Bay By <diane> (fr Flickr) under CC BY-ND 2.0