Metro Manila's nearest neighbor to the east, Rizal province ranks as one of the most progressive provinces in the CALABARZON region.  Composed of 13 municipalities and one city, Rizal offers plenty of opportunities for business, investments and tourism development.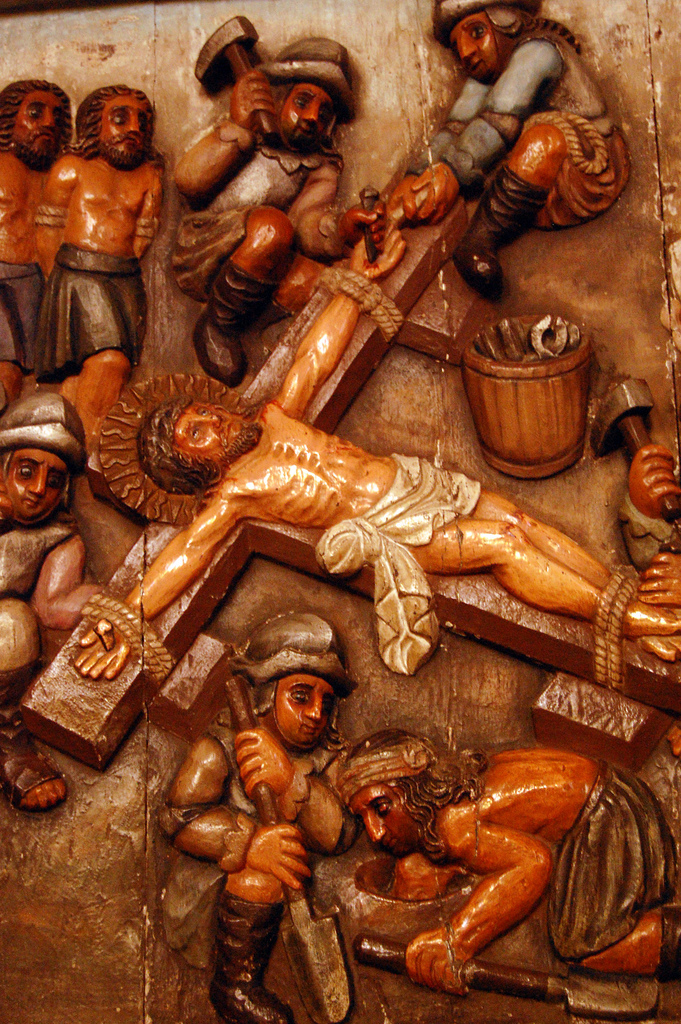 Named in honor of Dr. Jose P. Rizal, the country's national hero, the province of Rizal has gained a reputation as the Cradle of Philippine Art.  Beyond neatly laid-out residential villages, shopping malls and business centers, Rizal has artists' communities and old towns with centuries-old churches that attest to the province's rich cultural legacy.  This is the home of the late great National Artists; renowned painter Vicente Manansala, famed muralist Carlos "Botong" Francisco, and eminent musician Lucio San Pedro.  This is where prehistoric rock paintings bear witness to a creative tradition that has spawned entire towns and generations of visual and performing artists.
Arts and Heritage Hotspots
Petroglyphs of Binangonan and Angono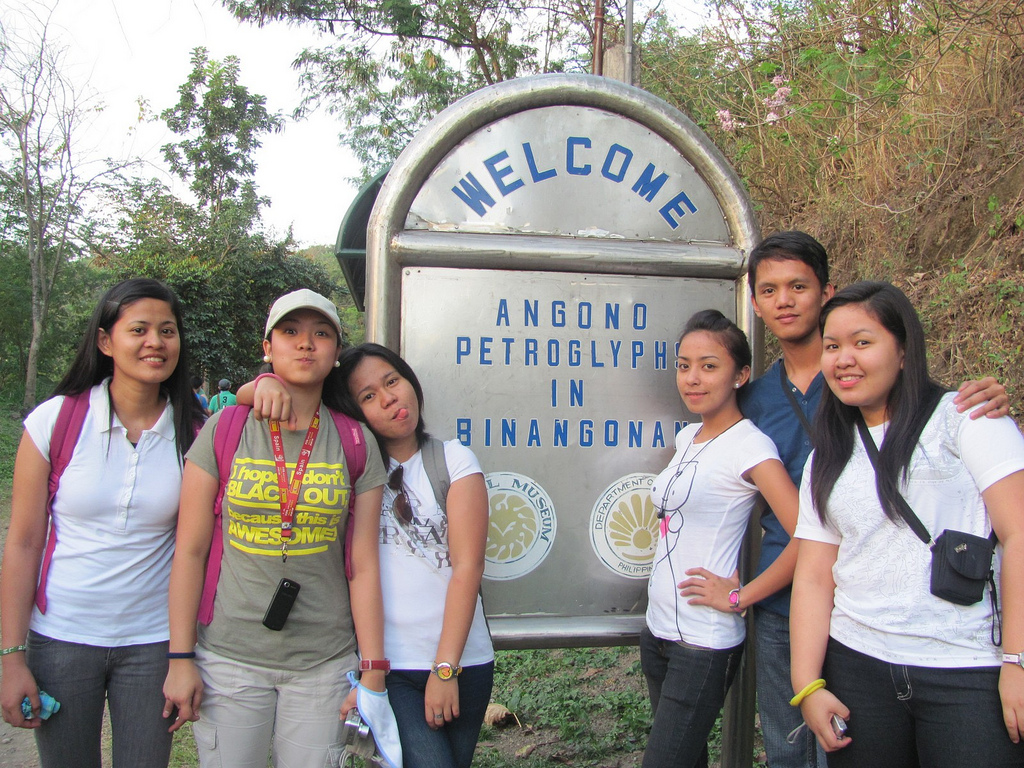 Discovered in 1965 by Philippine National Artist Carlos ""Botong" Francisco, the petroglyphs were validated to have existed since 3000 BC.  The Stone Age rock engravings consist of 127 drawings of human and animal figures.  Achaeological diggings at the site yielded fragments of earthenware, obsidian flakes and shell.  The site has been included in the World's Inventory of Rock Art.  It was named as one of the "100 Most Endangered Sites of the World" by the World Monuments Watch List.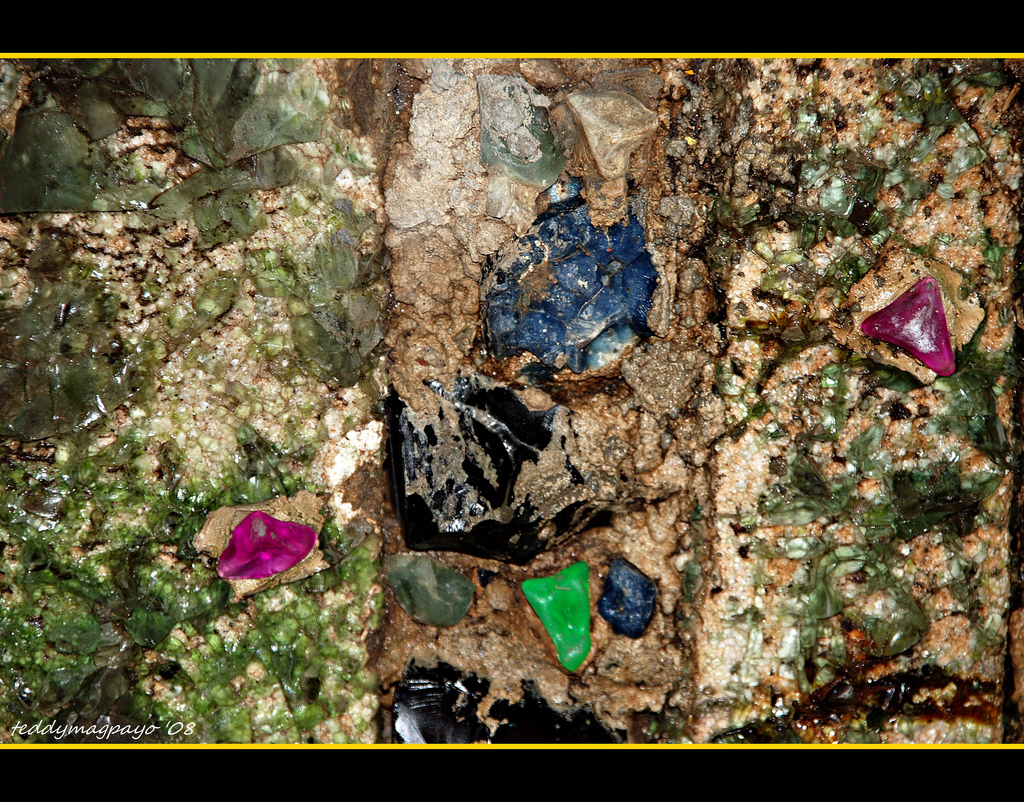 Vicente Manansala Historical Shrine, Binangonan
Declared as a historical landmark in 1978, this former studio of National Artist Vicente Manansala now houses the personal memorabilia and some well-preserved paintings of the artist.
Angono Artist's Village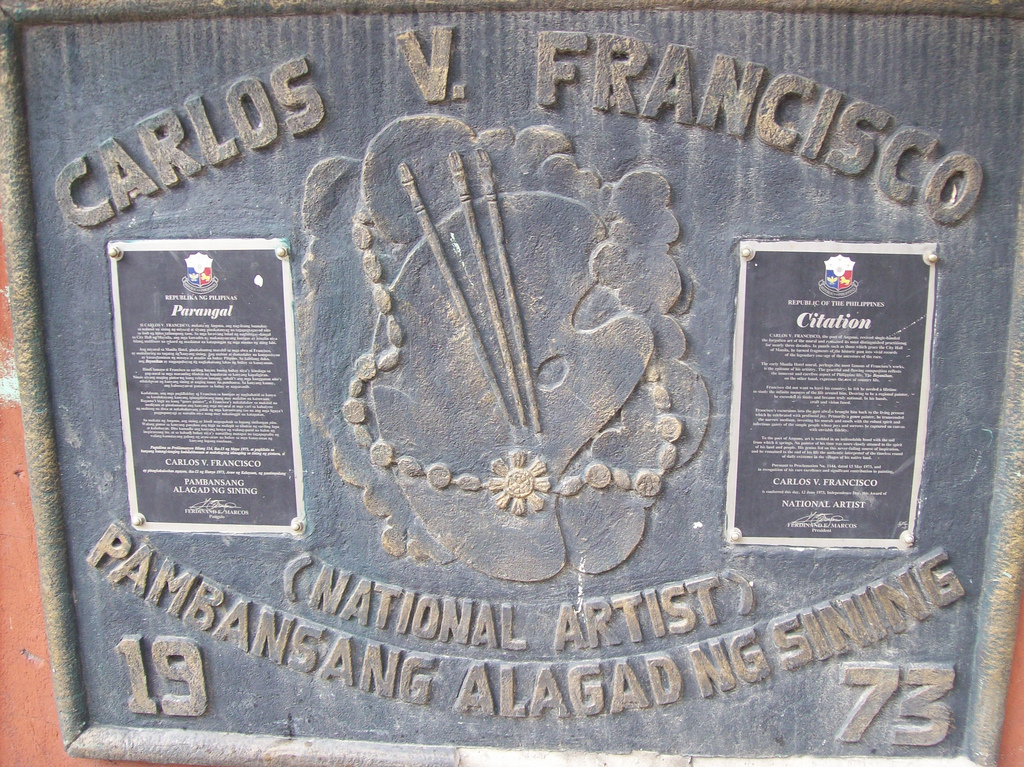 Known as the hometown of extraordinarily talented painters and artists, Angono is the birthplace of two National Artists, Carlos "Botong" Francisco for visual arts and Maestro Lucio San Pedro for music.  Art galleries and studios of entire families of artists make Angono the Art Capital of the Philippines.  Examples are the Blanco Family Museum, Nemiranda Arthouse & Gallery, Tiamson Art Gallery, Ang Nuno Artists Foundation Gallery, Village Artists Gallery, Juban Studios, Vicente Reyes Art Studio, the Second Gallery and the Angono Ateliers Gallery.
Blanco Family Museum, Angono
Talent in the Blanco Family spans generations: from patriarch and renowned artist Jose D. Blanco to his wife, their many children and now their grandchildren, all of them have taken up the brush.  Visitors are welcome to view the vast collection of artworks of Angono's most famous family at their private museum.
Uugong Park and Pacheco Finger Painting Gallery, Morong
Uugong Park is the sanctuary and studio of finger-painting artist and sculptor Rafael Pacheco.  From time to time, the artist conducts workshops, demonstrations and lectures from this mountain hideaway.  The park and exhibit area is open to the public and has swimming pools and picnic areas for rent.
Rizal is where you touch base with nature without losing touch with the finer points of urban living.  Alongside bustling urban centers, the province still retains a bounty of scenic attractions.  Verdant hills and undulating valleys stretch from the rugged foothills, of Montana and Antipolo in the north, the Sierra Madre ranges along the eastern border, down to the picturesque shores and sweeping vista of Laguna de Bay in the south.  The terrain offers exciting opportunities for biking, mountain-climbing, camping and other outdoor activities amidst rolling hills, lake-shores, caves and waterfalls.
Nemiranda Arthouse and Gallery, Angono
On display at the gallery and coffee shop of artist Nemiranda and his family are paintings and sculptures portraying rural life and folklore art.  Lectures, guided tour and painting workshops are also offered here.
On the Nature Trail
Daranak Falls, Tanay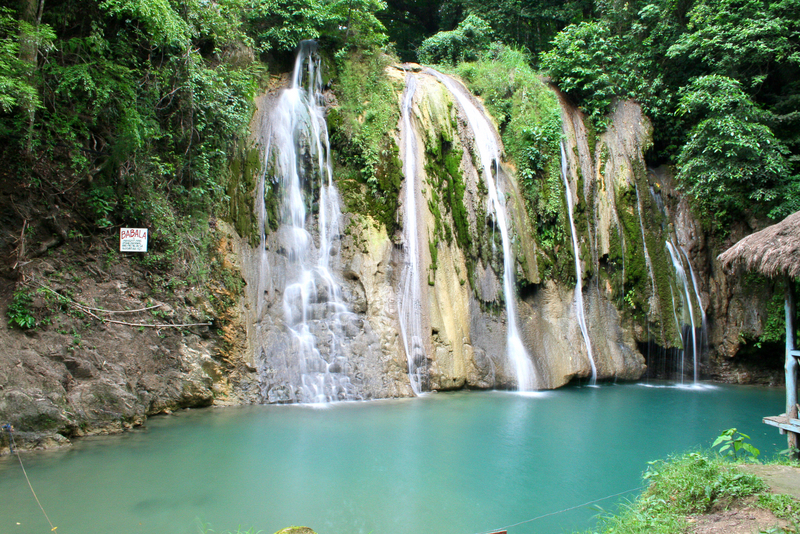 A favorite location shooting area of movie and advertising outfits, picturesque Daranak Falls nestles quietly at the foot of the Tanay Mountains.  The 14-meter-high waterfall cascades down to a pool surrounded by natural vegetation, with streams flowing through groves of trees dotted with picnic huts.  Higher up the mountain is a smaller and more secluded waterfall called Batlag Falls.
Wawa Dam and Pamitinan Cave, Rodriquez (formerly Montalban)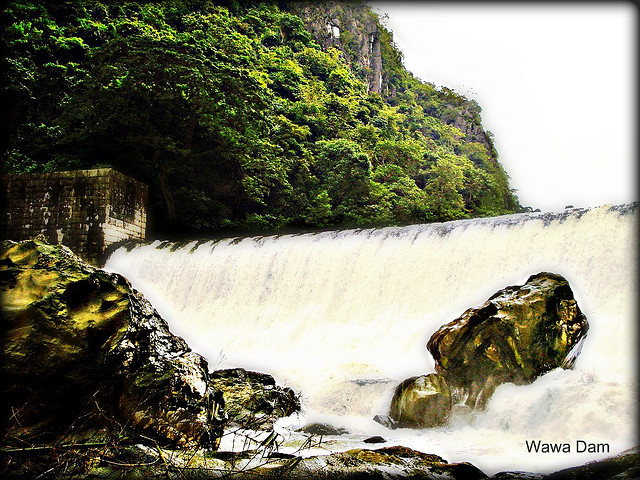 At the foothills of the Sierra Madre Mountains lies Wawa Dam, a beautiful river that runs through a limestone gorge.  Its dam supplies water to Metro Manila and the surrounding area.  The caves here are said to have been inhabited by Japanese soldiers during the Second World War.  Another historic site in  the vicinity is Pamitnan Cave, where revolutionary leader Andres Bonifacio staged his own declaration of independence from Spain in April 1895.
Hinulugang Taktak, Antipolo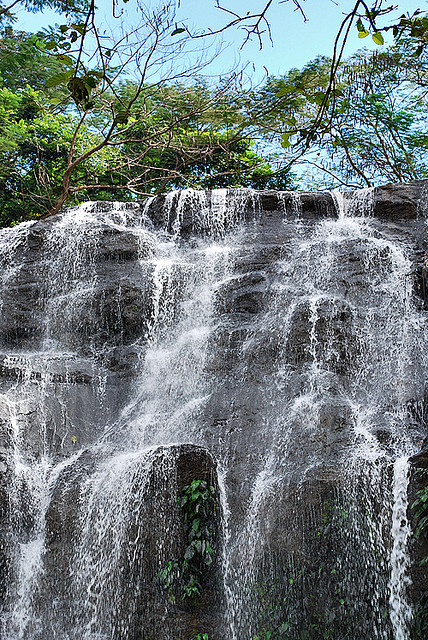 This mountain resort right in the bustling heart of Antipolo City has picnic cottages, a swimming area, footpaths and a small waterfall.  The festival month of May attracts thousands of visitors who come to watch concerts and stage plays held at the park.
Angono Forest Park, Angono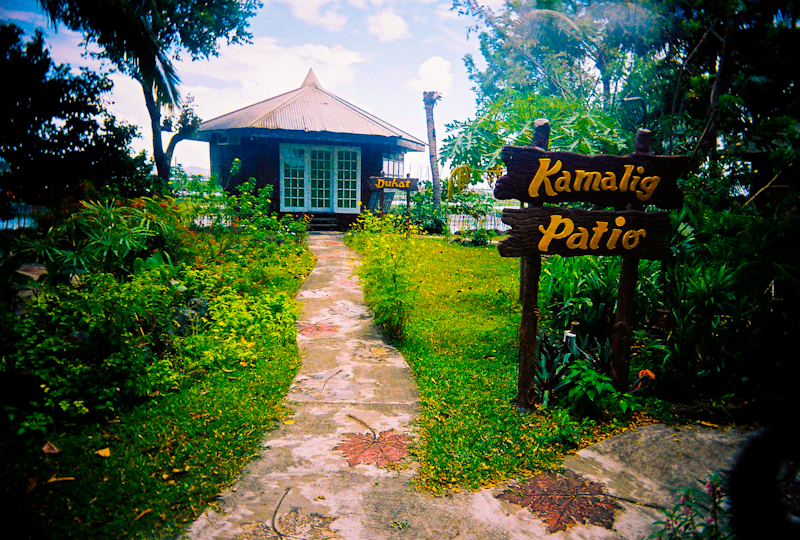 This 1.5 hectare wooded parkland is ideal for camping and outdoor recreational activities.  The park is also a good venue for meetings, gatherings and other occasions.
Talim Islands, Binangonan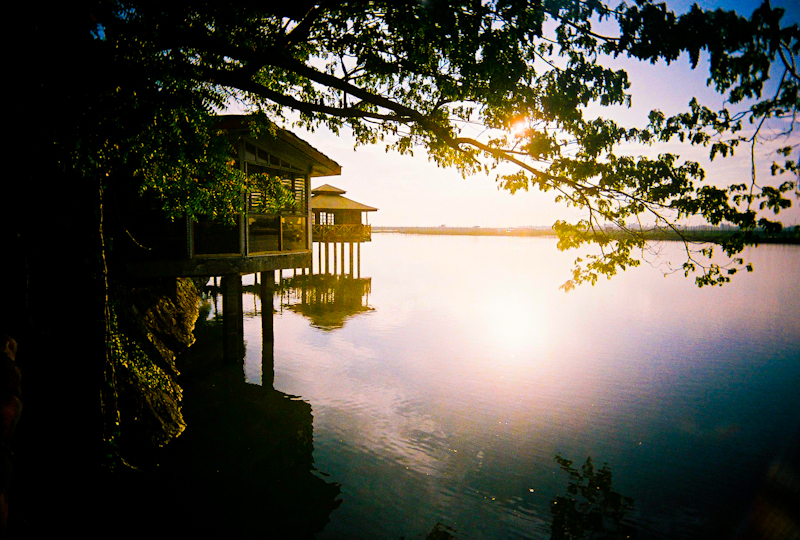 A narrow, dagger-shaped island in Laguna de Bay, Talim (meaning "sharp") is an island of thriving fishing villages.  Residents weave pandan mats and make bamboo furniture for sale.  Visitors can trek up to a 200-meter-high hill with a vantage point over scenic Laguna de Bay.
Sierra Madre viewpoint, Tanay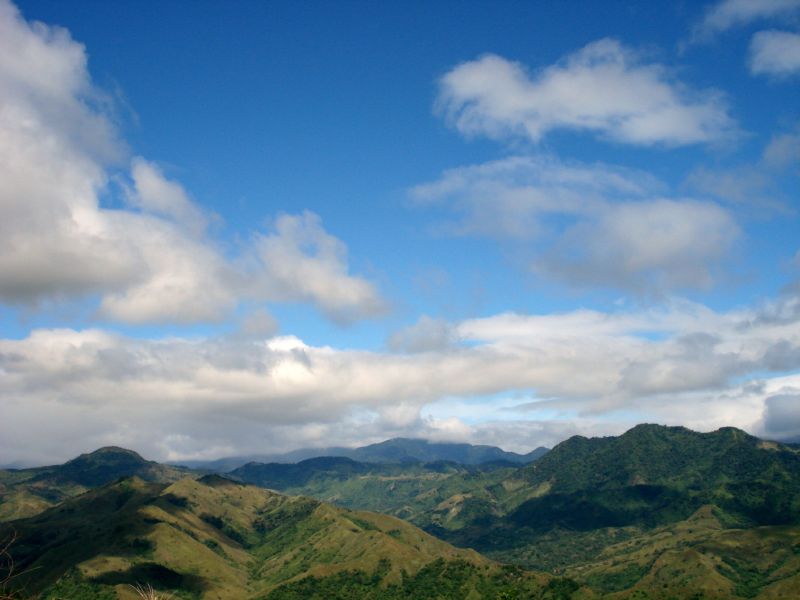 Follow the Marcos' Highway from Antipolo into the hills of Inarawan and beyond.  The winding road weaves past sleepy villages in picturesque valleys hilly grasslands with pastoral scenes of cows and goats grazing, and wooded slopes into the mountains of Tanay.  On a high vantage point along the highway, one can view the undulating slopes of the Sierra Madre Mountains.  The highland air is cool and the views are worth the long drive.  A handful of resorts offer picnic spots and areas for camping, mini-golf and swimming.  It is best to gas up and bring your own food and gear before venturing into the area.
 Special Interest Areas
Outstanding churches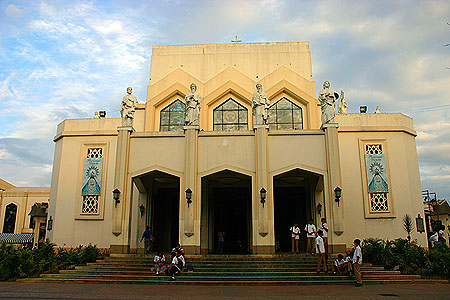 The Shrine of Our Lady of Peace and Good Voyage in Antipolo City attracts a huge number of devotees in May, when thousands come to pay homage to the miraculous image of the Virgin Mary.  Other churches on the must-see list in Rizal include Tanay Catholic Church, the beautiful St. Jerome Church in Morong, historic Baras Church, and the Boso-Boso Church in Antipolo.
Golf destinations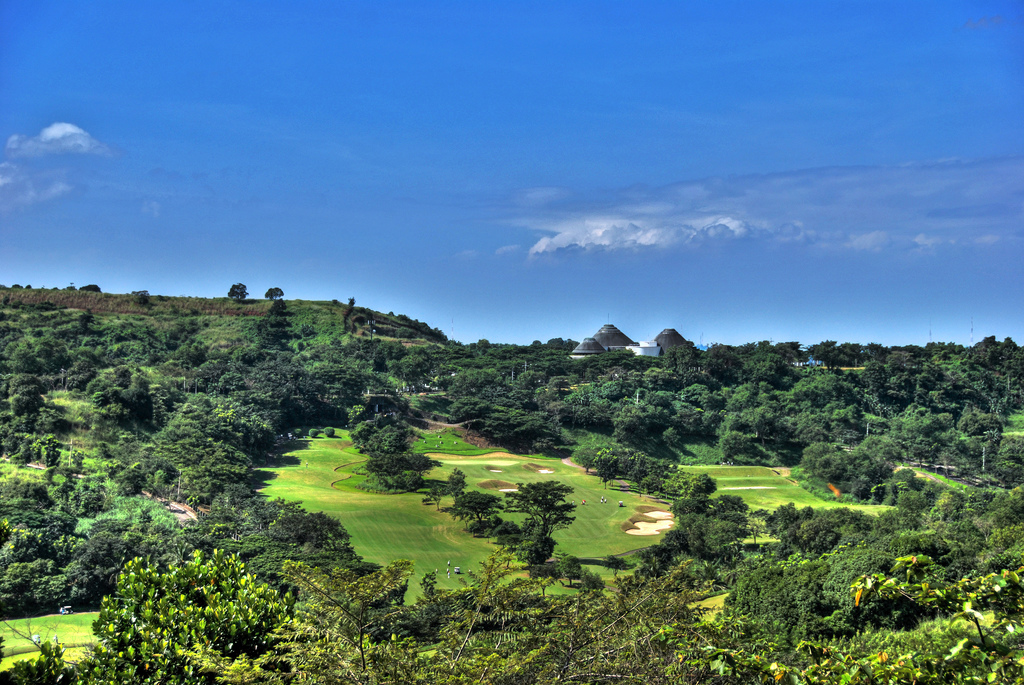 Rizal has two easily accessible golf destinations.  The Valley Golf and Country Club in Antipolo City is situated on rolling terrain with a clubhouse that overlooks the metropolis.  The Eastridge Golf Club in Binangonan has an exciting and challenging 18-hole, par 72 championship course sprawled over 80-hectares of mountain ridges, rolling hills and ravines.
Festivals and cultural events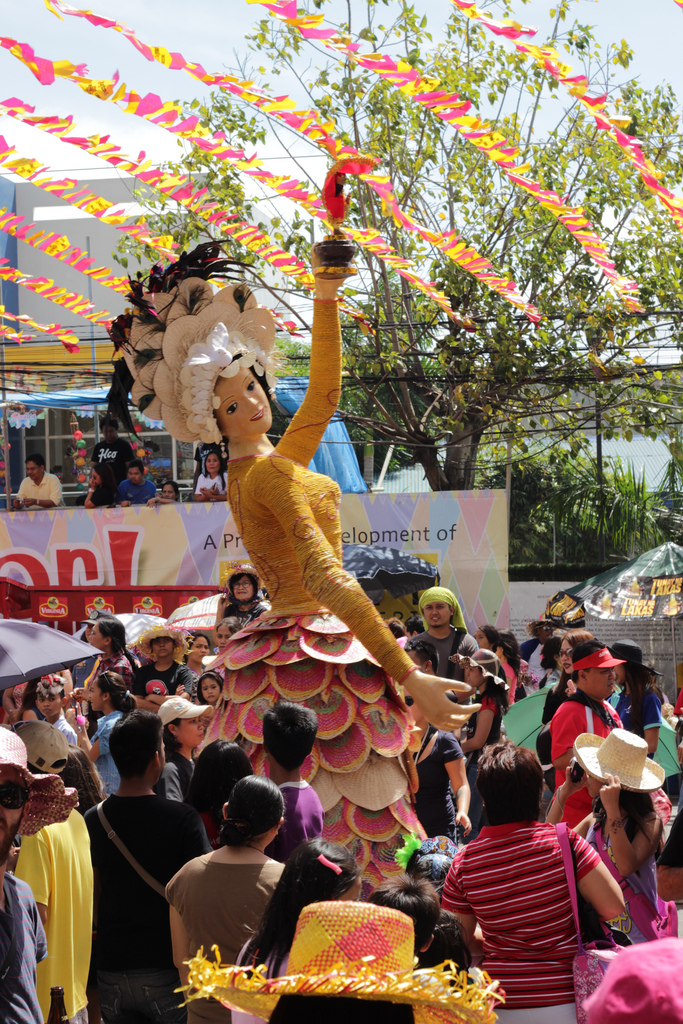 Every November, Angono celebrates one of the most famous of Philippine festivals; the Feast of San Clemente and Higantes Festival.  This thanksgiving celebration is highlighted by a parade of colorful papier mache giants garbed in native costumes and wooden footwear.  A fluvial procession to honor the patron saint of fisherfolks is also part of the religious observance and festivities.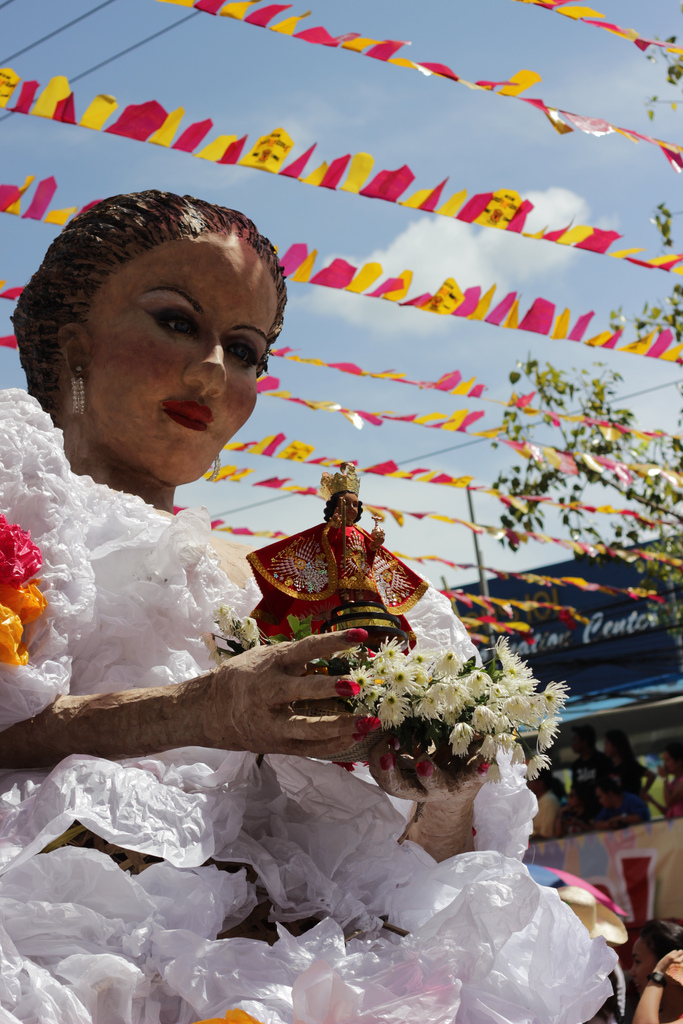 The Tariki Dance of Tanay imitates the movements of tariki birds hopping from one bundle of palay (rice grain) to another  The dance is usually performed during special occasions by pairs of boys and girls dressed in white.  Another unique performance is the Sikaran/Arnis demonstration.  This indigenous Filipino game/sport is a combination of two kinds of martial arts: sikaran, which uses kicking motions to disarm the opponent; and arnis, which uses rattan  or wooden sticks.
Accessibility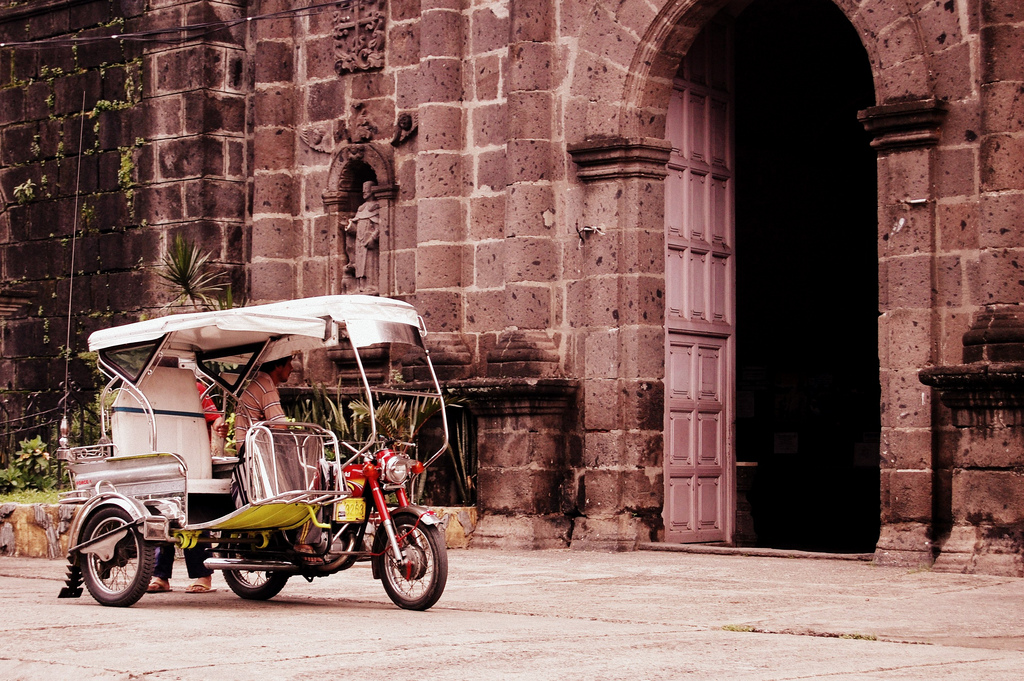 As Metro Manila's nearest eastern neighbor, Rizal province is connected via an extensive and well-developed road network to major cities in the National Capital Region and to the surrounding provinces.  In fact, several towns in Rizal border some of the busiest cities in Metro Manila such as Pasig, Marikina and Quezon City.
The towns of San Mateo and Rodriguez (formerly Montalban) can be reached via Cubao in Quezon City.  Both Sumulong Highway and Marcos Highway lead to Antipolo City, then on to the towns of Teresa, Morong, Baras, Tanay, Pililla and Jala-jala.  Follow  the Manila East Road to get to the towns of Cainta, Taytay, Angono, Binangonan and Cardona.  Talim Island is accessed via motorized boats from Pritil Wharf in Cardona town.
 Accommodations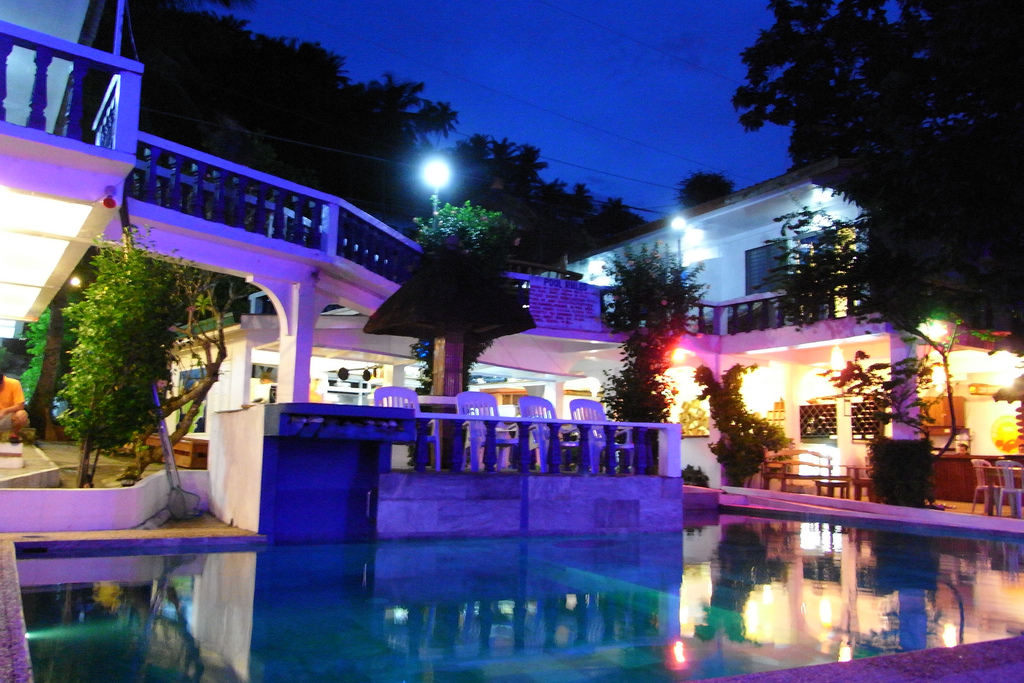 Many hotels and resorts in  the province offer a quick getaway from the congestion of the metropolis.  Tucked amongst the hills and lush countryside are quiet inland resorts and inns that provide comfortable and affordable accommodations.  Most of these establishments have amenities such as swimming pools, restaurants, function  rooms and conference halls.
Dining with a view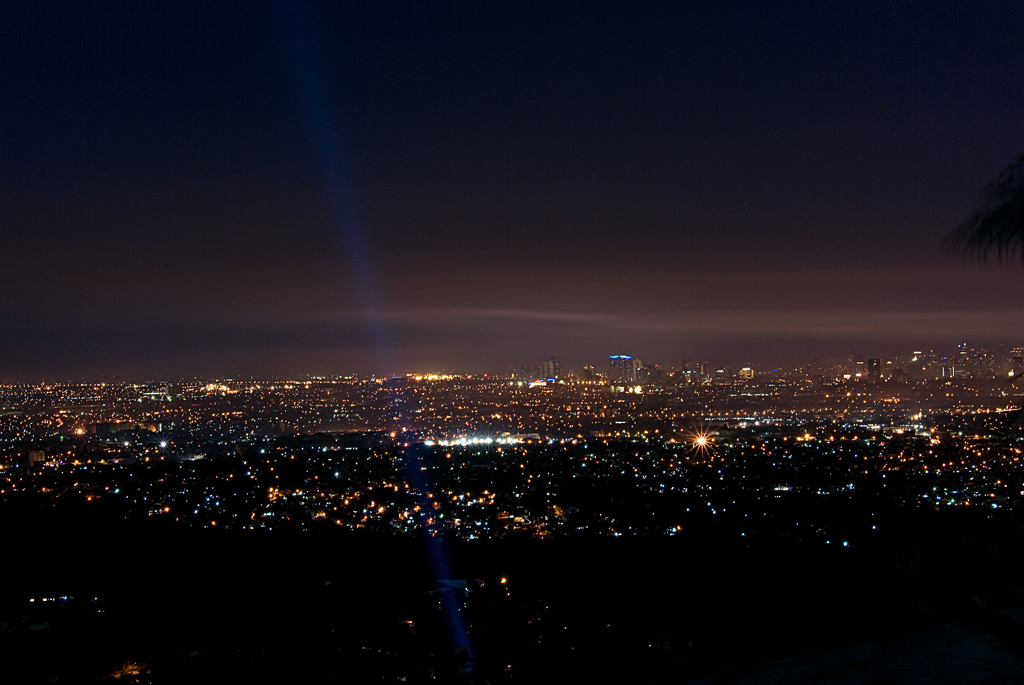 Rizal is well-known for its bountiful harvest of fruits and the equally plentiful catch from its lakeshore towns.  Antipolo-City is known for its mangoes, cashew nuts and suman sa ibos – a sticky rice delicacy wrapped in coconut leaves.  Many native-style restaurants rise above fishponds on Laguna de Bay and beneath shaded groves, serving freshwater fish cooked to the diner's specifications.  Antipolo's hilltop restaurant row along Sumulong Highway is where diners can enjoy panoramic views of the metropolis while sampling native dishes.  Several restaurants and bars serve as a haven for people to unwind as they savor the magnificent view.
In Angono, drop by Balaw-Balaw Gallery and Restaurant for a different kind of view; diners can savor one-of-a-kind local specialties featuring native duck, eel, monitor lizards, snake, sail, wild boar and deer, served amidst an eclectic display of paintings, sculptures and other art collectibles.  Crescent Moon Cafe offers another unique dining experience within a potter's studio, where the artist's beautifully crafted ceramics and pottery are displayed for sale.