Why Visit Bora Bora?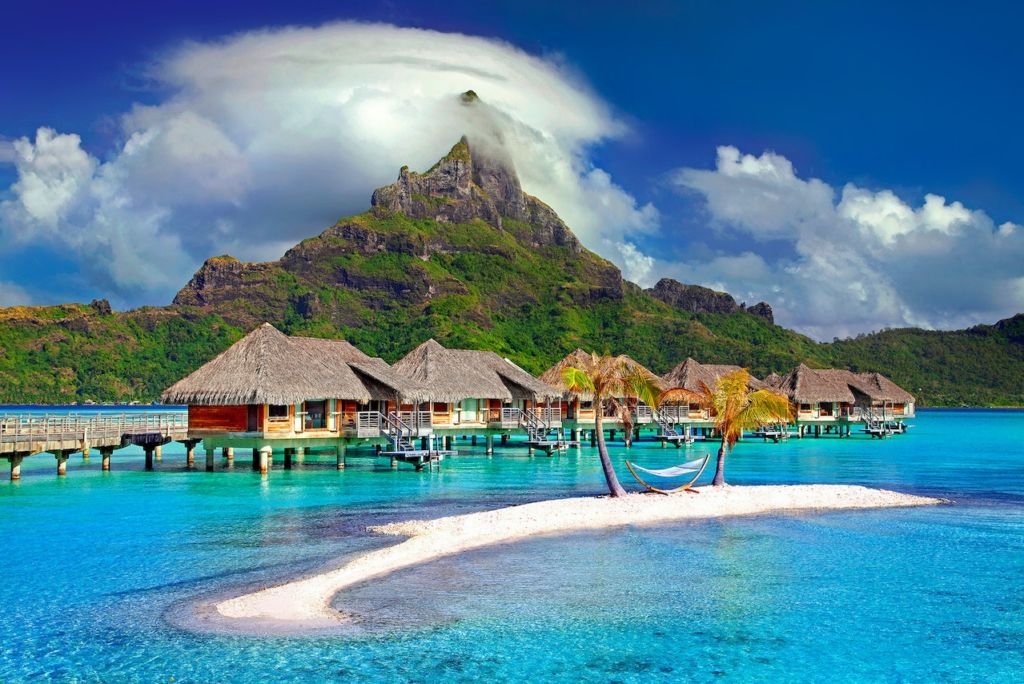 Bora Bora is one of the most beautiful places on earth
Bora Bora is one of the most beautiful places on earth. It's a South Pacific island with an incredible natural beauty. The region is famous for its white sand beaches, turquoise water and lush green landscapes. Tourists from all over the world come to visit this paradise and enjoy its pristine beaches and breathtaking views.
Bora Bora has been one of the most popular tourist destinations in the world for decades now, but it's not just because of its stunning natural beauty. Its luxury resorts are also great reasons to visit this place. From five-star hotels to private villas, there are plenty of options for accommodation here that suit all budgets and tastes.
The islands are surrounded by crystal clear waters
Bora Bora is an island in French Polynesia. It is made up of a main island with a population of 10,000 people and 2 other smaller islands with a population of 2,000 people. The main island has a circumference of 20 km and its highest point is Mount Otemanu which reaches 689 meters above sea level. The climate on the island is tropical and humid, with temperatures averaging between 24-27 degrees Celsius (75-81 degrees Fahrenheit) all year round. When you visit this remote paradise, you will find amazing its white sand beaches and the clear blue waters surrounding it.
The climate is perfect for swimming, snorkeling, and diving
Bora Bora has a tropical climate, which means that the temperature is always warm and there are no cold winters. The average temperature in Bora Bora is around 27°C, but it can sometimes be as high as 30°C. . The warmest point of the year is in July, and the coldest in January. The winds around Bora Bora are mainly from a south-east to north-west direction. The humidity of the air at Bora Bora ranges between 39% and 87%. the year around.
Bora Bora is a great place to relax and rejuvenate
While the beauty of the place itself is one of the most obvious reasons for coming here for relaxation, the place is also filled with many other pleasures and activities which you can utilize further for your rejuvenation. And, remember, you don't have to do everything at once. You should take the time you need to take in and enjoy some of these activities one at a time, without letting it ruin your relaxing stay at this paradise of the Pacific.
Just lying in the water with your eyes closed and feeling the waves coming at you, is a great way to relax, and for many, this is all they need. Simply relaxing on the beach, kayaking, snorkeling, or just plain swimming are great ways to let you feel the peace and quiet that comes with being in the island.
What to expect when you visit Bora Bora
Bora Bora is one of the most beautiful and exotic islands in the world. It is an archipelago of 118 islands, with only a handful being inhabited. The island offers a wide variety of activities for visitors to enjoy, such as snorkeling and scuba diving.
One of the most popular things to do on the island is to explore its reefs. There are many different types of fish and corals that can be found in these waters. Visitors will also find incredible natural beauty all around them, such as waterfalls, mountains, caves and other untouched landscapes. There are many different activities to do on the island, including hiking, boating, fishing and much more. There is plenty to see and do on the island.
The best things to do in Bora Bora
Bora Bora is a wonderful place that you can visit for a relaxing and peaceful holiday. It is home to black-sand beaches and coral reefs. Bora Bora offers a variety of activities for all types of travelers. The best things to do in Bora Bora are:
Diving: Bora Bora has some of the most beautiful diving spots in the world. You can also find some underwater treasures!
Snorkeling: If you don't want to dive, then snorkeling is a great option. You will be able to see all the beautiful fish and coral reefs around the island.
Hiking: For those who love nature, there are many hikes that you can do around the island. Some of them are quite challenging but they are worth it!
4WD-ing (ATV): For the adventurous who loves to drive through rugged terrains, drive your own ATV off road through rugged terrains and sight see around the island.
Scuba Diving: If you want to try something new, then scuba diving is a good option. You will be able to see all sorts of different fish and coral reefs, as well as deep sea creatures.
Kayaking: For those who want to explore the island's coastline, kayaking is the perfect activity.
Jet Skiing: For those active travelers who want to zoom across the island's picturesque waters and sight see, jet skiing is the perfect activity.
Beaches: Bora Bora has many beaches for you to visit and relax on. Some of them are quite private so you can enjoy your time without any disturbances.
The best beaches in Bora Bora
Bora Bora is the perfect destination for those looking for a beach getaway. The beaches are clear and blue and the water is calm. Here you can find a wide variety of beaches from small secluded coves to long white sand beaches with palm trees lining the coast.
The best beaches in Bora Bora are the Matira Beach, Beach at the Four Seasons Resort, and Beach at the Conrad. In addition, there are plenty of beaches around the rest of the island. They range from a beach-like crescent-shape called Motu Nui, to the wild coast that includes many little coves and even some caves (not very safe, though).
If you like to sunbathe at the beach, try the Matira Beach. It is considered to be Bora Bora's best beach. It is available to the public and attracts both locals and tourists. It's quite a stunning sight combining a view of white sand and pure, tranquil sea. The beach wraps around a peninsula and is renowned for sunset viewing, snorkelling, and topless sunbathing.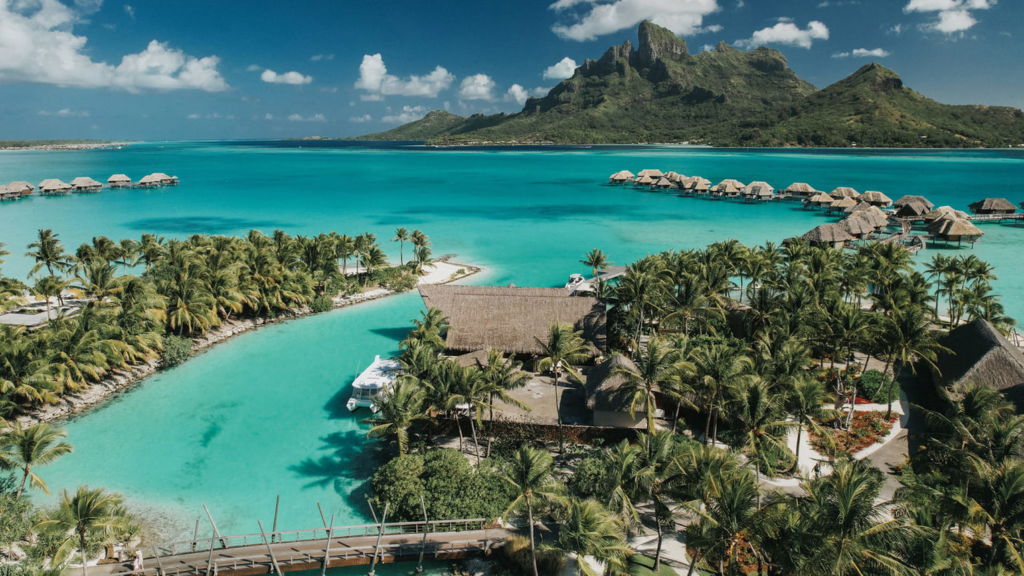 You will never be bored in Bora Bora, because you can snorkel all year round in almost every bay. If you got kids, don't hesitate to ask them to join you on a snorkeling trip. It will be the best way for them to get acquainted with the marine life in Bora Bora. They'll love it!
The best time to visit Bora Bora's beaches is during low tide when you can walk out into the water and enjoy a refreshing swim in crystal clear waters that are so blue they look like they were dyed.
Where To Eat and Drink in Bora Bora
This is just a selection of where to eat and drink at Bora Bora. Whether you're planning to spend the whole day lazing on the beaches, taking a side trip to watch the sunset or hitting the island's vibrant nightlife, here are a few great recommendations from the readers of TripAdvisor.
Far Niente Ristorante
Far Niente Ristorante pays homage to the culinary traditions of Italy by offering a savory menu that highlights Italy's unique ingredients, discreetly enhanced by the sommelier's selection of local wines.
CUISINES : Italian, European
FEATURES : Reservations, Outdoor Seating, Seating, Highchairs Available, Wheelchair Accessible, Serves Alcohol, Full Bar, Wine and Beer, Accepts American Express, Accepts Mastercard, Accepts Visa, Digital Payments, Cash Only, Free Wifi, Accepts Credit Cards, Table Service
LOCATION : Motu Ome'e BP 506 Inside The St. Regis Bora Bora Resort French Polynesia
Lagoon Restaurant by Jean-Georges (The St. Regis Bora Bora Resort)
Experience LAGOON by Jean Georges, the unique signature restaurant of The St. Regis Bora Bora Resort, where you'll find an unrivalled menu mixed with French and Asian flavours and prepared by renowned chef Jean-Georges Vongerichten. The mythical Mount Otemanu and crystal clear waters provide the most expressive setting for LAGOON's freshest fish and native island delicacies.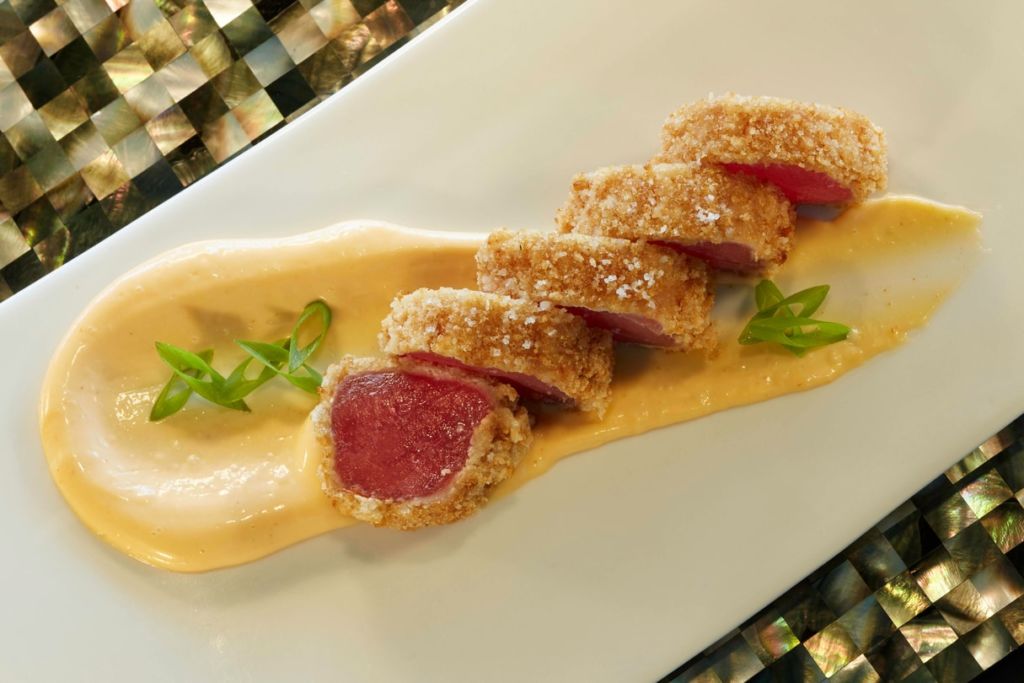 CUISINES : French, Seafood, European, Contemporary, Fusion
FEATURES : Reservations, Outdoor Seating, Private Dining, Seating, Wheelchair Accessible, Serves Alcohol, Full Bar, Free Wifi, Accepts Credit Cards, Table Service
LOCATION : The St. Regis Bora Bora Resort, 98730 French Polynesia
Le Corail
Embrace exquisite meals at the resort's Le Corail restaurant. Enjoy your favorite beverage on the terrace that faces the Lagoonarium while dining in a classy, air-conditioned setting. Perfect for an elegant date with your special someone. Enjoy fine French food from an "a la carte" or tasting menu at this restaurant, which is only open for dinner. From French Polynesia's biggest wine cellar, choose your own wine with the assistance of our sommelier.
CUISINES : French
FEATURES : Outdoor Seating, Seating, Wheelchair Accessible, Serves Alcohol, Full Bar, Wine and Beer, Accepts American Express, Accepts Mastercard, Accepts Visa, Free Wifi, Reservations, Accepts Credit Cards, Table Service
LOCATION : InterContinental Bora Bora Resort & Thalasso Spa Motu Piti Aau, 98730 French Polynesia
Where To Stay in Bora Bora
The best places to stay in Bora bora are more than just accommodations, they are like an oasis of calm where you can really take some time to relax. From the comfort of the beachfront or garden suites, you have easy access to a wide range of activities on the island. Here are some you should consider in your list:
The St. Regis Bora Bora Resort
The St. Regis Bora Bora Resort offers tranquilly over the South Pacific's crystal clear waters. Their beachside and overwater villas provide unparalleled solitude and direct access to sand and sea. Sail and dive across the island's turquoise waters, sample Polynesian-inspired food at our four restaurants, and have your every need answered by our 24-hour Signature St. Regis Butlers.
Conrad Bora Bora Nui
The newly refurbished resort offers a wide range of rooms, from roomy Lagoon View Suites ideal for families to breathtaking overwater villas and lavish Presidential Villas. With five restaurants and bars, there are enough of dining alternatives to suit your culinary desires. The Conrad Bora Bora Nui now provides Island Host Service to all villa guests. Enjoy the delightful location and services of Conrad Bora Bora Nui while having every part of your stay taken care of.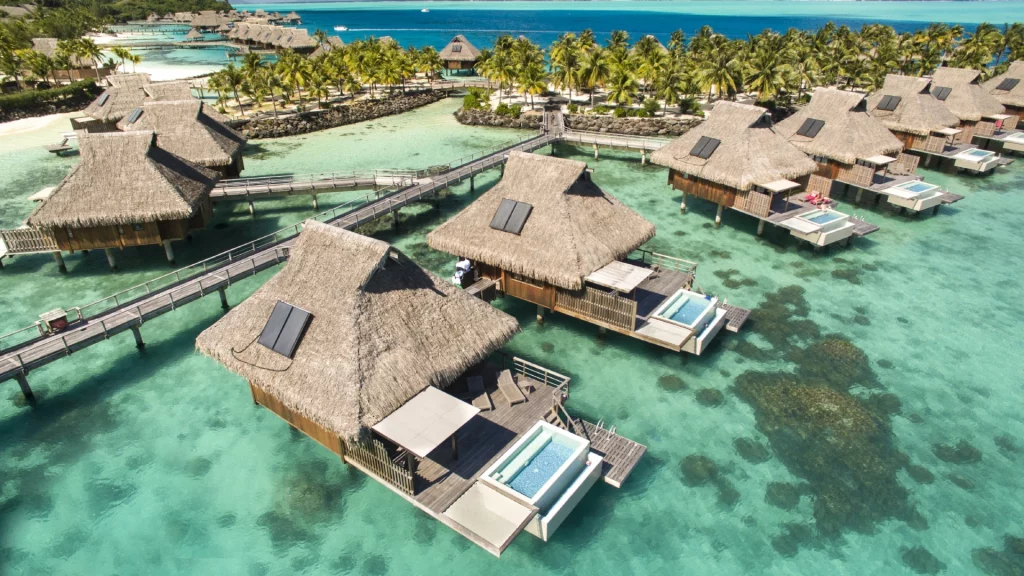 Four Seasons Resort Bora Bora
The newly upgraded Four Seasons Resort Bora Bora is a South Pacific paradise, blending the highest levels of service with ultramodern conveniences and the Polynesian culture's natural ease and polite friendliness. The Resort is a huge tropical forest surrounded by coconut palms and pandanus trees on Bora Bora's surrounding coral reef. Meandering turquoise canals lead to the main beach or to tiny lagoons just waiting to be discovered. Every vista is stunning. The Resort has 108 one and two-bedroom overwater bungalow suites and seven two and three-bedroom beachfront villa estates with thatched roofs and indigenous artwork.
Conclusion
A vacation to Bora Bora could become a trip of life-changing benefits, or with a little money spent, you could get away and travel to somewhere unknown and see something that changes you for life. And you could be in an entirely different place than where you live every day. If that sounds like something to you, then do a little research about Bora Bora, and then get that trip.