The Philippines has a number of breathtaking sites of worship. The four Baroque churches of the Philippines (San Agustin Church in Manila, Santa Maria Church in Ilocos Sur, Paoay Church in Ilocos Norte and Miagao Church in Iloilo) are recognized as UNESCO World Heritage Sites. In addition to that, there are several more scattered around the country that exude awe from anyone who passes by.
But apart from stunning churches, the Philippines too has some beautiful mosques as well. While these places are used for worship, one can't help but admire how these structures are designed.
Here's a list of a few of the most gorgeous mosques in the Philippines:
Grand Mosque, Cotabato City 
With gold-plated domes and soaring minarets, the Grand Mosque in Cotabato City is a sight to behold. Also called the Sultan Hassanal Bolkiah Masjid, this place of worship is true to its name: it is truly grand. The minarets soar up to 40 meters and inside, there's more than enough space for worship. The mosque covers 5,000 square meters and sits on a five-hectare land. Not only is the structure itself  jaw-droppingly gorgeous, the interior and courtyard are to be marveled at as well.
The mosque is relatively new, having been completed in 2011. It was constructed as part of the Peace Development Project in Mindanao. As such, the Grand Mosque isn't just a place of worship but also represents peaceful co-existence between religions.
Taluksangay Mosque, Zamboanga City 
Red onion-shaped domes will surely grab your attention. To make things even more interesting, the mosque was built in 1885. So you've got a bit of history and architecture rolled in one. The mosque was built by Hadji Abdullah Maas Nuno, chieftain of a Moro ethnic group called Sama Banguingui.
The Taluksangay Mosque is one of the oldest mosques in Western Mindanao and is the first center of Islam in the Zamboanga Peninsula In fact, this mosque is recognized by Saudi Arabia and Turkey.
Pink Mosque, Datu Saudi Ampatuan, Maguindanao 
Who wouldn't want to stop and take a look at a structure that is bright pink all throughout? It has to be intriguing, right? Yes, the bright pink color of this mosque will stop anyone in their tracks. The color itself easily makes the mosque stand out.
Masjid Dimaukom, as it's also known, is pink for a reason. Datu Saudi Ampatuan Mayor Samsudin Dimaukom initiated the construction of this mosque and it was painted pink to represent peace and love. It's also a way of showing another side of Maguindanao, the one where peace and love can reign amidst the violence.
King Faisal Mosque, Marawi City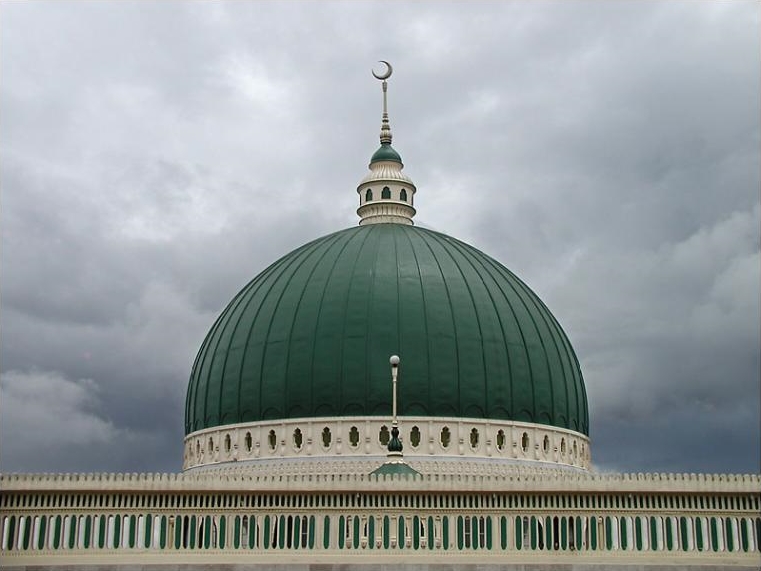 The biggest mosque in Marawi City, this structure is located in Mindanao State University. It is named after the former king of Saudi Arabia who also financed its construction. The structure is noticeable for its pale and dark green colors. Then again, it is also painted green for a reason: the color green is a traditional color of Islam and it is used to describe the state of those living in paradise in the Quran.
Although the mosque is simple, the details are stunning. A few examples include the metalwork patter of the minaret, the painted petals on the dome and the name "Allah" located on top of the spires.