Known for its postcard-perfect landscapes, Camiguin Island boasts yet another sight known for more than just attracting tourists. The Sunken Cemetery is one of the province's pride, serving not just as a beautiful scenic view but more importantly as a landmark defining the island's rich history.
History
In the 1870's, an earthly upheaval took place out of the violent birth of Mount Vulcan which used to be a volcanic cone of Mount Hibok-Hibok. The eruption caused several areas of the town of Bonbon, including its cemetery, to subside. The town church, along with the rest of the destroyed structures, eventually left picturesque remnants which later came to be known as the Gui-ob Church Ruins.
The Sunken Cemetery Today
Today, Camiguin Island's Sunken Cemetery remains to be one of the most photographed attractions in the province. Its large cross has since served not just the locals but also visiting tourists as a scenic spot that memorializes the buried townspeople from long ago.
At sight of the huge cross, which marks the cemetery, cheery villagers usually come by and encourage tourists to pose creatively for pictures, capturing witty photographic illusions as though they are holding the cross with their hands. There are also boatmen who offer to take tourists to the marker's base with their bangkas or small boats.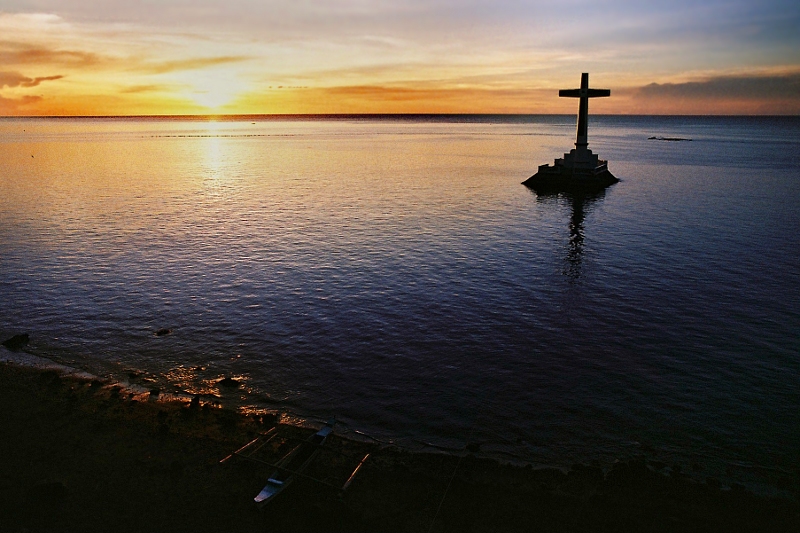 A Diver's Paradise
As the graveyard can only truly be seen underwater, a lot of curious tourists – swimmers, divers or just adventure enthusiasts – hire boatmen and ask to be taken past the cross marker. Donning their fins and masks, they then proceed beneath the sea waves to take a look at how the cemetery appears from below.
While many expect the sight of seaweeds creeping all over tombstones, what many turn up witnessing is actually a rather stunning sighting of colorful corals with swarms of several varieties of fishes.
It has been more than a century since the cemetery has subsided so it isn't at all surprising how marine life has established in the area. The vibrant coral reefs have actually brought much revelry of life to the hapless place of rest of Bonbon locals from hundreds of years ago. With the underwater teeming with yellow butterflyfishes, green-stripped wrasse and neon-blue damselfishes that dart in and all around a labyrinth of anemone and coral, one will definitely say that truly, it is a diver's paradise down there.
Getting There
The Sunken Cemetery is located at Catarman town in Camiguin. It can be accessed by tricycle or private ride. A lot of tourists simply rent a tricycle for a full-day tour around Camiguin Island for this. The rates are usually 700Php to 1000Php, good for a maximum of 4 persons.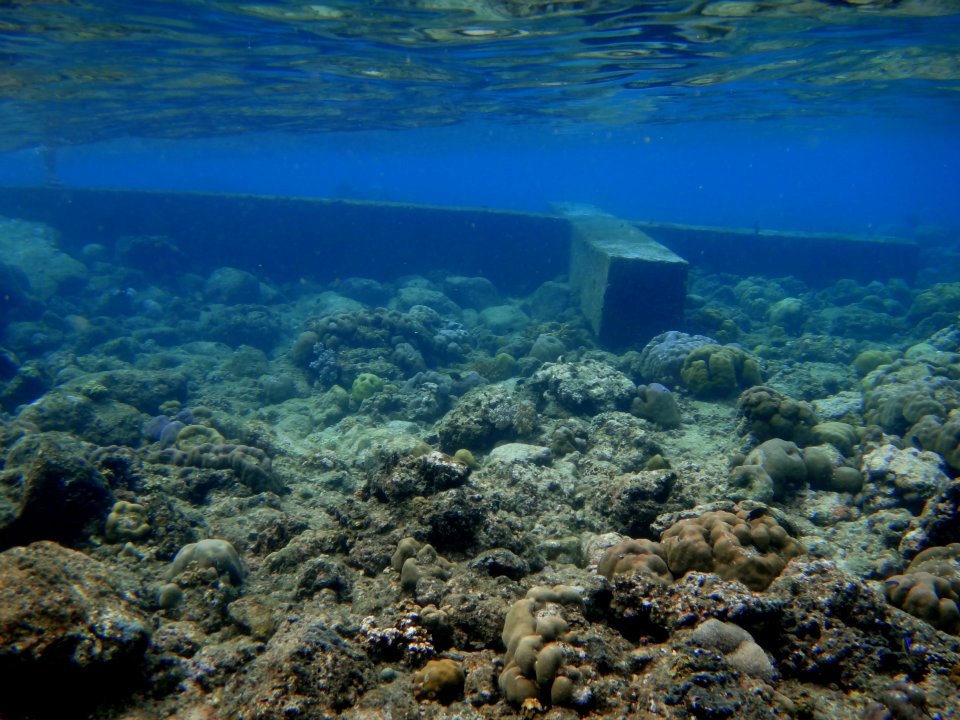 What Else is There to See in Camiguin?
Camiguin is also home to a lot of community-based marine protected areas. All in all, there are 31 sites, including the famous coral gardens located in Mantigue Island/White Island and the Pasil Reef Sanctuary of the Sunken Cemetery. If you have more time to spare, you might also want to check out another impressive spot — the Giant Clam Sanctuary located in Guinsiliban. Here, you can actually snorkel and get an up-close view of the endangered species, Tridacna clams.
Tourists are very common in the island of Camiguin. After all, it is one of the most visited tourist spots in the Philippines. As such, one can expect to be treated really well while touring the area. The locals are not only very welcoming, but very accommodating as well and drivers are especially friendly and hospitable. They will serve as your tour guides, telling you everything they know about the history of their home island.