Tagaytay City, PHILIPPINES – Cavite-based painter Fernando Ocampo Ventura mounts his latest art exhibition entitled "Babae… Mahalaga Ka!" at the Verve Gallery in One Tagaytay Place Hotel Suites in Tagaytay City, Philippines. The artworks are on display from July 6 to September 7, 2013.
Come and stay at One Tagaytay Place Hotel Suites and see a notable art exhibit by Fernando Ocampo Ventura, a Cavite-based painter. The artworks are on display from July 6 to September 7, 2013.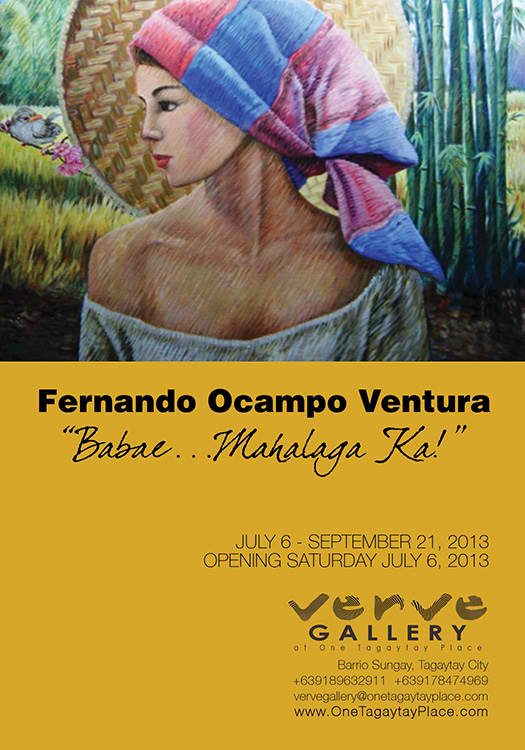 Fernando Ocampo Ventura's works are influenced by the likes of Filipino National Artists Fernando Amorsolo and Carlos "Botong" Francisco, as well as art nouveau artist Alphonse Mucha. Part of the proceeds from the exhibition's sales will go to the Philippine Disability Affairs Office/ Persons With Disabilities.
Verve Gallery, the in-house art gallery of this hotel in Tagaytay, seeks to promote visual artists in the CALABARZON area. For information regarding the artworks on sale, please contact +639189632911 or +639178474969, or send an email at vervegallery@
onetagaytayplace.com.One Tagaytay Place Hotel Suites is located at # 445 Tagaytay-Calamba Road, Barrio Sungay West, Tagaytay City. The hotel offers a variety of cozy room accommodations, such as Deluxe Rooms, One Bedroom Suites, and Penthouse Premier Suites. These stylish lodgings have their share of luxuries, like an LCD TV with cable channels, mini-bar, and free Wi-Fi access. Other in-room amenities consist of a coffee/tea maker, daily newspaper, and safe. A DVD player, microwave oven, and IDD/NDD phone with voicemail can be provided on request. Hotel rates are inclusive of a welcome drink and breakfast. This Tagaytay hotel also affords function rooms and sensible conveniences for social and corporate events.
For reservations, just log on to http://www.onetagaytayplace.com. Interested parties just need to click "Check availability and prices" on the left side of the page to launch the booking engine, powered by DirectWithHotels, which features an easy-to-use interface that returns confirmed reservations in minutes. Here, they can conveniently secure a room by indicating their arrival and departure dates, selecting the preferred accommodation from the list of available rooms, filling out the form, and initially paying the required deposit via credit card.
Certified by VeriSign and Trustwave, the booking engine of this Tagaytay hotel warrants that all transactions made within the website are safe and secure. The system will automatically send the guest a confirmation email once the payment has been received.
To know more about Fernando Ocampo Ventura's exhibit and One Tagaytay Place Hotel Suites, visit http://www.onetagaytayplace.com/thevervegallery.php.
One Tagaytay Place Hotel Suites
Barrio Sungay
Tagaytay City, Cavite
Philippines
Phone Number: +(63 2) 584-4111 or 477-7111