CLARKFIELD, Philippines — Clark Freeport Zone Philippines is a leisure destination located in the northwest side of Angeles and borders the Mabalacat City in the province of Pampanga. It's just 1 ½ hour drive from Metro Manila which perfect for those who want to escape the city and have a relaxing vacation or short stay over the weekend.
Clark Freeport Zone Philippines is a leisure destination located in the northwest side of Angeles and borders the Mabalacat City in the province of Pampanga.
Stay in an Award Winning Deluxe Hotel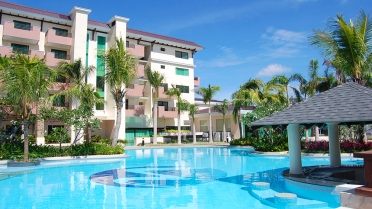 Widus Resort and Casino has 119 luxurious hotel rooms which are Contemporary Zen inspired with a perfect view of the breathtaking blue water of the swimming pool and greenery. The bright and fresh environment is inviting to guests who are looking forward to a homey stay away from the busy cosmopolitan city even as they still do business. It's facilities and amenities includes 4 Food & Beverage Outlets, Convention Center, Casino, Spa, Gym and Swimming Pool. Visit widus.com for more information or call +6345 499 1000.
Horseback Riding at El Kabayo
Enjoy horseback riding in a place which is a replica of an old western town directly out of an American cowboy movie. If you enjoy watching John Wayne and Clint Eastwood in their glory days of Tinsel Town, you will feel as if you are on the set of one of their productions when you visit El Kabayo. Check their website at elkabayo.com.
Punning Hot Spring & Restaurant
Relieve your stress and relax in a thermal springs along Sacobia River where temperatures range from 40 degrees to 70 degrees. The surrounding area looks like burning furnace as smoke endlessly billows from mountain crevices.  Visit their page at facebook.com/PuningHotSpringAndRestaurant.
Paradise Ranch and Zoocobia Fun Zoo
Perfect for kids and kids at heart, is environmental project design to educate children and the general public on protecting the environment and saving wildlife. It is located on the hills of Clark Air Base, with fog and temperature comparable to Tagaytay and Baguio, a million dollar view of the entire Clark Zone, surrounding cities and towns, overlooking the Sacobia River, Mt. Pinatubo, Mt. Arayat and other mountains and majestic sceneries for everybody to enjoy. For more information check paradiseranchphilippines.com.
Nayong Pilipino
Know more about culture and heritage at Nayong Pilipino, this park is essentially a representation in a miniature-version of the diverse Philippines and its culture, all in one place. This recreational/
leisure/history-
learning facility is divided into numerous geographically-
sectionalized display areas. Here you'll find representations of regions such as Cordillera Central, Ilocos, Tagalog, Bicol, Visayas, and Mindanao and so forth. For more details check www.facebook.com/
nayongpilipinosaclarkexpo.
Dinosaurs Island
Clark's very own Dino Park with replica dinosaur species such as Brontosaurus, Tyrannosaurus Rex, Brachiosaurus, Spirosaurus, Stegosaurus, Triceratops, Iritator, Raptors, Rhinoceros and Iguanodon. Visit their website at clarklandph.com.
Deca Wake Park
Most popular wakeboarding locations by city dwellers looking for quick wakeboarding jaunts over the weekend. This wakeboard park will round out the list of first-class locations for watersports enthusiasts in the Philippines, and will make the country a top water sports destination in the future. For more details visit clarkwakeboard.com.
There are a lot of things to do in Clark regardless of your interest. You can just relax and stay in the best hotel or go out and enjoy a fun filled day with the activity of your choice. Visit Clark, the best leisure destination near Manila.