PASAY CITY, Philippines — Celebrate the most authentic beer festival in the Philippines as Sofitel Philippine Plaza Manila, in cooperation with the German Club of Manila, bring you the Oktoberfest Manila 2013. Slated on the 18th and 19th of October at the Harbor Garden Tent, this year's Oktoberfest celebrations promise remarkable evenings of pure Bavarian spirit that guests would truly enjoy. "Now on its fourth year at Sofitel, it is our pleasure to play host to the 75th year of the Oktoberfest celebration in Manila. Through the years, we have seen how Oktoberfest has helped promote camaraderie among the Filipinos and Germans", says Adam Laker, Sofitel Philippine Plaza General Manager. "This year's 75th anniversary of the German Club's Oktoberfest will be a milestone not only for the German Club but also for the Club's objectives of promoting the Philippines as valuable destination for investment to German businesses." says the Oktoberfest Chairman, Michael Scheile.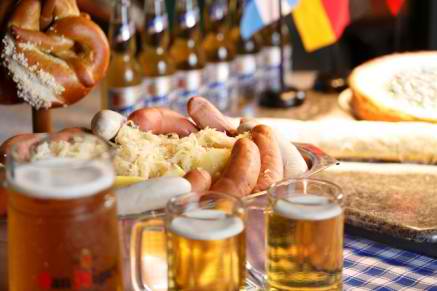 In celebration of the 180th year of the Oktoberfest, the two-day event shall offer an even more exciting celebration of traditions, entertainment, and authentic Bavarian food and drinks reminiscent of the authentic Oktoberfest fare. The Harbor Garden Tent will be decorated in the Bavarian colors, white and blue as authentic Oktoberfest tables and benches guarantee a festive beer garden setting. Catch ladies in dirndls and gents in lederhosen strutting around the tent-turned-Oktoberfest village to add to the Munich Oktoberfest vibe. Sumptuous Bavarian menu prepared by Sofitel Manila executive chef Eric Costille and the German Club Chefs will make up the colorful culinary spread, such as fresh roasted pork knuckles, roasted calf, laugen rolls, grilled sausages and mouth-watering pastries, with refreshing, ice cold San Miguel beer free-flowing for all guests to enjoy. An exhilarating music performance is slated from The Bavarian Sound Express, well-known from previous Oktoberfests in Manila. And on the 19th of October, The Bloomfields, one of Manila's best live bands, will be adding excitement to the night with retro 60's music. Moreover, this year's celebration is made more special with over 4 million pesos worth of prizes to be given away for the raffle draw. Exciting prizes include a roundtrip business class ticket to Germany with Etihad, Mercedes Benz weekend drives with overnight stay in Baguio, laptops, and DSL cameras from Canon, I-pads from Mac, Levis jeans, Puma shirts and many more. Proceeds will go to the German Club's welfare projects.
Overnight stay at Sofitel Philippine Plaza on these dates is highly recommended as special Oktoberfest rates are on offer. A special rate for Oktoberfest ticket holders is set at Php 5,000 nett for an overnight stay in a superior room and a lavish Spiral breakfast for an additional of Php 1,200 nett per person.
Oktoberfest Manila 2013 is presented to you by the following major sponsors: Sixt Rent A Car (Mercedes Benz, Harley Davidson), San Miguel Brewery Inc., Visa, Canon, Isochem Pharma, DB Schenker, Etihad Airways, DHL, Coca Cola Corp., Asia Grand View Hotel, mhe-Demag, Mighty Corporation, BDO. Other major sponsors include: Bauer, Boehringer Ingelheim, Cougar/PUMA, MERCK, Argonauta Boracay, Aling Ludy's, Bell Floor Coverings Inc., GNW Marketing, ESV International Corp., Kajima Philippines, SAP, Mövenpick Hotel Mactan Island Cebu, El Rio y Mar Palawan, Carrier Concepcion, Peacock Garden Bohol, Steag, Leather Plus, Jungle Base, Royal Cargo, Robert Bosch Inc and Robert Bosch Communication, Freshtex, World Class Concept Corp., Transwing Balikbayan, Royal Accent, SPR Boracay, Siemens Power, Santis Delicatessen, Santa Fe Relocation, Andritz Hydro, CS Garments, Revér for Hair, Makati Shangri-La, Gourmet Farms, Pura Vida Resort, C. Melchers GmbH & Co.,Euro Foods, Spaghetti Factory, Sea Explorer,  HOWZAT, The Manor Hotel Baguio. Media partners include: The ABS-CBN News Channel (ANC), The Philippine Star, Radio High 105.9, Business World, Metro Society, Rogue, Philippine Daily Inquirer, ClicktheCity.com, and WhenInManila.com.
For ticket inquiries and reservations, please go to https://www.facebook.com/events/358216330977272/.
To discover special events at Sofitel Manila, please go to http://www.sofitelmanila.com/en/special-offers.html.
Sofitel, World Class Hotels & French Elegance
Sofitel is the only French luxury hotel brand with a presence on five continents with 120 addresses, in almost 40 countries (more than 30,000 rooms). Sofitel offers contemporary hotels and resorts adapted to today's more demanding and more versatile consumers who expect and appreciate beauty, quality and excellence. Whether situated in the heart of a major city like Paris, London, New York, Shanghai or Beijing, or nestled away in a country landscape in Morocco, Egypt, French Polynesia or Thailand, each Sofitel property offers a genuine experience of the French "art de vivre".
Sofitel Legend and & Sofitel So are two labels that come to enrich Sofitel Luxury hotels
Sofitel Legend hotels are iconic and mythical; they are often centuries-old listed heritage buildings: Sofitel Legend Metropole Hanoi, Sofitel Legend The Grand Amsterdam and Sofitel Legend Old Cataract Aswan.
Sofitel So hotels are new « boutique hotels » characterized by a stylish focus on contemporary design by famous architects and/or embellished by international celebrities from the world of fashion, design or art: Sofitel So Mauritius Bel Ombre, Sofitel So Bangkok and Sofitel So Singapore (2013).
About Sofitel Philippine Plaza Manila
Sofitel Philippine Plaza Manila Hotel is a unique 5 star luxury hotel in Manila with a resort setting close to Mall of Asia, Manila Ocean Park, Intramuros, US Embassy, PICC, and major tourist spots in the Philippines. Sofitel 5-star accommodation includes 609 rooms and suites boasting of balconies and spectacular views of world famous Manila Bay sunsets.